Entertainment
Where Is Openly Lesbian Susan Powter & Who's Her Partner Now?
Susan Powter rose to fame following the release of her book, Stop The Sanity! in 1993. Her book became a huge success and helped her establish her career as a celebrity dietitian, fitness guru, and motivational speaker. 
Due to her fame, she even made cameo appearances in several hit shows, such as The Fresh Prince of Bel-Air (1994) and Space Ghost Coast to Coast (1994). 
Openly Lesbian
Susan (age 63 as of 2020) identifies herself as a lesbian and even describes herself as a "radical feminist lesbian woman" during her interview with Curve magazine back in 2004. 
Refers To Herself As A "Bad Feminist":- Roxane Gay Neither Lesbian Nor Straight; Sexuality Ousted, Who Is Partner?
Moreover, in 2008, during a Q&A with Advocate.com., she openly shared her privilege on being a lesbian citing,
I am the proudest, the most thrilled-to-be-lesbian woman you'll ever meet. I think lesbianism is the biggest privilege. It's one of the finest privileges of my life. Every woman who lays next to another woman and feels life breathed into her -- and I just did last week in Phoenix! That's all I have to say.
Partner
Talking about her then-partner, the fitness icon dated comedian Jessica Kirson from 2008 to 2009.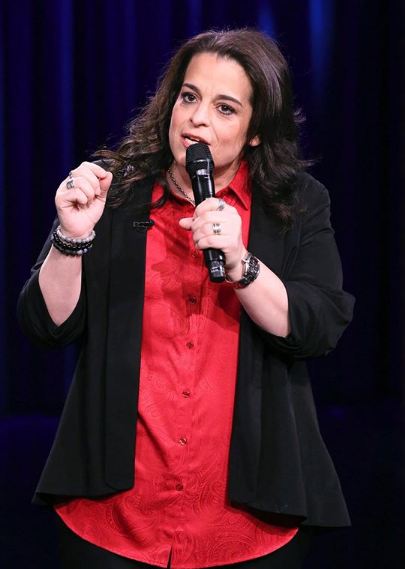 Susan Powter's ex-girlfriend Jessica Kirson during her appearance in The Tonight Show With Jimmy Fallon in 2019 (Photo: Jessica Kirson's Instagram)
Also, prior to dating Jessica, she was in a relationship with singer Animal Prufrock. Her ex-girlfriend is one of the leading members of the rock duo, Bitch & Animal.
Children, Ex-Husband
Susan has two other biological sons. Her eldest son was born in 1983, whereas another son arrived in the world in 1986. The author then adopted a boy named Gabriel in 1999.
Her sons are the result of her past failed unions. Although an openly lesbian now, Susan previously married men.
Overall, she was married twice, and her first marriage was to Lincoln Apeland. Likewise, her second husband was Nic John Villarreal, but both of her marriages ended up in divorce. 
Short Bio Of Susan Powter
Susan Powter, sometimes misspelled Susan Powder, was born on 22 December 1957. However, some sources mention her birthdate as 12 December. 
She is an Australian-born American motivational speaker, personal trained, author and nutritionist. She lived in Sydney until the age of 10 and immigrated to the United States. Today, Susan lives in Las Vegas, NM. 
In 1994, she starred in her own talk show 'The Susan Powter Show,' which ran for a season. She is a well-known face in the diet industry as well. 
She has written several books, out of which three became New York Times best-sellers in the 90s. 
Net Worth, Bankruptcy
Susan has amassed an impressive net worth of $6 million from her multiple careers as a personal trainer and author. But her financial status wasn't so stable back in 1995.
Virgil Abloh Net Worth:- How Rich Is Off-White CEO?
That year, she filed for bankruptcy and demanded court protection from her personal creditors. As per the fitness icon, she went broke due to her expensive legal battles with her Dallas business partner.
She even listed liabilities of about $3 million from her lawsuits and legal fees. However, her current financial status makes it evident that she's back on track financially now.