Entertainment
Louis Gossett Jr. Spouse, Net Worth, Children Details Of Watchmen Cast
American actor Louis Gossett Jr. is best known for his Oscar award-winning performance as Gunnery Sergeant Emil Foley in the movie, An Officer and a Gentleman (1982). He is one of the most well respected and adored actors of his time.
Besides his illustrious career in acting and cinema, he is also an accomplished writer, producer, and director.
Spouse
Louis has been married thrice. His first partner was Hattie Glascoe, whom he married in August of 1964. Unfortunately, their marriage didn't last long, and they got divorced less than five months later. 
Louis spent the next few years alone. Eventually, he started dating Christina Mangosing, whom he married on 21st August 1973. They had a son, Satie Gossett, in 1974. While the couple did welcome a child into the world, their relationship wasn't stable. The Academy Award winner and his second wife got divorced in 1975.
Louis remarried Star Search champion of 1983 Cyndi James-Reese on 25th December 1987. Though he didn't have a child with Cyndi, the two did adopt a son, Sharron Gossett (born 1977).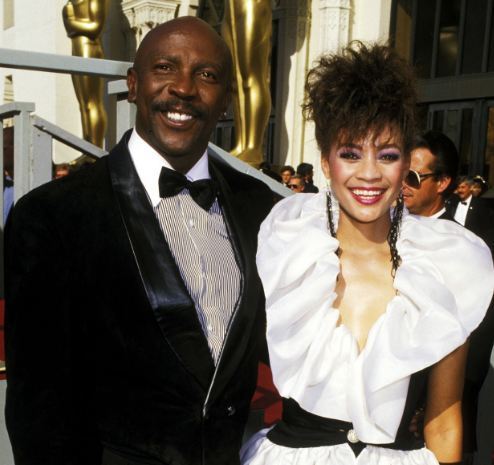 Louis Gossett with his third wife Cyndi James-Reese in the 60th Academy Awards in Los Angeles, California in 1988 (Photo: Ron Galella)
Among the three of Louis' marriages, the third was the one that lasted the longest. He split with Cyndi in 1992 after five years of marriage. 
Louis Gossett's Children
Louis' eldest son, Satie Gossett is a writer, director, and producer. He is best known for his short film, Jewtholic. He has written and directed six short films, all of which have been screened at different film festivals. His works have also been distributed worldwide. His documentary, American Addict 2, is available on Amazon Prime.
Another Oscar Winner With Adopted Children: Book Club's Diane Keaton 'Never Married' Story, Dream Husband & Adopted Children Talks!
As for Louis' second son, Sharron, not much is known about him.
Bio
Louis Cameron Gossett Jr. was born on 27th May 1936 in Sheepshead Bay, Brooklyn, New York. His father, Louis Gossett Sr., was a porter, and his mother, Helen Rebecca, was a nurse. He is 6 feet 2 ½ inches (1.89 m) tall.
Net Worth
Louis' reported net worth is $3,000,000.
He sold his Malibu House for $3,250,000 in October 2018. The property has 2,180 square feet of living space, three bedrooms, two bathrooms, a fountain, a swimming pool, a courtyard, and an attached garage.
Career
Louis began his acting career by playing the role of Spencer Scott in Broadways' Take a Giant Step. He was just 17 then. The New York Times drama critics selected the play as one of the ten best shows of the year. He then played in Broadway's A Raisin in the Sun (1959) and The Blacks (1961), which went on to become the longest-running off-Broadway play of the decade.
He continued his work, but it wasn't until 1977 when he won an Emmy Award for his role of Fiddler in the TV miniseries Roots that boosted him to popularity. He also won an Academy Award for Best Supporting Actor for his role in An Officer and a Gentleman. 
This May Interest You: 90th Academy Awards: 2018 Nominees And Winners – Complete List!
In his 60 plus years of career, he has also dabbled in narration and voice acting. As for his latest work, it is the American drama superhero television series, HBO's Watchmen (2019). Louis plays the role of William Reeves, one of the main characters whose hidden identity is that of Hooded Justice, a vigilante.
Interesting Facts
Louis was diagnosed with prostate cancer in 2010.

He has won an Oscar, Emmy, as well as a Golden Globe Award.

The actor was once addicted to cocaine and alcohol.

In Enemy Mine (1985), Louis' character, Jeriba Shigan, dies in childbirth (It's revealed that his race is asexual). It is one of the most bizarre deaths in films.