The reality star, Mackenzie Edwards is famous for her appearance in the MTV show, Teen Mom OG. Along with the show, she is renowned for her romantic relationship with her husband, Ryan Edwards.
Teen Mom OG fame, Mackenzie, and Ryan are eagerly waiting to welcome another member in their family. So, let's take a peek at the couple's good news that has gone viral on the internet!
With Husband - Pregnant & Wedding
In March 2018, Teen Mom's Star Mackenzie and her husband Ryan announced being pregnant with their first child.
The good news arrived almost four months after the reality star couple exchanged the vows for the second time, which they called "original, intended" wedding ceremony in a church, back in November 2017.
Their closest friend and family members attended the wedding, and the reception got held in a converted warehouse-type space.
Details:- Ryan Edward Got Married To Mackenzie Standifer Months Ago! But Fans Just Recently Glimpsed The Wedding
The newlywed bride Mackenzie shared her joy of getting married, stating:
"It's been in the works since the day we got engaged. It was never just decided upon — we knew from day one this was going to be it."
According to the court records, Ryan got married to Mackenzie in 15th May in Hamilton Country, back in 2017. The sources of E-Online even noted that the father of two secretly shared "I Do" with his beloved before entering the rehab for two weeks.
The wedding came after a year of a committed relationship, which initiated after their commitment back in 2016.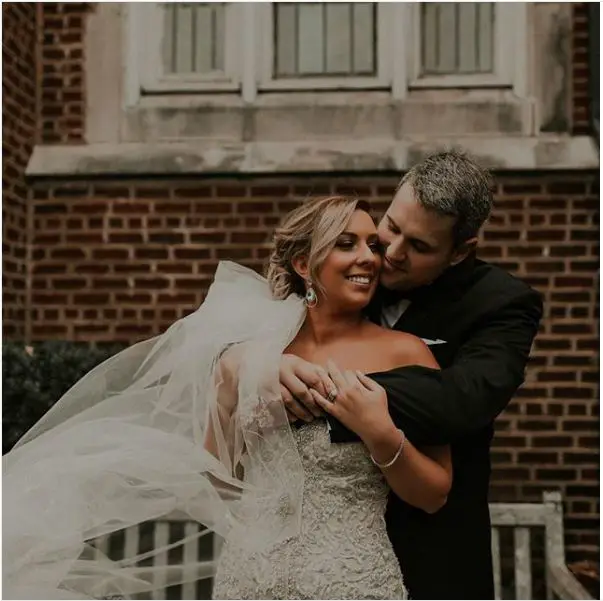 Mackenzie Edwards, with husband, Ryan donning their wedding attire in 2017 (Photo:- Mackenzie Edward's Instagram)
In a March 2018 episode of the Teen Mom OG, the two discussed plans to expand their small family. Ryan expressed his thought, stating:
"I'm ready when you're ready. I think now is as good a time as ever."
October that year, Mackenzie and Ryan welcomed their first child, a son named Jagger Ryan Edwards. At the time of his birth, baby Jagger weighed seven pounds and one ounce.
Sadly, Ryan - who was seeking treatment at a rehab center in Center - wasn't there to witness Jagger's birth. However, his parents, along with Mackenzie parents, were there to welcome their grandson.
Family Of Six! Pregnant With Second Baby!
In July 2019, Mackenzie announced that she and her husband were expecting their baby #2. The Teen Mom OG star shared the joyous news via Instagram by posting a sonogram.
Pregnant In 2019:- Yung Miami Family, Boyfriend, Pregnant, Son, Net Worth
The caption accompanying the sonogram revealed the baby's gender as a girl. Mackenzie and Ryan's daughter was due to arrive in January 2020.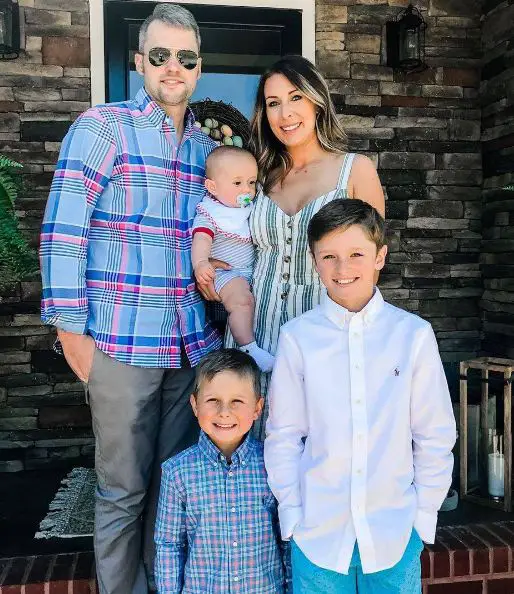 Mackenzie Edwards, husband Ryan Edwards, and kids smile for a family photo circa 2019 (Photo:- Eonline.com)
The news of Mackenzie being pregnant came several months after she and Ryan rejoined the cast of Teen Mom. In 2018, the duo announced that they were quitting the show.
First Husband, Son & Job
Before Ryan, Mackenzie was in a marital relationship with Zachery Stephens, with whom she shares a son named Hudson. It is not the first relationship for Ryan either; he shares a son named Bentley Cadence Edwards with his ex-fiance, Teen Mom's star Maci Bookout.
Well, it's difficult to say if Mackenzie, who attended nursing school, ever went to a job as a nurse or not, but now, she seems to be happy with the role of a mother. In her blog mackenzieedwards.org, she describes herself as a mother of two, Hudson and bonus mother to Bentley while being happily married to Ryan at the age of 21.