Yung Miami, one-half of the all-female duo City Girls... a penchant for dating violent men never... announced being pregnant with... tagged her boyfriend-turned-alleged baby daddy... biological mother Keenya Young conspired... her net worth is...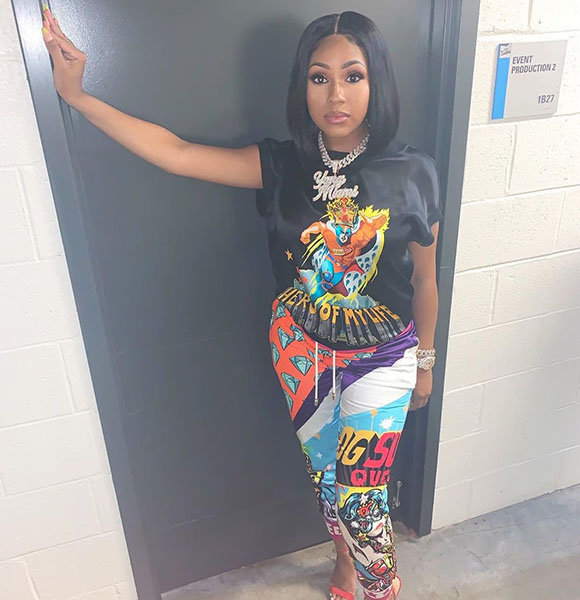 For people of African-American descent, Hip-Hop often provides a way out. The same was true for Yung Miami, one-half of the all-female duo, City Girls.
Despite suffering a family tragedy at a tender age, the Florida-born rapper defied every odds that obstructed her path to success. Not only did she overcome childhood trauma but also became active enough to foster a career in music.
Breeze through her biography to learn more!
Boyfriend & Dating
Trouble seems to follow Miami everywhere. He penchant for dating violent men never helped.
In 2015, Miami filed a restraining order against Jai Wiggins, her then-boyfriend. In the court documents, she accused him of physically abusing and stalking her. The protection term got further extended after Jai reportedly enforced himself onto her.
Despite the severity of the abuse, the "I'll Take Your Man" rapper never testified in the court. It even contributed to Jai's lenient sentencing in 2019. Fans believe that Miami's drawback was for the sake of her child as she and Jai are parents to a son named Jai Wiggins Jr.
As her son's sole custodian, Miami can be overprotective at times. Her motherly instincts backfired when Jai threatened their son with violence if he ever came out as gay. She later retracted her words.
Pregnant For 2nd Time
Undeterred by the backlash, Miami wanted to embrace motherhood all over again. And in June 2019, she announced being pregnant with a daughter.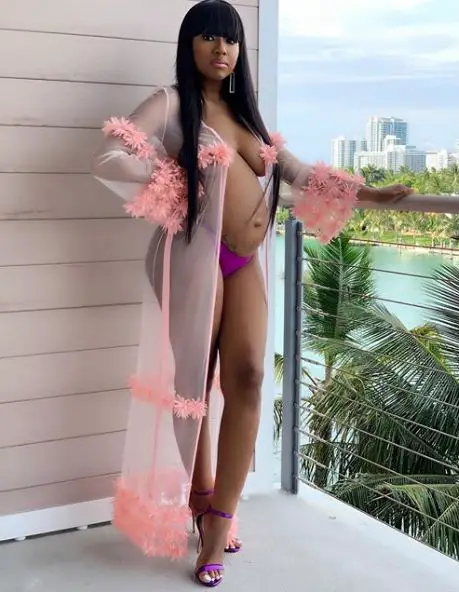 Yung Miami shows off her baby bump in June 2019 (Photo: Yung Miami's Instagram)
Announcing the news via Instagram, she flaunted her baby bump and described being pregnant as a "beautiful thing." In the post, she tagged her boyfriend-turned-alleged baby daddy, Southside.
A member of the production collective 808 Mafia, Southside and Miami began dating in 2018.
Bio: Family & Height
Yung Miami was born as Caresha Romeka Brownlee on the 11th of February, 1994. A native of Miami, Florida, she spent her formative years in Opa-Locka.
Growing up, Miami of five feet and two inches height endured many heartbreaks. Ravaged in poverty, the neighborhood that raised her was dangerously violent. In many ways, the Act Up hitmaker was the product of her surrounding.
Her Peer:- Kash Doll Bio, Net Worth, Boyfriend, Family, Height
In 2009, then-a teenager Miami and her biological mother Keenya Young conspired to shoplift. After successfully performing the deed, the duo fled the crime scene. In the ensuing chase, the gateway vehicle carrying the two collided with another car which resulted in the death of Emily Anderson.
Eight years later, Keenya pleaded guilty to the charges of first-degree murder. For her involvement, the judge slapped her with five years imprisonment and ten years of probation. Miami's status as a minor exonerated her.
Yung Miami's Net Worth Now
Her mother's sentencing also coincided with her prominence to rap superstardom. An enraged Miami with her friend JT released a scorching diss record called "Fu*k Dat Ni*ga" in August 2017. It became an overnight hit, eventually earning them a recording contract with Quality Control Music.
Under the moniker City Girls, Miami and JT released their debut album Period in May 2018. November that year, they followed it up with their sophomore effort titled Girl Code.
As the Hip-Hop most exciting female act now, the Twerk hitmaker's profile continues to grow. So does her net worth of $500 thousand.
Rising Female Rapper:- Rico Nasty Bio, Boyfriend, Parents, Net Worth
In June 2018, JT began to serve the jail sentence for credit card fraud charges.