Entertainment
Maddie Poppe Crowned American Idol Winner At Age 20; Boyfriend Gets Revealed!
American singer Maddie made her dreams come true after claiming the title of the 16th season of American Idol.
But the big day did not end there because while Maddie was on the verge of victory, there came a surprising revelation. It was revealed that she had been dating and the one, who let the cat out of the bag is none other than her boyfriend. 
Her fans witnessed not only Maddie holding the title but also the love between the 20-years-old singer and her boyfriend.
Join in to know the story of Maddie's love life along with her claim to title along with her bio-related information!
Wins "American Idol"; Boyfriend Is Runner-Up!
20-years-old Maddie is rich in soothing voice and down-to-earth personality, which mesmerized millions until the last moments of American Idol. She was standing with Caleb Lee Hutchinson - another top two finalists, in the Grand Finale held on 21st May 2018. 
Ryan Seacrest was on the verge of announcing the winner among the two after the thorough introduction of both, the finalists. Right then, the host gave a subtle hint that both Maddie and Caleb might be dating by asking whether there was anything significant in the song, they both sang together. Ryan remarked, 
"Results are coming up very soon. But before we get to those, we want to celebrate the incredible talent that is your top two,"I'm just wondering, is there a special significance to the song when you sing it with Maddie?"
To the surprise of all the judges, audiences and even the family of the two, Caleb revealed that the duo was dating. Maddie's boyfriend quoted her as his "best pal" and disclosed their relationship. Caleb stated, 
"She's my best pal. I've known her since Hollywood Week, and she actually happens to be my girlfriend."
Katy Perry even spun her chair multiple times in shock to the revelation of Maddie's dating life.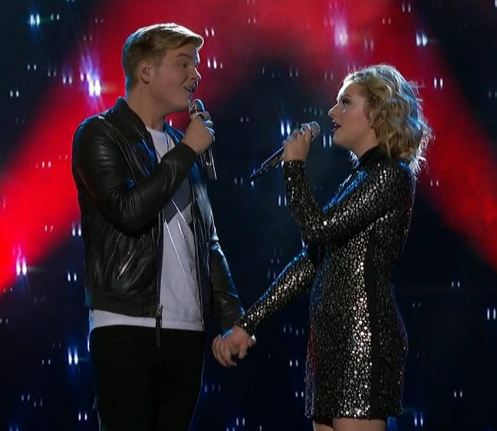 Maddie Poppe holds hand with boyfriend Caleb Lee Hutchinson while singing "Somewhere Over the Rainbow" in American Idol's grand finale (Photo: eonline.com)
The couple then added awe on top of shock by performing a duet in Israel Kamakawiwo'ole's song "Somewhere Over the Rainbow." The lovebirds even held hands during the performance, which was an emotional moment to witness. Ryan Seacrest, himself was all tears while the audience went wild with cheers.
A moment later, Maddie got crowned by American Idol's title and she could not wait but hug her boyfriend out of overwhelmed happiness. The couple was also gifted a free trip to Disney's Aulani resort in Hawaii.
Supportive Boyfriend; American Idol's Best Gift
Following the show, Caleb took the happy news to his Twitter and celebrated his girlfriend's triumph. He posted a picture of them hugging and via the caption disclosed that he is honored to call Maddie his girlfriend.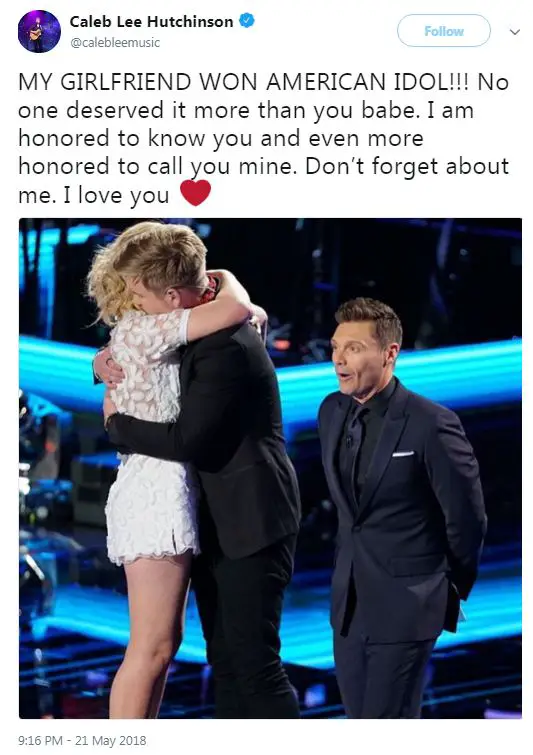 Maddie Poppe hugs boyfriend Caleb on winning the 2018's American Idol  (Photo: Caleb Lee Hutchinson's Twitter)
The Clarksville, Iowa native, who celebrates her birthday every 5 December, also commemorated her victory and Instagrammed a picture from her winning-moment on Instagram on 22 May 2018.
In the photo's caption, she shared a heartfelt message for her voters and thanked them for believing in her. She also disclosed that the platform of American Idol has not only taught her to build a career but also credited her with lifelong friends. 
Maddie even mentioned her boyfriend and wrote that the best American Idol's gift to her is Caleb. She stated that Caleb meant so much to her and hoped to be with him until the last. She captioned the image as, 
This guy captured my heart from the start and showed me what love truly means. I've never cared for or adored another person so much, @calebleemusic you mean so much to me and I'm so blessed to be able to have had you alongside me throughout this journey and hopefully for many more moons to come, xo. So blessed, so grateful. Thank you. 
As a winner, Maddie won a recording contract with Hollywood Records and also an opportunity to perform at the Hollywood Bowl and the Radio Disney Awards.
It is indeed pleasuring to know that Maddie not only earned a title at a young age but also a partner who's proud of her. Moreover, she also has supporting parents, and a loving sister, Emma.