Entertainment
Is Madeline Zima Secretly Married? Hints On Intentions Of Dating Women While Talking About Lesbian Role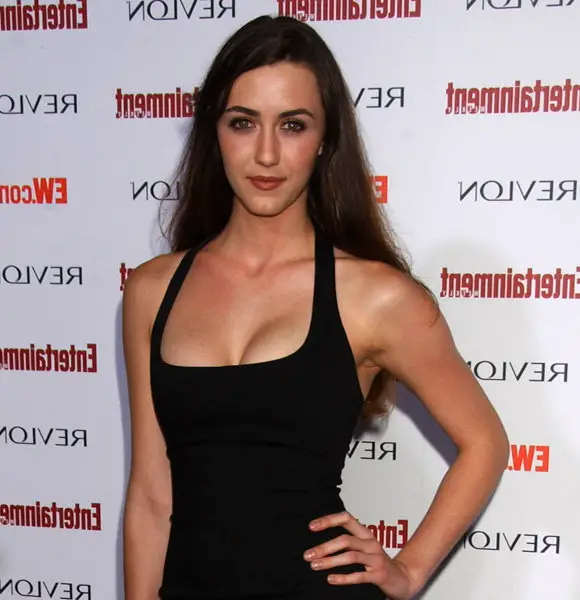 When an actor portrays a same-sex romance onscreen, they are assumed to be a lesbian or bisexual off-screen as well. Sharing a similar story is actress Madeline Zima, who portrayed a lesbian role onscreen.
The actress even hints at her dating a woman. The curiosity arises among fans; was that an indication of dating a woman in real life as well? Did she get married? And if she did, does she have a husband or a partner? Let's find out.
Is Madeline Zima Married or Dating? 
Madeline Zima remains unmarried and single in front of the public. Neither the news of Madeline Zima's marriage nor dating has surfaced in the media; she has yet admitted about her potential partner.
However, we would like to inform you that Madeline had a boyfriend. In June 2011, Madeline mentioned that she had a boyfriend in her tweet. Even though the actress acknowledged having a boyfriend, she managed to keep things personal by keeping his name a secret.


Nevertheless, Madeline's fans were happy to know that she has a boyfriend to romance in real life.
Soon after, it was revealed that the potential boyfriend was Josh Radnor, who is an American actor, filmmaker, author, and musician, and the couple started dating in 2010. But, the duo broke things up in the same year.
Madeline has successfully kept her current love life out of the media. And it's unknown when the veil over her love life would lift, so one can only imagine how colorful it would be.
For now, all we can do we can obsess over her character and her role as a lesbian.
Talks About Her Lesbian Character
In one of her interviews, on July 29, 2010, Madeline showed interest in dating a woman. By dropping a hint on the matter? Let's find out.
Madeline has portrayed bisexual and lesbian characters onscreen and revealed that the character of "Gretchen" on series, Heroes was not her first gay role and shared,
"I did a movie with Brittany Roberts and I had a crush on her in the movie and had to make out with Selma Blair, It's called Family Tree. So this was my second girl-on-girl kiss."
Talking about her series "Heroes," Madeline revealed that her character was not lesbian in the script initially and said,
"I had inkling because it was called a "chemistry read" with Hayden [Panettiere] and I was like 'Hmm, chemistry! With a girl? I never had to do that. That's weird.' And I kind of was playing it that way just because I like to find the underlying things in a character and play those things up, which it was more flirtatious than straight up friendly."
 
Moreover, she expressed her wish regarding the onscreen relationship of her character "Gretchen" with "Claire" in the series "Heroes" and said,
"We were mainly friends and had a lot of sexual tension, mostly on my part, but a little bit on hers, too. It's like they didn't want to go all the way gay with that storyline but I think they should have. I think they were scared. They'd put us in a trunk together and they'd find new ways to make us in a really close space but not make us kiss anymore. It's like "what are you doing?"
Madeline was utterly serious  as she gave these statements without joking at all and said,
"You never know, I might become a lesbian sometime. Very soon — I seriously considered it. I think women are beautiful and they're definitely good kissers."
And on being asked if she had any connection beyond her onscreen role with her onscreen love Claire Bennett portrayed by Hayden Panettiere, she laughed and replied,
"If there would be any girl, it would probably be her."
Does Madeline's statement hint at living inside a closet without acknowledging her sexuality in public? Is it the reason that her romantic life remains far away from the limelight?
The possibilities could be endless, and nothing regarding the matter could be said as Madeline has not stated anything regarding the matter, and we cannot assume anyone's sexual orientation. As for her work in movies, there is quite a good number.
Short Bio
36-year-old actress Madeline Zima was born on September 16, 1985, in New Haven, Connecticut, the U.S., born from her parents, Marie Zima and Dennis Zima. The meaning of her surname is "winter" in Polish and comes from her maternal grandfather, who was of Polish descent. Madeline has two younger sisters, Vanessa Zima and Yvonne Zima, both of whom are also actresses.
With a net worth of $1.5 Million, Zima is an American actress who has been a part of 59 projects. Some of her well-recognized shows are Grace Sheffield on the CBS sitcom The Nanny, Mia Lewis on the Showtime comedy-drama series Californication, Gretchen Berg on the NBC series Heroes, Tracey Barberato in the series of Twin Peaks, and Charlotte in The Vampire Diaries.
On the career front, Madeline is an aspiring actress still going strong with her career; as for her romantic life, stay tuned with us for more updates.