Entertainment
SNL Maggie Rogers Age, Birthday, Parents Details & Dating Status
Maggie Rogers is a singer who rose to fame after the video of her music leaving Pharell Williams speechless went viral.
She gained more recognition after making her television debut by performing her song, Alaska (2016), in The Tonight Show Starring Jimmy Fallon on 15th February 2017.
Since her first TV appearance, she has released one studio album and six singles as of February 2020. Maggie also performed on Saturday Night Live in 2018.
She has gathered a very loyal fanbase, which includes celebrities like Barack and Michelle Obama, Lorde, Pharell Williams, Taylor Swift, and Camila Mendes, among others.
Age, Birthday & Parents
Margaret Debay Rogers was born to a car dealership owner father and an oncology nurse mother on 25th April 1994 in Maryland. She also has an older sister and a younger brother. 
SNL
The Alaska singer performed on Saturday Night Live on 3rd November 2018. Maggie sang Lights On (2018) and Fallingwater (2019), both of which were from her forthcoming LP.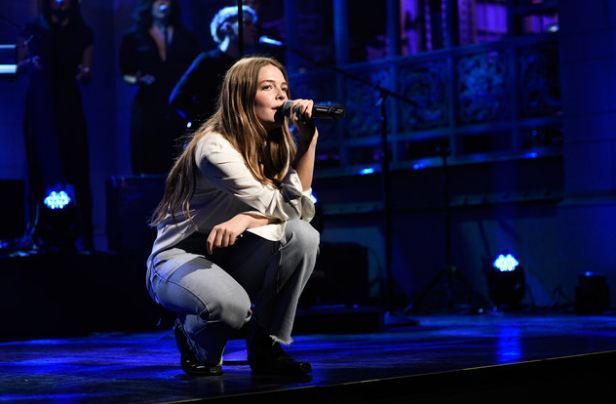 Maggie Rogers performing on SNL on 3rd November 2018 (Photo: Will Heath/NBC)
She seemed incredibly nervous on the stage, and her Lights On performance was reportedly rocky. Many pointed out how she was not in tune during the first verse. Her fans defended her, saying that she may just be having an off-night.
Though her performance garnered a lot of attention, the thing about her SNL appearance that stayed under the spotlight was Pete Davidson jokingly proposing to her during a promo with host Jonah Hill.
About Pete Davidson:- Pete Davidson Dating Status, Girlfriend, Split, & More
Pete was standing next to her when he decided to crack a joke and said, "Hey Maggie, I am Pete. You wanna get married?" The promo clip went viral and got to Ariana Grande, whom Pete was dating not long before.
Sexual Harassment
In October of 2019, Maggie spoke up about sexual harassment after an incident during her concert in Austin, Texas. She was giving a speech when someone from the audience shouted, "Take your top off," while another yelled, "You cute, though." 
The artist took to Twitter to address the issue. She said that she was stunned, furious, fuming, and confused. Maggie continued that she was hurt and wanted to use the opportunity to address how she viewed the disrespectful behavior. 
She was adamant about the fact that she wanted the space she and her fans shared to be safe as she said, "I want to use this moment to be very, very clear, there is no space for harassment or disrespect or degradation of any kind at my show. Be kind to each other out there." 
Facts About Maggie Rogers
She is synesthetic and can hear colors.

Maggie is a very good friend of Camila Mendes, the Riverdale star.

She wrote Alaska in 15 minutes.

The singer received a letter from Barack and Michelle Obama, which she described as her Grammy on her Instagram.

She was an Intern at ELLE.