Entertainment
Malia Obama Now: Bio Reveals White Boyfriend Dating Status & Much More
At the tender age of 10, Malia Obama went from being her parent's first child to America's first kid when her father Barack Obama got elected as the leader of the free world in 2008. Her father's re-election in 2012 meant that she would never get an opportunity to lead a normal life of an average American teenager.
As Malia navigates her way into annals of the early 20's, the world seems fixated on her every action. The American public's fixation with her seemed to have only gotten stronger with the emergence of a boyfriend in the picture now.
Let's dig into Maliah's biography to learn more about her secret dating history!
Malia Obama's Bio Including Age, Net Worth & College
The world robbed Malia, age 20, of her shot at an ordinary life when America elected her father to succeed then out-going President of the United States Geroge Bush as it's leader.
While the consensus among the general public may echo similar sentiments, her parents seemed to think otherwise. In November of 2017, her mother Michelle Obama briefly touched on the issues she and her baby sister had to deal with while growing up. She quipped:
"Barack and I, we thought about with Malia and Sasha, OK, we could've spent eight years feeling sorry for them that they were living in a bubble that every misstep for them would be on YouTube, that their privacy, they didn't have access to their father in a way.
The former First Lady of the United States followed up by professing zero regrets for the way she and her husband raised their daughters. In an almost prideful tone, she explained:
"We could've felt bad for them, and there would've been a truth there. But our view was this is their life, and we can't apologize for the life they have because a whole lot of it is good."
Not just her mother, Malia - who has a reported net worth of $100 thousand - seems to have won over her father's confidence as well. Unlike many fathers who pray every night that their daughter doesn't come of age, Barack is "pretty relaxed" about Malia's impending entry into the dating scene.
In a telephone interview with ABC, the 44th President of the United States likened Malai and Sasha's dating etiquette with that of their mother. Barack said:
"For two reasons, one is Michelle… She's such a great example of how she carries herself, her self-esteem, not depending on boys to validate how you look or, you know, not letting yourself be judged by anything other than your character and intelligence."
Little did her father know that less than a year after his statement, Malia would begin dating when she left for Harvard to further her college education.
Discover:- Openly Gay Lee Daniels & Boyfriend Are Power Couples | Children Status Now
Malia's Dating Status Now; A Year Old Romance With Brit Boyfriend
Following Barack's completion of his presidential term at the White House, the Obamas seemed keen as ever to go back to their lives as ordinary citizens.
Malia even took a year off from college to get the feel of her new surrounding. Her year-long sabbatical would prove to be fruitful as she gained much-needed experience from her interning gigs at the U.S. Embassy in Madrid, Spain, and the Weinstein Company in New York.
Between her family's exit from the White House and her enrollment at the Harvard University, Malia managed to pull off the impossible; she evaded the prying lens of paparazzi's for a year until she was caught on cameras locking lips with an unknown guy at the Harvard-Yale football game by the same paparazzi.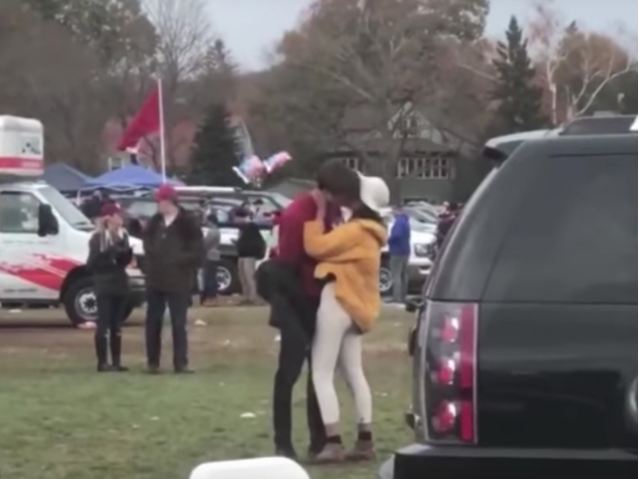 A screenshot of TMZ's footage of Malia kissing a mystery guy (Photo:- businessinsider.com)
Soon after TMZ had released the grainy footage of Malia and her mystery man kissing, The Daily Mail did some digging and identified the mystery man as Rory Farquharson -- a fellow Harvard attendee.
It wasn't the only dirt that the Daily Mail discovered on Malia's then-rumored-boyfriend. The Daily Mail investigation revealed Rory's background as the son of a wealthy British investment banker. According to the report, his father is a CEO of an Investment firm based in London.
Interesting:- Radio Personality Danny Bonaduce: Found Perfect Wife After 2 Divorces? What About His Married Life and Kids?
The pair's relationship seems to have transcended race and nationality. With every passing month, Malia and her boyfriend's budding romance forces the public to see their union in a new light.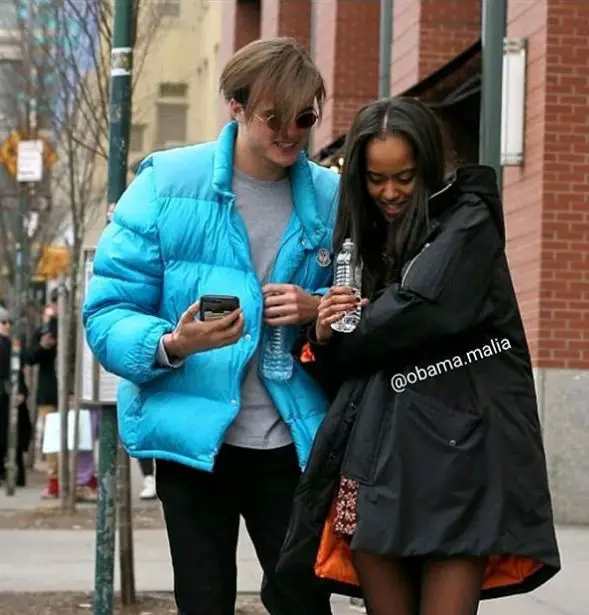 Malia and her boyfriend, Rory look smitten as they spend time together in New York (Photo:- businessinsider.com)
Those, who had previously dubbed their relationship "a college fling", are now compelled re-evaluate their earlier statements as the smitten duo nears one year anniversary of them dating.
For the Harvard college sweethearts, the said one year period had been nothing short of blissful. From regular public sightings in the streets of New York and Paris to attending the Jay-Z and Beyonce concert, all signs point toward a prospering relationship between the two.