Entertainment
Malinda Williams Dating Anyone After Divorce? Husband Reveals Details Of Their Rocky Marriage
When a marriage ends, you feel terrible, and all of a sudden you feel like your life is not headed in the right direction. Just ask "A Thin Line Between Love and Hate" actress, Malinda Williams, who has faced broken marriages not once but twice.
Today, we take a look at how her relationships ended with her former husbands, and we also see if she has a partner in life right now. So, keep reading!
The Failed Married Relationships of Malinda Williams:
Malinda was formerly married to actor Mekhi Phifer. The two tied the knot back in 1999, and share a son named Omikaye Phifer. However, after four years of sharing a husband-wife relationship, they ended their marital relationship in 2003.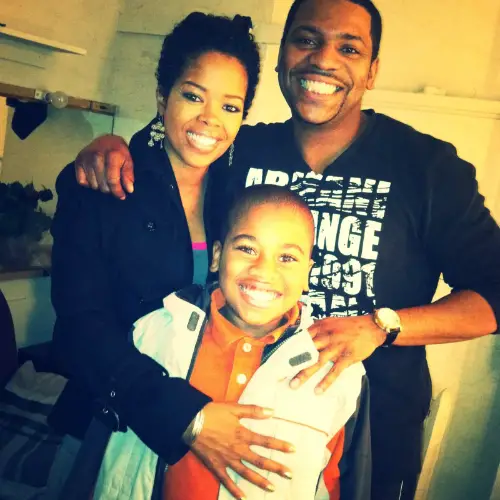 Caption: Malinda Williams with her former husband Mekhi Phifer and son Omikaye Phifer.
Photo Credit: thejasminebrand.com
The reason behind the demise of the relationship was said to be the unfaithfulness of Mekhi, but back in an interview, Mekhi spoke about the relationship and how it died and ended in a divorce.
When he was asked if getting married to Malinda at a young age affected his career, he said,
No it didn't affect my career, it affected me and helped me learn a lot about myself. I was young, I was like 24 years old and that's tough being that young in this business, where I was at in this business and being in a tumultuous relationship. Because you try to do the right thing, me and her have a son together.

Being in that kind of relationship and that jump in my career at that age, it was tough. I can't front arguing at home and going through all of that because we were both young and with both our A-type personalities–but we're really good peoples now.

We're better off, like we're happily divorced, we're better off friends and we're raising our son together now but at the time it was crazy. For a lack of a better term, you're traveling and girls are throwing it at you and sometimes your catching it.
Similarly, when he was asked if he cheated on Malinda the whole time, he responded saying,
Not the whole time but you know we were only married for less than a year. Then there was a point because I bought us a house and we were living on opposite sides of the house. We were technically married but you're going two or three days living in the house and you aren't even talking to, you talking about walking up and down the stairs past each other and you aren't even talking. Then you got out in the world and you have your own group of friends and she has her peoples and you just become separate.
Moreover, when asked if it was a bad break up, he answered,
Yeah and no, I was kind of relived. I had developed this bald spot in the back of my hair because I was stressed and I didn't even know it was stress. But once we got separated and I didn't make it hard, I left her with the house and all of that and just left. I left with my clothes and my whip so then I was cool. But I guess she was still affected by it, she did this whole Honey article.
Malinda always called Mekhi a cheater and an adulterer. Mekhi also addressed the matter and divulged,
Yeah but there was no proof of that.
So there you have it, folks, it was quite a tumultuous relationship, to say the least, and after he split with Malinda, Mekhi then married Reshelet Barnes.
Malinda and Mekhi are said to be good friends now as they are co-parents to their son.
Also, following her divorce with Mekhi, Malinda then married famous DJ/Photographer D-Nice.
The two married one another in August 2008 and after months of celebrating their first anniversary, the two separated in October 2009.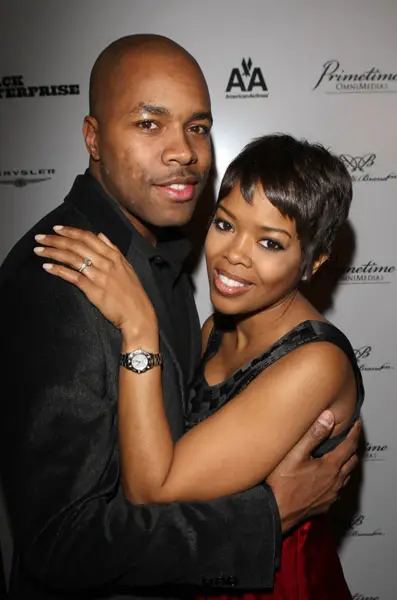 Caption: Malinda Williams poses for a picture with her second husband, D-Nice.
Photo Credit: suitestl.wordpress.com
The DJ was the one to confirm the split through a statement that said,
"I ask that our privacy be honored during this extremely personal time. I thank my family and fans for their endless support."
Moreover, Malinda's rep BJ Coleman said,
"I never comment on my clients' personal lives,"

"I do know Malinda's main focus is always the well-being of her son. She is working on a couple of new projects and is excited about moving forward in 2010."
Is Malinda Dating Or Seeing Anyone Lately?
After failing to take both her marital relationships till the end of her life, is she dating anyone right now? This is the question that is on everyone's mind.
Well, thus far, there are no reports of her having a partner in her life right now as she is entirely focused on her career and giving her son the proper upbringing. Maybe that has kept her occupied, and thus, she has not presented a partner in her life.
Maybe, she just wants no more heartaches, and maybe she has someone in her life who she is hiding out of the limelight.
Until further words from Malinda, let's wait and watch what comes up in this actress' life!
Malinda's Famous Hairstyle:
Malinda is always known to have a very stylish hair style.
She and her mother, Beverly Williams once shared very useful hair tips which they learned from one another.
Malinda said,
"I learned from my mom how to be fabulous at every age!! My mom always changed her hair while remaining fresh, fabulous and always age appropriate."
She added,
"Always consider your face shape, lifestyle and texture. You'll get the most mileage out of styles and textures that enhance and showcase your natural assets. Stick with what works for you, not what is the trend of the moment. Everything isn't for everybody."
Her mother Beverly then continued,
"A stressed mind can give you stressed hair."

"Healthy hair, just like a pretty face, comes from within."
Caption: Malinda Williams' Mane Taming: A Short Hair Makeover. (Published on August 10, 2013)
Very useful tips those.
Malinda's contributions in famous projects like South Central, My So-Called Life, Miami Vice, Laurel Avenue, Roc, the Planeteers, Sister, Sister, Me and the Boys, Captain Planet and The Client have resulted in her earning a hefty amount of money in her career. As a result, she boasts a net worth of 1.5 million dollars.