Entertainment
Manny Jacinto: Girlfriend and Dating Exist Only On Screens For This Actor?
Most of the people remain busy with their work and career and are hustling every day to meet the deadline, pay their bills and what not. It can be nerve-wracking, and people can easily slip out of focus of their personal life.
The engineer-turned-actor, Manny Jancito can relate to this more than anyone else. The 30-year-old actor has a sizzling romance on camera but has a freezing love life off-screen.
Is he too busy with his work to be dating or does he have a girlfriend hidden somewhere?
Scroll down to feed your curiosity.
Manny Jacinto's Dating Affair On and Off Camera:
Manny Jacinto is an aspiring actor who moved from the Philippines to Canada at the age of three with his parents. Now, almost three decades later, the 30-year-old has reached a new height of stardom and is considered one of the talented and good-looking artists of our generation, resisting all the Asian stereotypes gracefully. 
He is famous for his role as Jason Mendoza, the sweet, beautiful idiot in the hit series The Good Place. At the beginning of the show, his character starts off as a Buddhist monk who took the vow of silence. But later, it is revealed that he was just a stupid screwup from Jacksonville.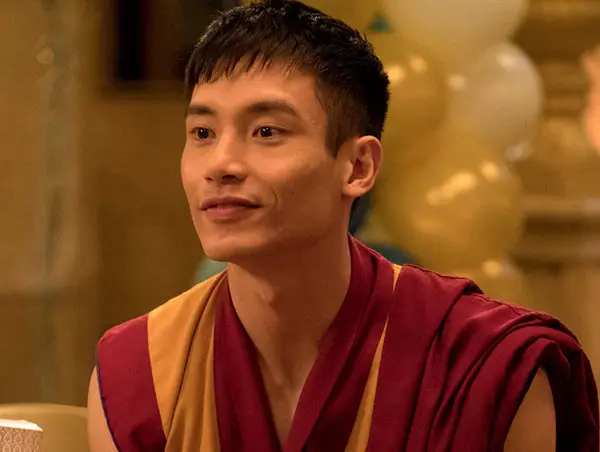 Caption: Manny in role of monk in "The Good Place"
Photo Credit: toofab.com.
He is known as Jianyu, an allegedly silent monk, in 'the good place". His character is in love with Janet, an artificial being, which is played by D'Arcy Carden. When asked about his romance on camera and his feelings for Janet in an interview he shared:
Oh, I think his feelings are completely genuine. I've thought about it for a good amount and really tried to justify it and I feel that through Janet that Jason is becoming a lot more unselfish since he is starting to think about someone other than himself.
His portrayal of Jason is so highly well received and appreciated that his fans, especially ladies, can't help but obsess over him.
Another fan also shared the same notion of him.
Jason from The Good Place is hot. Anyway that's all I have to say today

— elizabeth (@virgofcolour) October 22, 2017
It is quite a surprise that the adorable, young and talented actor has not been linked to anyone in his real life. His dating affair is quite the opposite of his career which is very public.
Given his lack of dating details, there is a possibility of him being gay, but that is not confirmed yet. Well, we'll just have to wait until Manny decides to say something on the matter.
Manny Jacinto's Short Bio:
Manny Jacinto was born in Manila, Philipines on August 19, 1987. His parents later moved to Canada, and he was raised in British Columbia, Canada. He has a bachelor's degree in Civil Engineering from the University of British Columbia. 
The acting was not his initial preference as a career. During his internship, Manny participated in hip-hop dancing competition. It was during his involvement in the performance when the actor realized that he wanted to pursue acting.
He has been a part of some applaudable TV series like The Good Place (2016), The Romeo Section (2015), and Once Upon a Time (2011).