Entertainment
'WCVB' Maria Stephanos Bio: Amazing Husband & Family Journey, Inspiring!
Indeed few people on Earth are as lucky as WCVB's very own Maria Stephanos, who found a husband in her very first boyfriend. Now enjoying fulfilling family life, the Groveland native has been able to replicate similar on the professional front as well.
A graduate of Emerson College, Maria went from hosting the university's EVVY Awards to being the recipient at the same in thirty years time span. Considering how dedicated she has been with her craft - despite illness - the honor feels like a long overdue.
Delve into Maria's biography to learn more including her age, height, and her salary!
Family Of 4; Husband Was Her First Ever Date
For many, it takes rummaging through a plethora of suitable partners before finding the right person to start a family.
Don't Miss:- WKYC's Betsy Kling's Strongly Hold Wedding Vows With Husband, Lifelong!
Maria, however, didn't have to put herself through the experience of nitpicking husband prospects to share "I Dos" at the wedding. Thankfully for her, her first boyfriend would become her only.
Speaking about her very first date with her husband Dale Stephanos - an illustrator by profession whose work has featured in magazines such as Rolling Stone, Newsweek and Sports Illustrated - in 2016 WCVB interview, she shared:-
"My boyfriend at the time (now my husband) had just moved to Groveland from Swampscott and I think we walked home together in two feet of snow."
By her admission, that's at least what their kids - Isabella, age 20 & Liam, age 17 - grew up believing.
Celebrity With Equally Amazing Husband:- Carolina Bermudez's Splendid Net Worth of $3 Million: Shares With Amazing Husband and 2 Children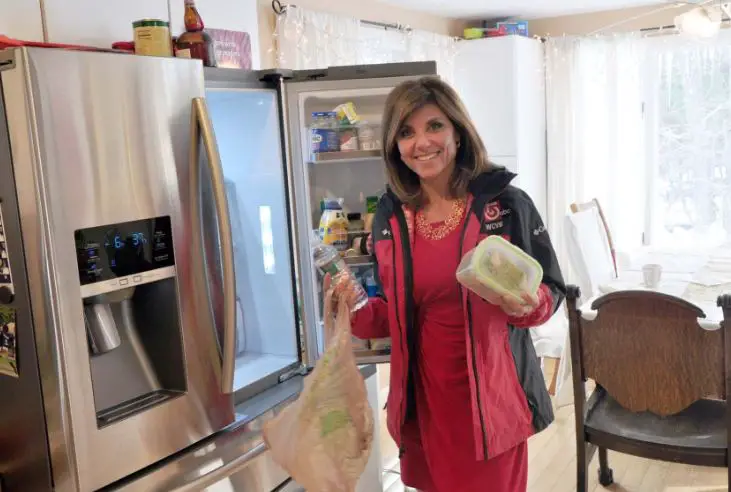 Maria at her home (Photo:- thesunchronicle.com)
For the most part, the former WFXT fixture has done all the talking in their two-decade-long marriage. However, back in 2009, it was her husband who had to update the press about her illness after she had collapsed at her workplace due to dehydration and exhaustion.
WCVB News Achor's Bio Unveils Age, Salary & Height
At the time of the incident, Maria bio suggests that she was still working at WFXT -- a New England-based media outlet affiliated to FOX Network.
Having joined the stated news outlet in 1997, the mother of two, now in her 40's, left for rival WCVB Channel 5 in January of 2016 following a significant shakedown in ownership as well as the editorial direction of her now-former employer.
Interesting Bio:- Simon Sinek Bio: Inspiring Speech On Wife & Relationship, Is He Married?
Following the move, Maria - who makes six-figures in salary working for her new company - released a statement claiming:-
"WCVB is my new home, and I couldn't be prouder to be joining this team of dedicated and talented journalists... "
At WCVB, she is the anchor for the 11 p.m. newscast as well as 7 p.m. newscast & 10 p.m. newscast for the network's sister station "MeTV."
Born, raised, and educated in Massachusetts, Maria - who towers beyond 5-foot mark in height - got her kickstart as a radio reporter at WBUR's State House Bureau. She then landed her first gig as a TV reporter at WJAR-TV in Providence, New England.
See Also:- Cancer Survivor Angie Everhart's Extreme Dieting: For Illness Or Her Son?
A grad and undergrad at Emerson College, the Groveland native's contribution to the local journalism scene in her home state has gained traction. And as a result, her one-time college honored her legacy with Alumni Award of Distinction in 2018.