Coming from a family of Filipino immigrants, YouTube star Patrick Starrr couldn't even fathom getting into the beauty business. After finishing high school, he went to nursing school to become a nurse like his mother.
Even in his busy schedule, he took time for glamming up and uploaded the video on YouTube. Back in 2013, YouTube was not a career option, but he kept uploading videos as it was therapeutic for him.
Finally, Patrick's passion struck a chord with the audience, and he emerged as one of the top influencers on social media.
On Patrick's Wiki, Age, And Gender
Patrick was born on 11th November 1989 in Orlando Florida. Growing up in his hometown, he went to local Timber Creek High School where he was one busy kid.
Well, he was the student, who took part in swimming class, choir drama class and did everyone's hair.
Although his fame came from the makeup tutorials, it was not his first love. The YouTube star, real name Patrick Simondac's first passion was photography, he began taking headshots of his friends, and then gradually began to edit them.
While editing the pictures, he discovered photoshop and got interested in makeup.
Transgender Makeup Guru:- Who Is Gigi Gorgeous Girlfriend? The One Whose Net Worth Is Billions
No sooner, Patrick, age 29, posted makeup tutorials on YouTube. Surprisingly, his recognition came as a gift.
He was friends with Talia Joy, a famous Youtuber, who featured on The Ellen Degeneres Show. Meanwhile, Talia was fighting with cancer, but after she lost her fight with the deadly disease, her fans were devastated. One of the last things she did good was she liked Patrick's video.
Because of Talia, he got his first 20,000 subscribers. After the very first start, he sustained from his sheer talent and connected with the audience.
Talking about his sexuality, the YouTube star is openly gay, but he maintains that he is not transgender. Patrick's gender is male, and the dress-ups he does on his channel is a character named Patrick Starrr.
His Holiday Collection 2018
Patrick's hustle as a YouTuber paid off when he got to collaborate with the large makeup brand MAC. The makeup guru snagged not just one but five collaboration with the makeup giant, the final came out during the holiday 2018.
Out of his makeup collection, Patrick's powder was the consumer's favorite hands down. After the powder sold out, fans demanded that MAC make the said product part of his permanent collection.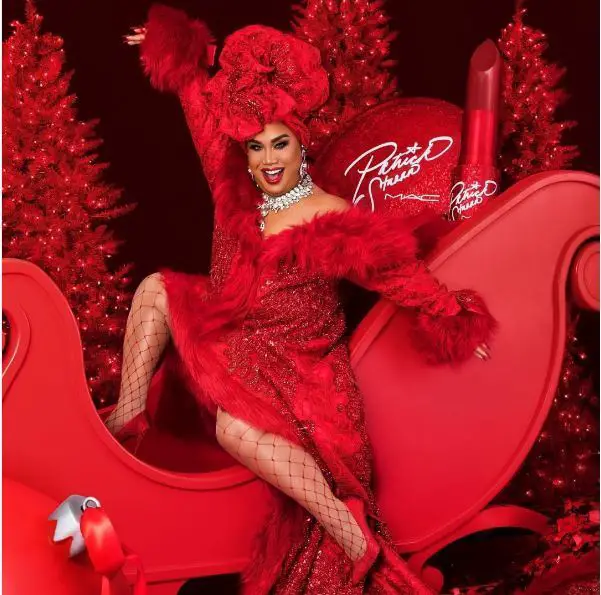 Patrick Starrr's promotional poster in MAC's Christmas Collection Holiday 2018 (Photo: MAC Cosmetic's Instagram)
While the makeup brand is yet to decide on its consumer's demand, Patrick relishes his success. 
Explore:- Openly Gay James Charles, Exceptional Makeup Artist Boyfriend | Dating?
With his massive social media following and brand deals like Sephora and Sigma, he has managed to accumulate a net worth of $360,000. And due to his massive success, his parents cannot help but, feel proud of their son, who runs a successful YouTube channel.