Entertainment
Married In Style! A Look At Darin Brooks' Beautiful Wedding Ceremony Where He Turned Girlfriend Into Wife
Darin Brooks married his longtime girlfriend actress...they exchanged vows amidst a French-inspired wedding at...revealed that he made a romantic proposal for wife in...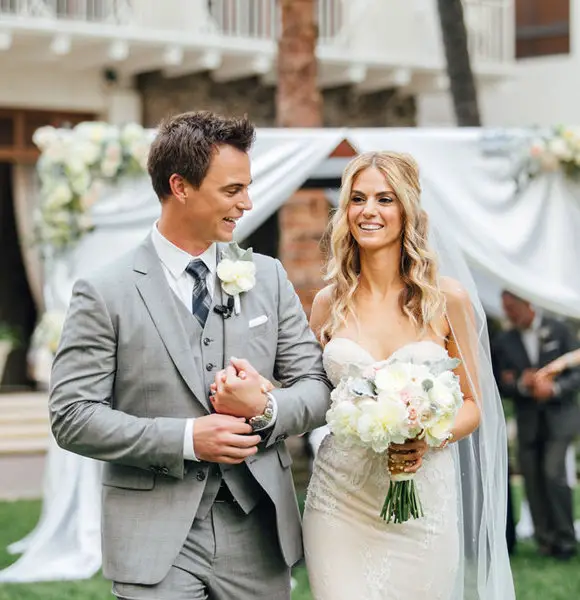 Marriage is one of the important occasions in life, and people wish to make the occasion more special in different ways. So, prolific figures spend their energy and riches to make their wedding day memorable from every angle possible.
Similarly, actor Darin Brooks had a chic wedding with his longtime girlfriend where they exchanged vows in the presence of their family, friends, and loved ones. So let's dig in.
Stylish Wedding
Actor Darin Brooks married his longtime girlfriend actress, Kelly Kruger on 21 March 2016. For the wedding, Darin and Kelly chose Darin's home state, Hawaii where they exchanged vows amidst a French-inspired wedding at Halekulani, Hotel in Oahu surrounded by their loved ones.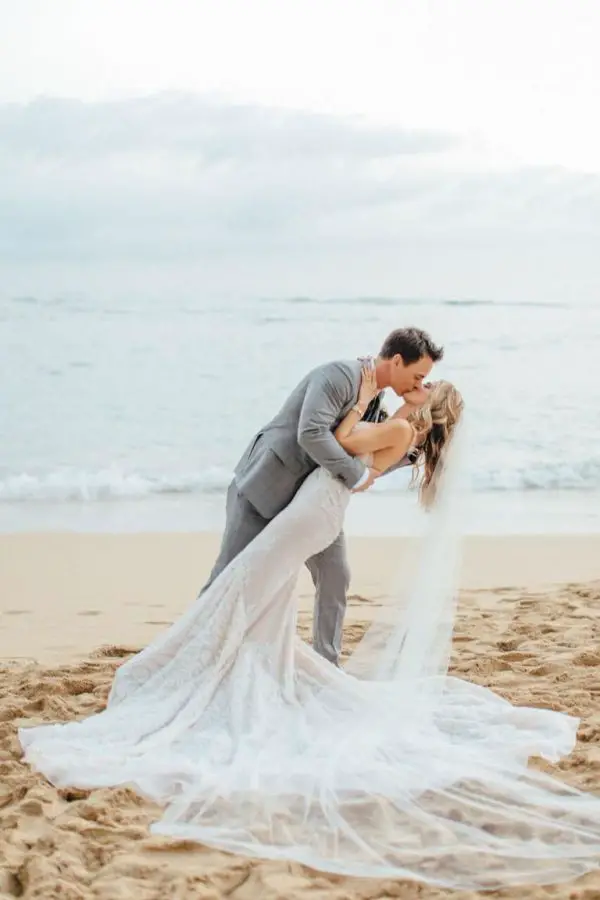 Darin Brooks and Kelly Kruger sharing a romantic kiss on their wedding day on 21 March 2016, in Hawaii (Photo: theknot.com)
As Darin and Kelly were particular about the look of the wedding, so detail was given priority from decoration with flowers, ambiance, and lighting, flowers on the cake.
The rustic vibe of chairs and the decoration reflected Darin and Kelly, and they aimed at serving their guest a real essence of local Hawaiian food which has an Asian touch too.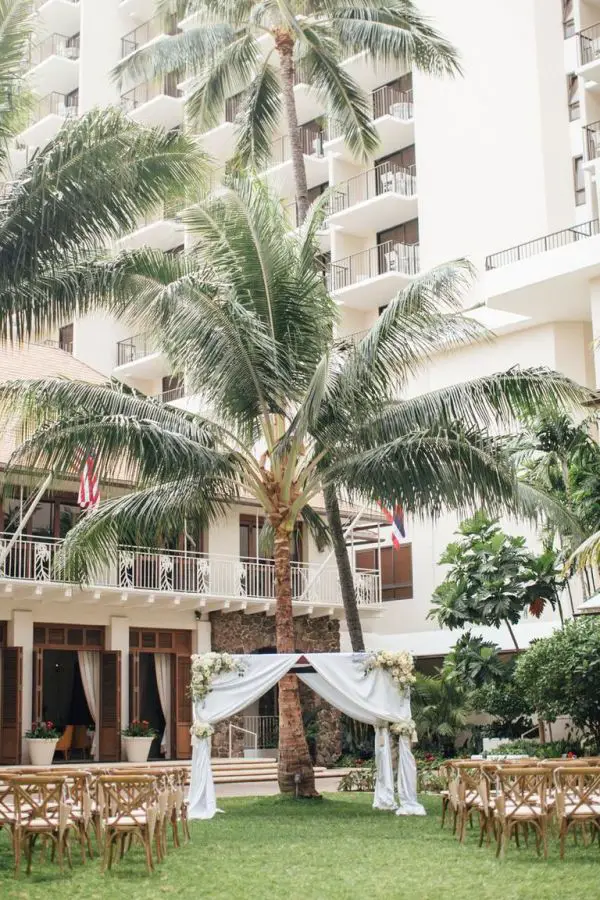 The wedding venue of Darin Brooks and Kelly Kruger in Hawaii in March 2016 (Photo: theknot.com)
And in a 2016 interview, Darin and his wife Kelly talked about their wedding where they even shared what the troubles they faced and small things which they figured out on their wedding were.
When Darin and Kelly were asked about the last-minute hiccups, Darin answered and said,
Oh yeah. There were some things that we were worried about on the day and all that stuff, but the night before we looked at each other and I was just like, 'Whatever happens tomorrow, happens tomorrow. It's all good.' There's nothing we could do.
And being precise Kelly expressed about her trouble with her veil with crystals citing,
"There were some certain things. The day of I took my veil - which had some crystal edgings - out of the dress bag because I was hiding it from Darin, and the entire thing came off. And Darin's mom's an artist who works with all types of materials and said if we glued it, it would turn yellow. So we just kind of let it go. No one was going to notice. It is what it is. There's nothing you can do about it. You have to let it go."
Kelly further shared that their wedding was perfect because of imperfections and said,
"There were little things too, like the front row was reserved for family but nobody knew that they were supposed to sit there. So the whole front row was empty. But we laugh about it because it was perfect because of the imperfections."
Further when asked about his bride on the big day of wedding Darin shared that Kelly looked like a princess and revealed being teary-eyed and said,
The first time I saw it was when she was walking down the stairs at the end of the courtyard and I thought she looked perfect. Just beautiful like a princess. I got a little happy and teary-eyed. But it was definitely a manly type of teary.
Moreover, when asked about unexpected events at the wedding, Kelly shared that planning the wedding with her husband Darin proved that if they work together, they can achieve impossible. In her own words, she pointed out, 
Two things come to mind. This whole process of planning the wedding really proved Darin and my ability to work together and achieve the impossible. We really did hit a bunch of walls in planning the wedding with certain situations and vendors and stuff like that. We really did do all of this on our own. Even Friday before the wedding we found out that we didn't have place cards for people to know what table they were at. We didn't even think about that. Ultimately Steven Boyle, our event designer, copied our invitation and came up with the same design and created it for us.And on the day, Darin who's known me for so many years, had no idea that "Grease" was my absolute favorite movie growing up.
Furthermore, Darin who was clueless about Kelly's favorite movie despite watching her dance to it many times shared,
I didn't know that she had danced to it a thousand times in her living room
On being asked about life post marriage, Darin replied,
That's what a lot of people ask me. Today I went into "Bold" and everybody was like, 'All right! How does it feel to be married?' or, 'How's married life?' We've been living together for five years and we've been together for six or seven years already. We kind of feel like we were married already. It feels a little different saying, 'wife' and, 'husband' and hearing those words because we're not used to it. When I first saw her I knew that she was going to be the one, so it's not different.
Darin met his wife Kelly while shooting a season one of Blue Mountain State in Montreal in 2010. And while shooting for the second season for Blue Mountain State, Darin in an interview he revealed that he made a romantic proposal for wife Kelly in Paris in a hotel room overlooking Eiffel tower in 2014.
Proposed In Paris :- Roxy Sowlaty & Boyfriend Are Engaged, Dating To Proposal In Detail
Darin has been happily married to his wife Kelly who is enough to subside his gay rumors, and on the first wedding anniversary, Darin shared his happiness on being with Kelly and even claimed to be a happy husband via an Instagram post.
Pregnancy, Welcomes Child
Another bag of happiness arrived in the couple's married life.
Darin and his wife were eagerly waiting for their daughter to come into their lives, and in July 2019, they organized a baby shower among their loved ones.
Eventually, on 22nd September 2019, Darin welcomed his beautiful daughter Everleigh Jolie Brooks at approximately 4:13 a.m into his life. The little munchkin weighted four kilograms.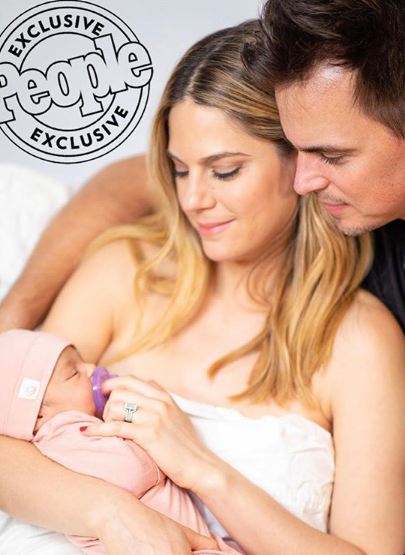 Darin Brooks and wife Kelly Kruger with their daughter Everleigh Jolie Brooks on 22nd September 2019 (Photo: people.com)
Although everything worked out in the end, things got intense during labor. Well, the delivery wasn't an easy one since the labor lasted from Wednesday to Sunday, i.e., 25th to 29th September 2019. Giving credit to his wife for staying healthy through the harsh stages, he added,
"Kelly has been truly a rockstar through all of this. She's been thrown a lot of unexpected curveballs and I'm just so impressed with her and her strength and determination," 
For now, the two sure are busy cuddling their newborn with love and care. Maybe, the two have plans to add more new ones into their family soon.
Career Start
An American actor, Darin discovered his interest in acting in theater program while in high school and played Rapunzel's Prince in the high school production, Into the Woods. Following his dreams, he began modeling along with performing as extra in films.
Cast Of Into The Woods:- Stephen Sondheim Gay, Net Worth, Family
But he is best known as Max Brady from series Days of Our Lives, as Alex Morgan from series Blue Mountain State and as Wyatt Spencer in The Bold and the Beautiful. And Darin's hard work and dedication have rewarded him with a net worth of $ 2 Million.