Martin Freeman's partner appeared as his onscreen wife in Sherlock... immediately started dating one another that year...shot in a gay bar didn't make it to the... only able to converge with his family through Skype... accumulated a considerable net worth of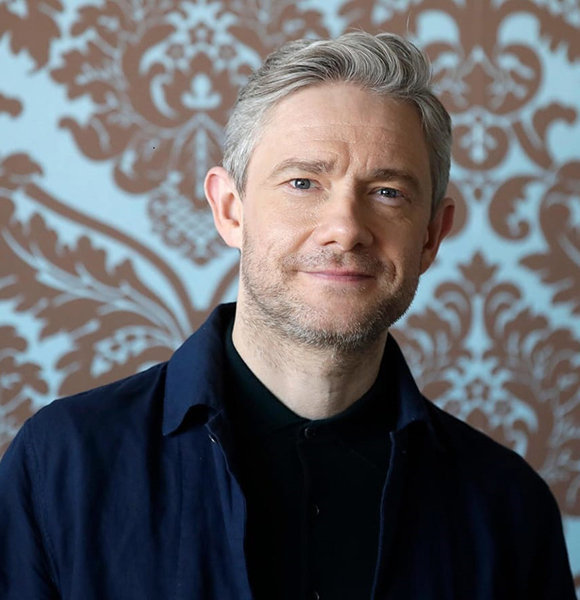 Art imitates life, and sometimes, it works both ways. But, that doesn't mean the imitation is always the pleasant one.
If you gaze into the personal life of English actor Martin Freeman, you'll find out why.
Many know him from his roles in hit British film Love Actually and primarily through his performance in the classic series, Sherlock. Throughout his time in the show, he remained vocal about the experience and even leaked exciting moments to fans.
In one instance, he revealed how a scene shot in a gay bar didn't make it to the final cut of the show's third season.
The actor even shared about his personal life, including seperation with his partner and the reason behind it.
Martin Freeman's Partner, Split
Martin - height 5 feet and 6 inches (1.6 m) - was previously in a relationship with British actress Amanda Abbington. The pair first met in 2000 on the sets of the TV drama Men Only, where the two were recurring cast members. Martin and his ex-partner immediately started dating one another the same year. 
British Actress:- Helena Bonham Carter Husband, Children, Height
Likewise, in 2006, his love gave birth to the couple's eldest son Joe Freeman. Two years later, their youngest son Grace Freeman was born.
The actor duo's relationship survived for more than a decade, and everything was going alright between the two. But, Martin's growing successful career in acting started to harm his marriage. With his popularity from Sherlock, the UK native got cast in major Hollywood projects such as The Hobbit.
As a result, he remained out of the country most of the time for shooting while his girlfriend was in charge of the kids.
Their romance started to crumble as he was able to converse with his family only through Skype calls. This long-distance relationship became the primary reason behind their split, and his ex-girlfriend Amanda even revealed,
"You can't be away from people for too long, because you start to function on your own, and you get used to being separated [from] the person you're supposed to be with. You lose that connection and lose sight of it, in the end."
However, even after making their split official in 2016, they continued to work together in professional terms. Afterall, you can't compromise work just because of personal differences. Coincidentally, Martin's ex-partner Amanda appeared as his onscreen wife in 2016's Sherlock: The Abominable Bride.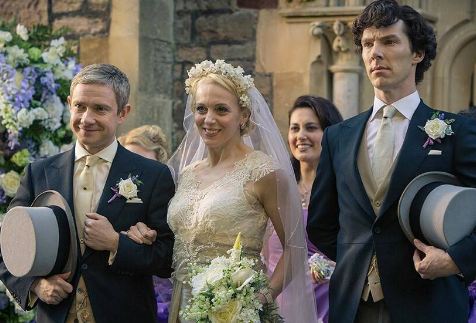 Martin Freeman and ex-girlfriend Amanda Abbington alongside actor Benedict Cumberbatch in a shot from Sherlock (Photo: eonline.com)
On top of that, the plot involved the two couple's marriage crumbling after the birth of their baby. So, in a way, Martin and Amanda found themselves portraying their real-life drama in the show.
What Is Martin's Net Worth?
At the age of 48, the artist has accumulated a considerable net worth of $15 million. Also, he is putting his income to really productive and reasonable use. On February 2019, he bought a home near co-star Benedict Cumberbatch's property.
Wife Of His Co-Star:- Meet Sophie Hunter! Wife Of Benedict Cumberbatch Who Recently Got Out Of Pregnant Women List 
His new home equipped with a wine cellar and landscaped garden cost him over $6 million. To buy the house, he took a mortgage with financial firm Royal Bankers Coutts & Co. However, with his involvement in multi-millionaire franchise such as Black Panther, Martin sure will be paying his loan in time.