Entertainment
Did Mary DeAngelis, The QVC Host Achieved Weight Loss With Surgery?
Were Mary's husband & children's love and support enough to help her attain such an impressive weight loss?...did she decide to undergo a weight loss surgery, seeing it as an illness?... Since getting married in 2010, the pair has been on at least seven of these...leaving behind their children...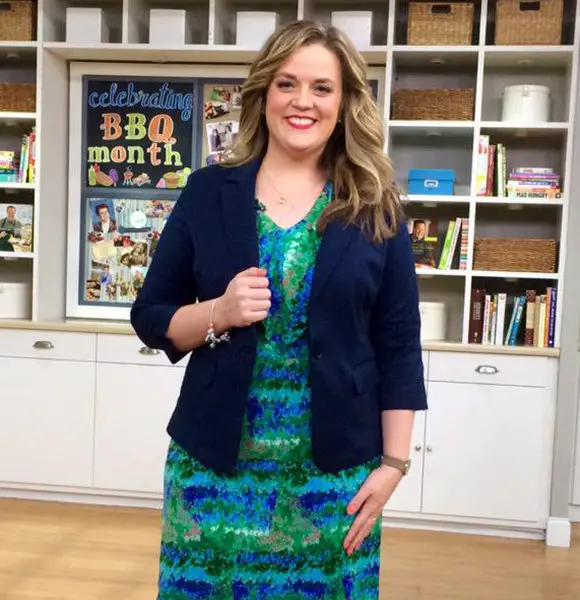 Quick Information
Ex-Husband

Name Not Disclosed

Husband/Spouse

Mr. D

Lesbian

No

Eye Color

Brown

Hair Color

Light Brown

Weight Loss

80 pounds

Weight

N/A

Height/ How Tall? N/A
Net Worth

Not Disclosed

Dating/Affair

No

Date of Birth 13th July
Wedding Date

10 October 2010

Divorce/Split

Yes (Once)

Relationship Status

Married

Son/s

2

Ethnicity/Race

White

Religion

N/A

Zodiac Sign

Cancer

Profession

Anchor

Nationality

American
For most people struggling with obesity, the term weight loss takes the shape of illness -- a condition alleviated through either prescription drugs or surgery. And there are a select group of individuals like QVC host Mary DeAngelis, who instead of seeing weight loss as a burden, opt to see it as a journey to discover oneself.
It certainly helps if your husband is as supportive of your cause as Mary's husband is to her. Also, it doesn't hurt when you and your husband are equally excited about traveling to new places on your birthday week!
So, the looming question remains: was Mary's husband & children's love and support enough to help her attain such an impressive weight loss transformation? Or did she decide to undergo a weight loss surgery, seeing it as an illness?
Truth Behind Mary DeAngelis' Weight Loss Transformation: Surgery Or Support?
Mary is all too familiar with drastic transformations if you take a peek at the trajectory of her career.
Better Not Miss:- Did Afua Hirsch Secretly Married Ghanaian Descent Partner? Personal Detail
Before joining QVC in 2009, she worked as a flight attendant and then as a call center worker. And at QVC, Mary is part of an initiative which aims to educate its viewers on the importance of eating healthy.
If anyone knows a thing or two about eating unhealthy, it's Mary. In her June 2015 aptly titled coming-of-age blog-post, It's taken me eight years to be ready to write this!, the QVC opened about her eating disorder. She revealed:
"I'm an emotional eater. And I have been for as long as I can remember. I was brutally bullied in grade school and struggled with anxiety in high school. So I took to food to be comforted."
Her stress-induced eating disorder would continue well into her adulthood. But one day, she had an epiphany of a sort and decided to turn her life around. She had her plans all mapped out as she writes:
"I changed my habits. I met with a doctor to make sure I was on the right track with my nutrition and exercise. I began reading books about happiness, joy, and positivity. I meditated."
As for the motivation behind undergoing drastic weight loss transformation, the QVC host writes about looking for intrinsic factors as opposed to the external element, which tends to wither over time. Mary explains:
"I realized that I needed to make changes because I wanted to, for me. Not because the media told me I should look a certain way, not because my grade-school bullies called me fat, not because it might help me find a perfect partner."
So, in the end, it was neither a weight loss surgery nor her husband's support, but a brute desire to turn her life around that helped pave the way for Mary's mind-blowing weight loss transformation.
Read Also:- Jane Slater Biography Has Loads To Reveal: Age, Husband, Height, Salary
That is not to say that Mary's husband isn't an integral part of her life.
QVC Host Mary DeAngelis & Husband Spend Birthday Week Traveling
The knack for traveling aside, Mary and her husband - Mr. D as Mary prefer to call him - share the same zodiac sign, i.e., Cancer. 
For their part, the married couple has made the most of their shared birth week -- Mary and her husband were born just five days apart. The smitten couple travels to different parts of the world, away from their busy lives at home, every year to mark the momentous occassion.
A couple of years back, they vacationed at Amelia Island as a part of their "Birth Week" getaway. Mary even chronicled their trip on the QVC's blog. Likewise, last year, the husband-wife duo flew to Key West to celebrate their birthdays together.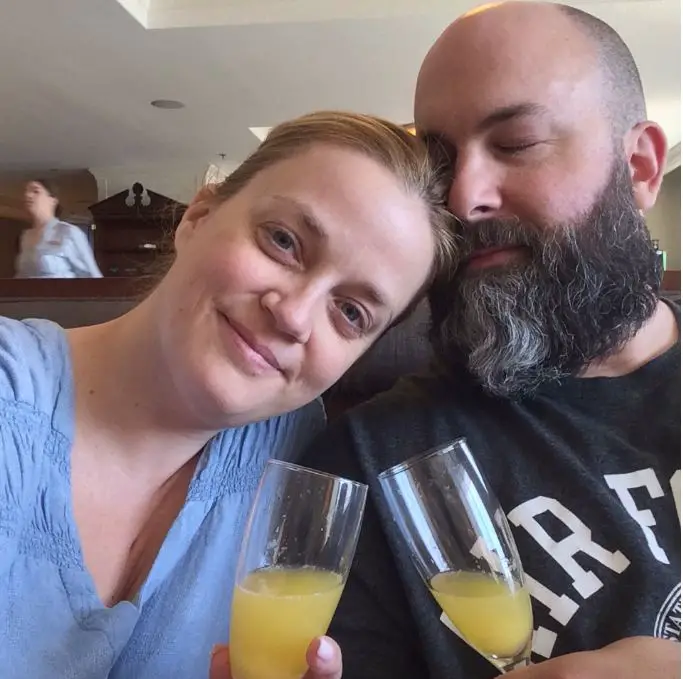 Mary with her significant other, sipping mimosa on their Amelia Island trip (Photo:- community.qvc.com)
Since getting married in 2010, the pair has been on at least seven of these trips together, leaving behind their children(her husband's children from previous marriage) at home.
Discover:- Sam Pang Is Married! Wife & Family Of Radio Presenter Revealed
Despite being together for almost eight years, Mary and her husband have yet to conceive a child of their own.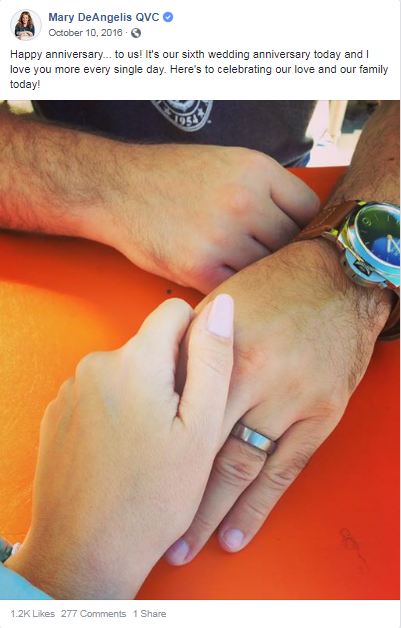 Mary wishes a happy sixth wedding anniversary to her husband (Photo:- Mary DeAngelis' Facebook)
This 10th October Mary and Mr. D celebrate their eighth year as a married couple. Will we witness a similar scene taking place to mark the occassion? Or Will Mary prefer to be lowkey this time around?