Entertainment
Openly Gay Matt Lucas Husband Death Left A Dent, Affecting Present Partner?
Matt Lucas is an English comedian, screenwriter, actor, and producer, who is known for his association with David Walliams in his show...He faced a huge tragedy in life after the death of his husband...Openly Gay Matt has however recovered and has since dated...
As said, comedian always carrys the irony to entertain others while their own life is filled with struggles and pain. 
An English comedian, screenwriter, actor and producer, Matt Lucas has brought smiles to households over the years through his work. However, with the saddening event, which saw Matt go through the grief of his ex-husband's death, he struggles to bring a smile in his own face.
But time might have slowly taken its turn in healing the grief set in the comedian's heart. Recovering from the loss slowly and steadily, Matt has finally started to make amends with previously troubled relationships.
The actor is not looking back anymore and is all set in his path to achieve career heights!
Gay Star's Tragic Husband Demise, Has Boyfriend Now?
The Paddington, United Kingdom native, openly gay ever since coming out on open to his family at the age of 25, found love in a bar in the form of Kevin Mcgee in 2002. Head over heels for each other, the duo dated for three years after meeting each other.
At a time when the gay wedding wasn't a thing, Matt got involved in a Civil Partnership and married Kevin on 16 December 2006.
You May Also Like: Openly Gay Jwan Yosef is Married! Gets Ricky Martin As Husband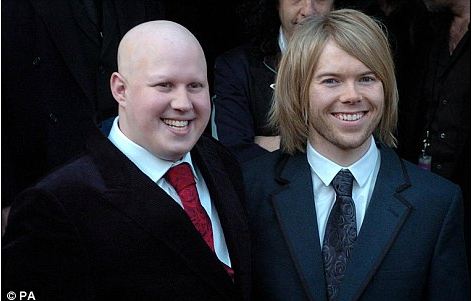 Matt Lucas (left) along with Kevin Mcgee after their civil partnership ceremony in 2006. (Photo: dailymail.co.uk)
After a much anticipated and talked about the wedding, Matt and Kevin also became one of the first couples to get a divorce on 22 October 2008, after trouble struck their family after Kevin's drug abuse problems.
Already in grief about his divorce with husband Kevin, there was more bad news right around the corner, eagerly waiting for Matt.
On 6 October 2009, Kevin Mcgee, tired of is drug problems and in grief over his divorce with Matt, committed suicide after being found hanged on his apartment. Matt's life has never been the same again after the incident.
Matt, who has gone on to prolong his career with some much popular displays, revealed his grief over the passing away of his ex-husband, who he claimed to be still in love with, in his autobiography titled Little Me in 2017.
"It was impossible not to fall in love with him. I grieve Kevin's loss every day. It's a grief that does not go. Kevin and I never stopped loving each other . . . I lived in hope that he would find a way to manage his addiction. I dreamed of getting back together with him and he wanted to get back with me. It wasn't to be."
Clearly affected even after almost a decade from the saddening incident, Matt has taken baby steps on the path to recovery.
He has been linked with singer Luke Upton after being spotted going out together on several occasions in 2015. He has also admitted going back to tinder to try and pick updates for himself.
Don't Miss: The Bachelor Winner Courtney Robertson Dating After Split From Fiance Ben Flajnik and Tinder Boyfriend?
However, when asked in an interview during the launch of his autobiography about his boyfriend, he chose to keep the information to himself,
"I will definitely not discuss that!"
Extremely secretive about his personal life details and keeping intact with his introvert
Personality, Matt has not revealed much about his dating life after the death of his ex-husband. However, it is evident that the tragic incident has left an unerasable dent in his life.
Feud With Work Partner David Walliams Coming To An End? Doctor Who Updates
Despite going through the toughest of times, one thing remains uncertain. Matt has not let his professional life hamper whatsoever.
Coming to attention after his hit shows Little Britain, along with his partner David Walliams, the duo faced a speed bump in their paths after a rumored feud. Matt also took a dig at his former work partner in his book for David's career inclination towards children books,
"Walliams has now sold so many children's books he can probably buy his own private jet, all decked out in pink, with a river inside it for him to swim up."
However, the good news is in order for their fans as the two were seen together hugging each other after seven years of feud at a funeral event of their common friend Dale Winton.
One can only assume that the feud is now over and two will start working together again.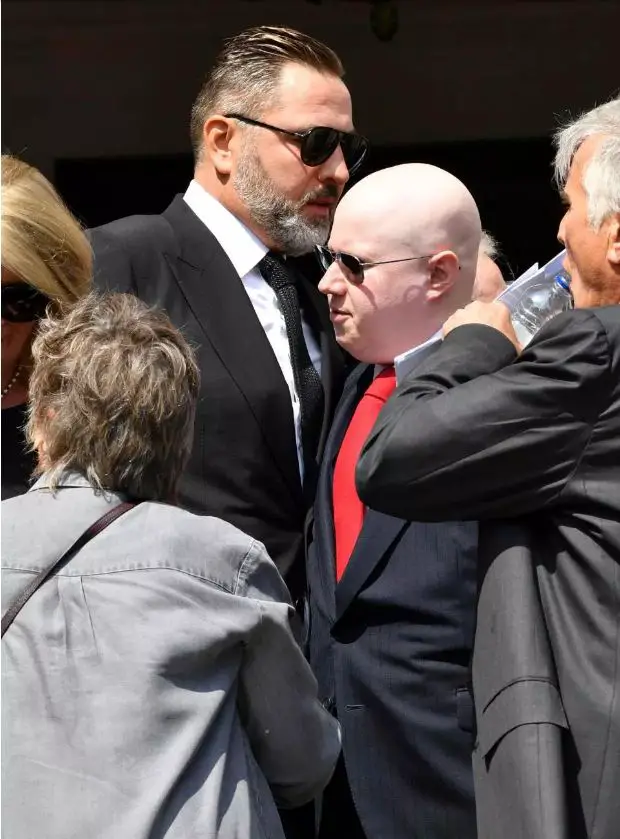 Matt Lucas hugging David Walliams at a funeral event of Dale Winton in May 2108. (Photo: The Sun)
Further, Matt after his series of comedy hits in the 2000s was involved in an eye-grabbing role in the famous science-fiction Doctor Who. After waving goodbye to his character Nardole in the tenth season of the show in 2017, Matt has hinted that he might have some time left in the British programme.
See Also: 'Broadchurch' Star Jodie Whittaker As Doctor Who! The First Female to Take the Role
Talking to Den Of Geek in 2017, Matt revealed that his stint in the show might not yet be over,
"I'm not sure my relationship with the show is over, either. But I can't really go into great detail about that. It remains a big part of my life, let's put it that way!"
Thus, after facing a loss so big, Matt, at age44, continues to stick by his one main goal. Entertaining his fans.