Entertainment
Matthew David Morris Age, Girlfriend, Family, Net Worth
Matthew David Morris, also recognized as MattyB, is an internet sensation renowned across various social media. After achieving success at a young age, he continued exploring numerous sectors of show business.
A hip hop enthusiast, Matty is now looking to establish himself as a rapper. He even made cover videos of many famous songs. 
Scroll down to find out various aspects of his life including his career, family, and girlfriend.
Matthew David Morris' Age, Net Worth, & More
Matthew, despite his young age of 16, is a talented artist, who is recognized as a singer, rapper, songwriter, dancer, and actor.
The teenage star developed his passion for rapping at the age of five. Once he got introduced to social media, Matthew started posting cover versions of several artists' songs. Till date, he has covered multiple tracks including Eenie Meenie, That's the Way, I Believe In You, and more.
Lavish Lifestyle & Net Worth:- Dan Bilzerian & Girlfriend Cutest Moment Together, Massive Net Worth & Height - All Revealed!
Matthew released an original song titled Forever and Always in September 2011. Further, he appeared in one episode of WWE alongside actor Dwayne Johnson.
After Matthew - height five feet seven inches - attained nationwide fame, he appeared in TV shows like The Wendy Williams Show, Entertainment Tonight, Fox 5 News at 10, Dr. Phil, Today, and so on. 
Matthew's primary sources of revenue are his YouTube channels: MattyBVlogs and MattyBRaps. He makes a total income ranging from $238.3k to $3.8 million from his two channels.
As of 2018, his net worth was valued to be $3 million. 
Family And Ethnicity
Matthew's family consists of his parents, four siblings, and his grandmother.
His father Blake Morris, who works as a manager for his son, is also an accomplished record producer, songwriter, and investor. Matthew's mother Tawny Morris, on the other hand, has remained low-key.
You May Find Intersting:- Jennie Pegouskie Bio, Age, Ethnicity, Family
The Georgia native has four siblings in his family: three elder brothers namely John Michael, Blake Jr & Josh, and a sister named Sarah Grace.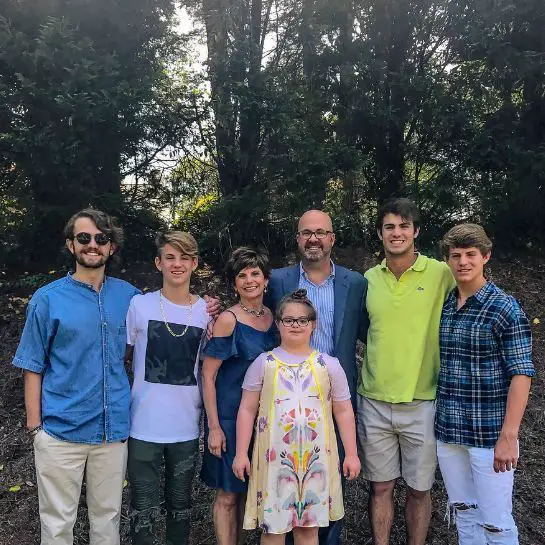 Matthew David Morris with his family at the Easter in April 2017 (Photo: Matthew David Morris' Twitter)
Matthew also has a grandmother, who got married earlier in February 2016. The social media star possesses a Caucasian ethnicity which he derived from his parents and their parents before that.
Dating Life; Girlfriend
Matthew started dating young, and to this day, he has been linked with several girls including the likes of JoJo Siwa, CeCe, Gracie Haschak, Ivey Meeks, and Kate Cadogan. 
MattyB's Rumored Girlfriend:- Gracie Haschak Wiki, Sisters, Parents, Boyfriend
Among his numerous girlfriends, Kate was the only one with whom Matthew rekindled his romance after breaking up once.
Matthew and Kate were dating back in 2013, and he was also close to the cheerleader's twin brother. However, the duo split in 2014, probably because they were too young to make any serious commitment.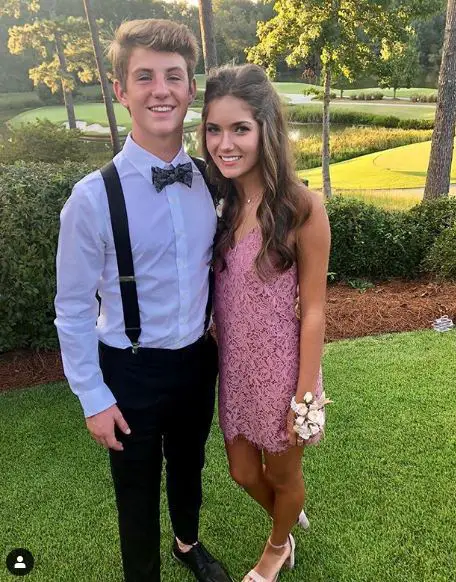 Matthew David Morris and girlfriend Kate Cadogan on their way to Home Coming in September 2018 (Photo: Matthew David Morris' Instagram)
Nevertheless, the couple got back together in 2017 and have been together ever since. Matthew and his girlfriend celebrated his 15th birthday on 6 January 2018 and also went to the homecoming in September 2018.
With Matthew and Kate enjoying their dating life, there seems to be no place for any arguments or dispute between the two.