Entertainment
Maurice Benard Of "General Hospital" Reflects True Love Through Wife & Family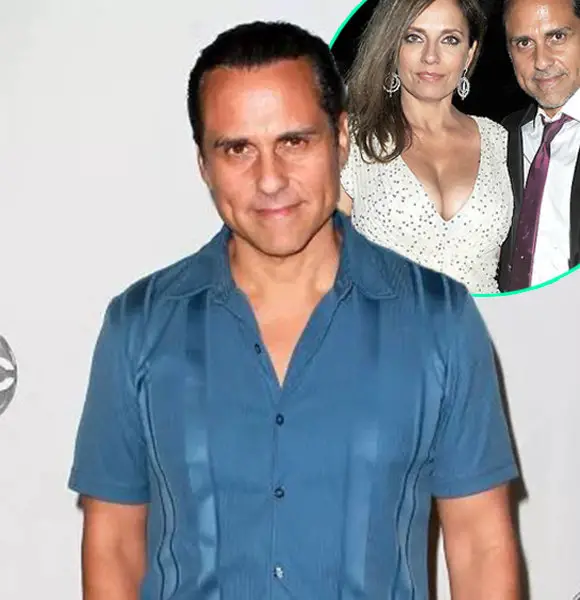 American actor, Maurice Benard is popularly known for portraying the character, Sonny Corinthos on the American TV series, General Hospital.
Maurice's on-screen life may have accumulated a fair share of lovers but he only has one soul mate all his life, his beloved wife. Taking the love from his teenage days to welcoming children, the couple has walked a long way marking almost three decades of the married life.  
So, if you want to know about Maurice's love story from his teenage days, then the information is served on your table!
28 Years Of Married Life; 22nd Wedding Anniversary On Social Media
The Soap Opera Veteran Maurice Benard got married to the girlfriend of eight years, Paula Smith on 11 August 1990, following a two-year-long engagement.
The couple later welcomed three biological children namely Cailey Sofia, who was born on 18 September 1994, Cassidy Rose on April 18, 1999, and Joshua James on December 5, 2004. Later on 18 September 1994, the couple adopted Paula's younger sister Heather Ann who was then 15 years as the couple's fourth child after the death of her mother in 2008.
See Also:- "General Hospital" Star Brandon Barash Lovingly Engaged With Hot Girlfriend; See Pics!
The Joy actor, Maurice confessed that he and his wife "can now give [Heather] everything that she couldn't have had before." 
Well, Maurice resides in Temecula, California with his family. The teenage lover is animal lovers with over 30 pets that includes a bulldog named Corleone, two cats, snakes, birds, and an aquarium full of exotic fish.
The family man, Maurice loves to be with his family, and it is the only place he'd like to be. He further said:
"It's great.  I love being home with them.  I don't want to come to work!  I just want to be there with the family and take the sun in.  It's what life's about."
Well, the love between them is like an example for many people. An assistant of Maurice, Melissa took to Twitter to wish the blissful couple the 26th wedding anniversary with the picture from their 22nd anniversary. Uploading the family picture, she wished them anniversary quoting:
"Happy Anniversary to the couple that proves daily what true love really is @MauriceBenard @Paulabenard33"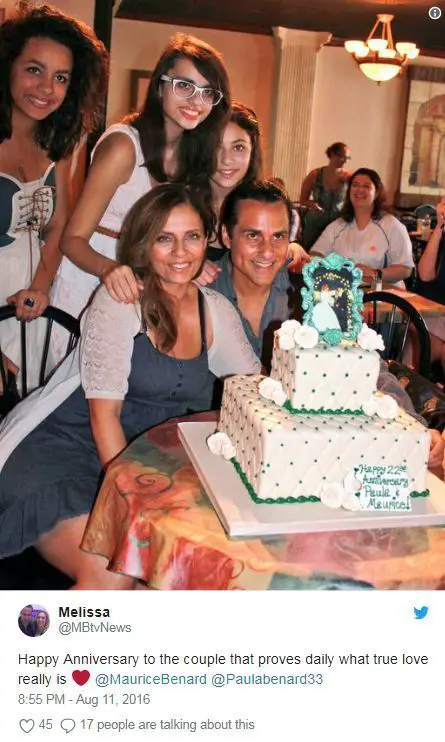 Wedding Anniversary of Maurice Benard and Paula Benard (Photo: Melissa's Twitter)
Similarly, Maurice referred his wife as "soulmate" and wished on her birthday with their dating period picture on Instagram in September 2017. Also, Maurice took to Instagram on 12 August 2018 sharing the pictures with his wife wishing her on the 29th anniversary. Along with the beautiful picture, he wrote that he cannot describe what his wife has done for her. He captioned:
"No amount of words can describe what this woman has done for me in my life. Happy anniversary Paul"
With his glorious years of married life, Maurice has also spent the 25 years by portraying the role of Sonny Corinthos on the ABC's General Hospital. The showrunners celebrated the moment with an amazing promo that started by showing the photos of Sonny throughout the years in the General Hospital.
You May Also Like:- Did Richard Dean Anderson Get Married And Turn Girlfriend Into Wife?
His entire cast was ready to surprise Maurice when he reached the sets, they handed him a huge cake after which he gave a speech. During his 25-years as Sonny, the bipolar egomaniac method actor Maurice has been nominated for Daytime Emmy for the seven times and also took the award in 2003.
Wife Like A Fine Wine; Secret To Long Lasting Married Life 
Well, true love still exists!
Maurice and his wife completed their journey of 28th marriage anniversary. Being married for the last 28 years made their relationship bond stronger. After their 28th anniversary, the actor could not resist on sharing an old picture of the time when they first got together.
See Also:- Tamara Braun Too Busy to Get Married and Have a Husband? Career Shouts 'YES'!
He had to steal the picture from his daughter Cailey. Further, he captioned the picture, 
"My first year of dating my unbelievably gorgeous wife. Over 30 years later, she's like a fine wine. No words can describe who she has become."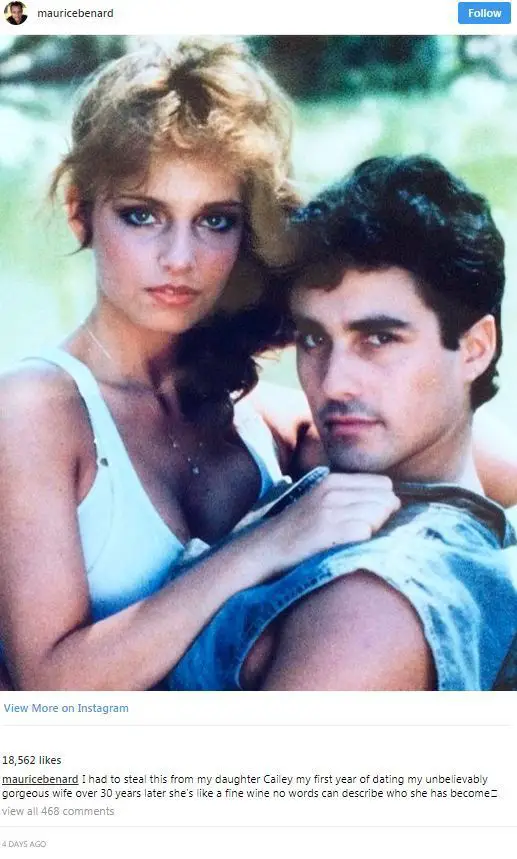 Maurice uploads the picture from their first year of dating (Photo: Maurice Benard's Instagram)
In the nearly three decades of married life, the Bernards opened up about their secret to a lasting marriage. Maurice, who earns a good salary has a net worth of $ 2 million, talked with Soaps In Depth about their friendship before binding into the marital bond. He revealed:
"Paula and I are just the bestest of friends. I'm her best friend, she's my best friend. That's kind of the way it's been. Always."
Well, the husband and wife had also worked together on the movie, The Ghost and the Whale, where Paula produced the movie and Benard starred. Furthermore, another tidbit that Bernard revealed to maintain a long-lasting relationship is the "communication." He thinks communication is the key to making a connection stable.
 "So if we get in an argument, she likes us to not hold on to it," he said. "She likes to talk about why we're arguing. I hate it! But she's helped me in that area and I think it helps. When you love someone, you love someone. That's just the way it is."
Well, they have grown up together, and now they are getting old together.