Another typical celebrity at first glance, Mauro is far from it... Mauro got his first break at the age of 16 ... Following soon diagnosed with bipolar disorder at 19, Mauro trued the curse into a blessing using it to add flair to his commentary...Wiki, Personal life & More!!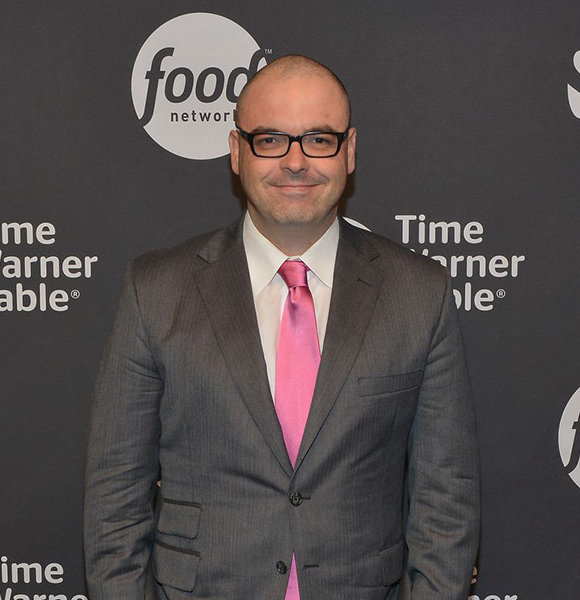 If there's a sports event, you can bet Mauro Ranallo is going to be in on the action keeping the fans updated with his commentary. Naming himself the Bi-polar "rock n roller," Mauro covers everything in sports events from Boxing, Kickboxing, MMA, to WWE. 
Mauro Ranallo's Wiki, Height
Born on 21 December 1969 in Abbotsford, Canada, Mauro Ranallo of Italian descent grew up with his two younger brothers in a Canadian chicken farm along with his immigrant family.
Mauro is 5 feet 9 inches (1.75 meters) tall with a weight of 172 lbs (78 kgs), that puts him on the average American side.
Mauro's Personal Life
Suffering from bipolar disorder from a young age of 16, Mauro hinted in his "Bipolar rock and roller" documentary that he had trouble dating and keeping relationships in general. His disorder meant he would have alternating periods of elation and depression, which made it extremely hard for him to build a healthy relationship with people.
You May Also Like:- Lost the bipolar battle; Christian Evans
Other than that, Fans have been in the dark on the 49-year-old American's personal life. He shares no details about whether he has a girlfriend or a wife. Further, he has never come out of the closet, so it's naive to assume him a gay man.
The only aspect the media knows of Mauro's relationships is that he broke up with his girlfriend while he was living in the Calgary basement of his friend, kickboxing promoter Keith Crawford. 
Career On WWE & More
Mauro started his career out early. On an article with the Ring magazine, Mauro jokingly said he used to practice conducting interviews with the animals on his farm when he was little.
Mauro became a regular face on national television as a heel manager and commentator for All-Star Wrestling in Vancouver at the age of 16. Then, Mauro took his journey to WWE after Michael Cole followed him on twitter. He later received an email from Cole asking if he would be interested in co-commenting the wrestling show.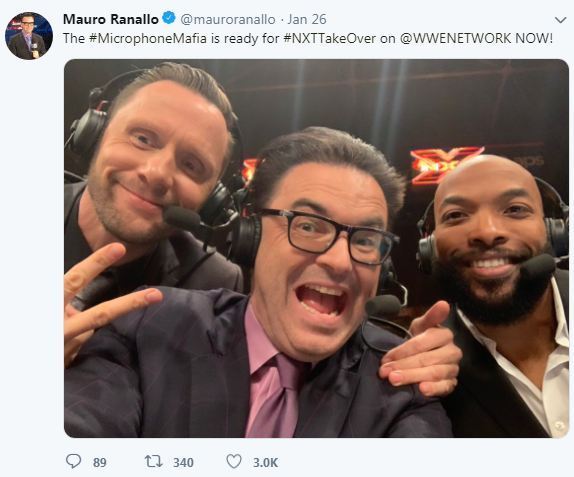 Mauro Ranallo with his co-announcers at NXT on 26 Jan 2019 (Photo: Mauro Ranallo's Twitter)
Mauro officially started as a commentator for the organization at the end of 2015.
However, constant bullying from fellow WWE employee John "Bradshaw" Layfield led Mauro to take several weeks off; later staying off of WWE TV until his contract expired in August of 2017. During the break from WWE, Mauro got the opportunity to provide commentary for one of the biggest sports event of the century, the fight between Conor McGregor and Floyd Mayweather.
Personal Life Of Floyd Mayweather:- Floyd Mayweather getting divorced?
Following suit, he made history as the first sports broadcaster ever to call every significant combat sport on national television. As his career soared over new heights, his notable awards were from the Wrestling Observer Newsletter crowning him the Best Television Announcer in 2015 and 2016. 
Being on the south side of American fame, someone of Mauro's reputation must have a lavish salary. His net worth is not relieved; however, it could be a few million as per sources.