Entertainment
Mercedes Javid Married At Age 45! Dream Wedding, Filled With Fun & Love
Mercedes Javid, the new bride of Shahs of Sunset, took the marriage vows through her dream wedding. The star of this hit Bravo reality show, who showcased her engagement on the show, has finally tied the knot with her boyfriend-turned-fiancee.While Mercedes has plans of showcasing the wedding day on the show, she has already let her fans in on the insights of her special day.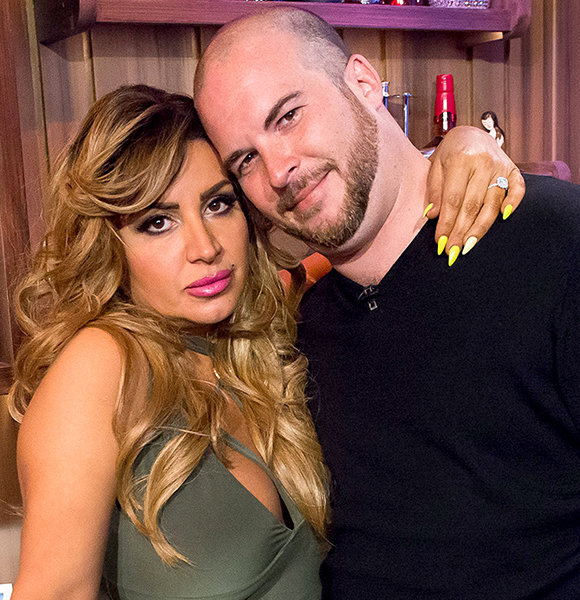 Mercedes Javid, the bride of Shahs of Sunset, swore the marital vows at her dream wedding. The star of the hit Bravo reality show, who had earlier showcased her engagement on TV, tied the knot with her boyfriend-turned-fiance in 2018.
While Mercedes had plans of exhibiting the wedding day on the show as well, she let her fans in on the insights of her special day early on as a treat. Read along to learn more!
Surprise Proposal At Funeral; Engagement Ring
Mercedes Javid, also known as "MJ," is a real estate agent and a reality star. Mercedes finally tied the nuptial knot with her fiance of more than a year, Tommy Feight.
Tommy got down on one knee with an engagement ring for his girl back in 2016 after dating her for around a year. At the time, Mercedes' engagement rumors were flying around, but the details, not so much.
The reality star then confirmed her engagement but denied to reveal her fiance. As the proposal was set to feature on the show, she did not talk about it.
But when the show aired a few months later, it came to light that Tommy had popped the question in a cemetery during the most unexpected situation which caught her by surprise.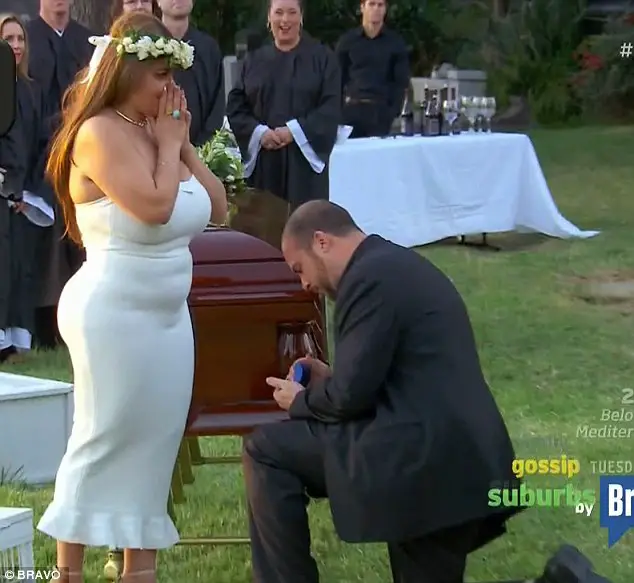 Mercedes Javid reacts to the proposal of boyfriend Tommy Feight in 2016 (Photo: dailymail.co.uk)
Well, the couple went through a lot of ups and down after their engagement including issues relating to Mercedes's dad. Despite all the obstacles, the couple excelled in their relationship and even admitted that all those stressful things made their bond stronger.
"Dream Wedding" With Boyfriend-Turned-Husband Comes True
The couple finally exchanged marriage vows!
The pair tied the nuptial knot at the Jeremy Hotel in Los Angeles on 21st April 2018. The wedding was a beautiful event decorated by Craftsy's Carly Cylinder's flower arrangements. The event witnessed around 160 guests, which Mercedes had planned earlier to keep it as minimal as 200.
The Bravo celebrity walked the aisle in a gorgeous Pedram Couture gown with a fishtail silhouette. Mercedes had been working with fitness trainer Craig Ramsay with hopes of fitting into the wedding dress and looking forward to her weight loss.
More On Her Weight Loss:- MJ Javid Approaches Weight Loss For Upcoming Wedding With Soon-To-Be Husband Tommy Feight! And It's Working
Talking to US Weekly in April 2018, the reality star expressed how she came up to get married by saying,
"I felt ready."
The couple arrived in the mood by drinking plenty of champagne and later, had their first dance to Simple Things by Miguel. By the end of the night, everybody was drinking and dancing in the Persian music tunes lasting till 5 am. Mercedes expressed her happiness by saying,
"This was the dream wedding. It was exactly what I wanted it to be."
Besides her wedding, Mercedes - then 45 - professed a wish to start a family. She expressed her desire to get pregnant while talking with E! News in April 2018. She remarked,
I want to get healthy not just for the wedding, but also to be able to—God willing—try to get pregnant and chase some babies around a park. 
Her revelation met with fans wishing her blissful family desire to come true!
Welcomes 1st Baby; Miscarriage Scare While Pregnant
Oddly enough, almost exactly a year after the wedding, on 17th April 2019, Mercedes - age 46 - and her husband welcomed their first baby -- a son called Shams.
Baby In 2019:- Amy Duggar Pregnant, Baby, Husband
Named after her maternal grandfather, baby Shams weighed 6 pounds and 9 inches at the time of his birth. He arrived through C-section.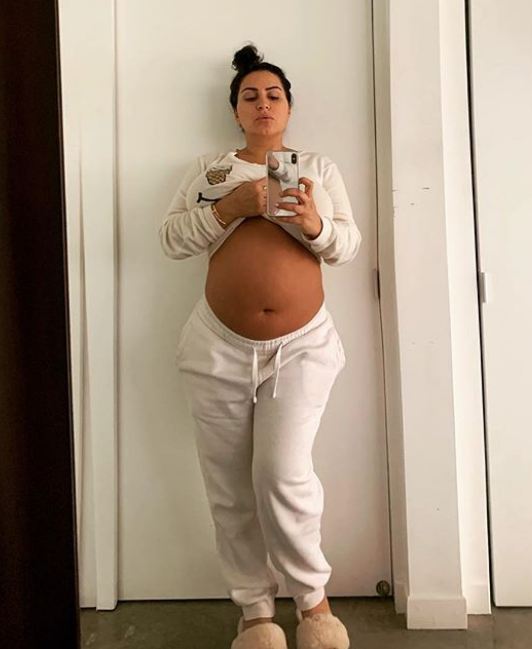 Days before under C-section, Mercedes shows off her baby bump circa April 2019 (Photo:- Mercedes Javid's Instagram)
Back in October 2018, the reality star broke the news of her being pregnant and also revealed the gender of the baby. And by no means, her pregnancy was a smooth ride.
Ahead of the C-section mentioned above, in February 2019, she spent a lengthy stint at the hospital to prevent pre-term labor or miscarriage. An earlier diagnosis showed that her cervix had begun to shorten too early.
In 2017, Mercedez underwent IVF treatments, which got completed in late 2018.