MJ Javid Approaches Weight Loss For Upcoming Wedding With Soon-To-Be Husband Tommy Feight! And It's WorkingShahs of the Sunset Star, Mercedes 'MJ' Javid revealed she is working her way out to master the perfect look by losing few pounds for her wedding dress. Mercedes is all set to marry her to-be husband, Tommy Feight. Turning boyfriend into fiance, she got engaged to Tommy in 2015.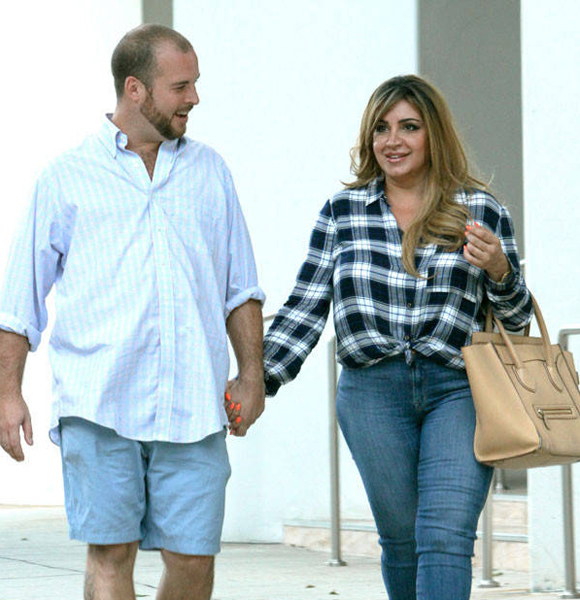 Every girl's dream is to look their best when dressed up as a bride. No wonder why girls take their time to ensure everything ends up in perfection, be it their looks, their wedding dress or the arrangements and let's not forget, the groom himself.
Weight Loss Before Wedding
Shahs of Sunset star, Mercedes 'MJ' Javid revealed she was working her way out to master the perfect look by losing a few pounds for her wedding dress.
Actual Wedding:- Mercedes Javid Married At Age 45! Dream Wedding, Filled With Fun & Love
At the time, Mercedes was all set to marry her to-be husband, Tommy Feight. Turning boyfriend into fiance, she got engaged to Tommy in 2015 at a cemetery. The duo had enjoyed a year-long dating relationship before the engagement.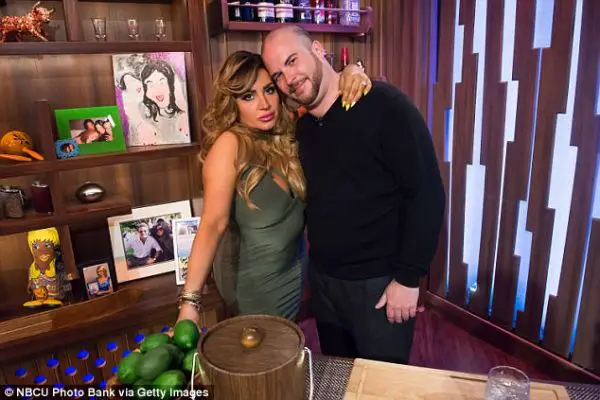 MJ in a perfect shot with fiance Tommy Feight (Photo Credit: Dailymail.co.uk)
Talking about the weight loss plan to Entertainment when she was caught up at the Associates for Breast and Prostate Cancer Studies' annual Mother's Day luncheon in 2017 in Beverly Hills, California, MJ said,
"I definitely need to shed, no matter what, Last year was a really tough year for me. I went through hell. I definitely wasn't watching what I was eating or taking care of myself, so now I really pulled an 180."
She further added,
"I work out every day, I'm really eating really clean, I'm not drinking as much alcohol … I just feel completely different."
 A day earlier, she had revealed via her Instagram about losing 15 pounds.
For her recent (2018) weight loss though, MJ credits a supplement of controversial Flat Tummy tea brand.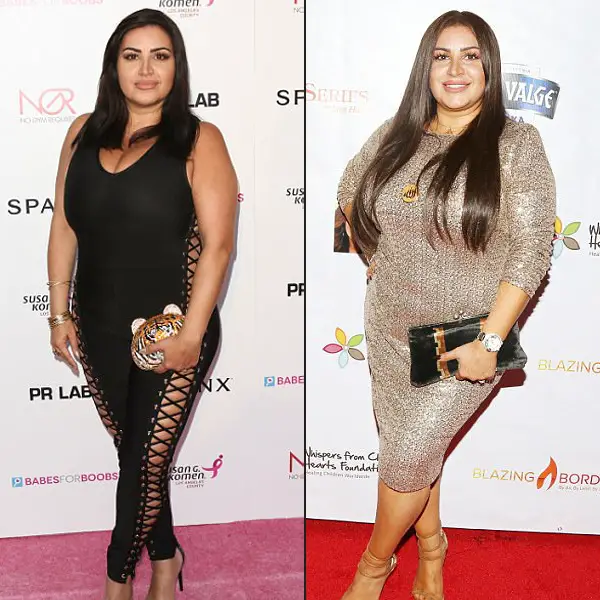 MJ Javid's photos, before (right) and after (left) weight loss (Liverampup.com)
The wedding was under planning, and the couple, meanwhile, revealed what they have planned of,
"We know so far it'll be 200 guests, hopefully, less, I think the lower number, the sexier. It will be local [and] in less than a year. That's the most I can go. 
Intending to appear her best self, MJ trained under fitness coach Craig Ramsay while hoping for a miracle weight loss.
MJ was hopeful that Shah's cameras would be there to capture her awaited moment. But she professed - at the time - the chances of it getting featured in the upcoming season were very minimal.
From Engaged To Married; Boyfriend To Husband
MJ and her then-boyfriend-turned-fiance Tommy got married on 21st April 2018, almost two years after getting engaged.
More On The Duo's Married Life:- Tommy Feight Married To MJ Javid! Long-time Love As Wife
On the day of the wedding held at Jeremy Hotel in Los Angeles, the reality star donned a beautiful Pedram Couture gown. For their first dance, she and her husband Tommy opted to go with singer Miguel's Simple Things.
First Baby With Husband; Miscarriage Scare
MJ and Tommy's family grew into a family of three following the birth of son Shams, the married duo's first baby, in April 2019. Baby Shams gets his name after his maternal grandfather, who died in 2018.
The doctor's performed C-section surgery on the reality star.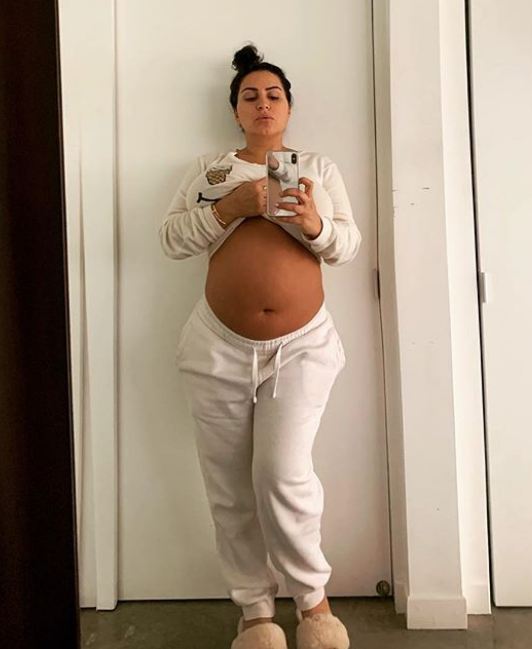 Pregnant MJ Javid flaunts her baby bump in April 2019, days before undergoing C-section (Photo:- MJ Javid's Instagram)
A month before welcoming him, MJ spent a few nights in the hospital to avoid pre-term labor or miscarriage.
Mercedes Javid's Short Bio Unveils Net Worth
Mercedes Javid, commonly known as MJ is of Iranian ancestry with American nationality. Born on August 16, 1972, she graduated from California State University in English Literature.
She earned her fame from the hit Bravo reality show Shahs of Sunset, which is the second American reality television show about Iranians after 'E!'s Love Is in the Heir' in 2004. 
However, talking about her family life, her parents divorced when she was young. Despite getting divorced, they stayed in the same complex considering the fact; it would make things easier for the child.
Interesting Bio:- Astrid Menks Bio, Net Worth, Family, Husband
Despite the success, she has garnered from the reality show MJ is yet to reveal her net worth.