Entertainment
Mia Wasikowska's Private Dating Affair With Actor Boyfriend; Got Married Or Went On Separate Ways?
Most of the celebrities want to make the headlines because of their performances, but due to the nature of their profession celebrities' love life is bound to create headlines despite efforts to maintain privacy.
And in a similar situation is Australian actress Mia Wasikowska who became popular portraying the role of Alice in Alice in Wonderland and creating headlines after being spotted with an actor boyfriend. Let's read to find out more.
Mia Wasikowska Dating An Actor Boyfriend?
Mia Wasikowska has reportedly been dating actor Jesse Eisenberg whom she met on the sets of "The Double" since July 2013.
The rumors regarding dating affair of Mia and Jesse were no more a rumor as per the report back in November 11, 2014, which pictured Mia and her boyfriend Jesse holding hands smiling at each other on the departure from Sydney International Airport.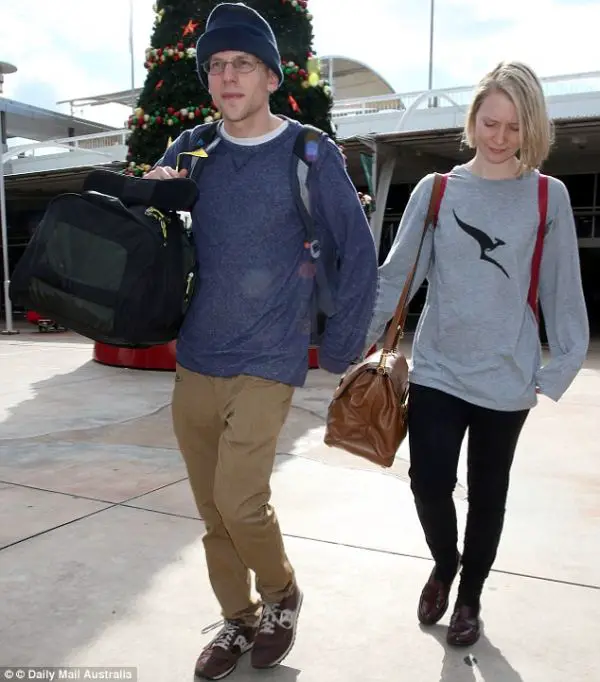 Caption: Mia Wasikowska and Jesse Eisenberg walking hand in hand as they headed out of Sydney International Airport on November 11, 2014.
Photo Credit: dailymail.co.uk
Australia is Mia's home, and her friends and family reside in Sydney, and although the reason for the visit remains undisclosed, but it is speculated to be a rejuvenating experience than work.
Being a chivalrous gentleman, Jesse carried Mia's tan bag on top his entire luggage on a trolley as they made their way out of the airport and both had a cheeky smile and exchanged cute looks as they walked holding hands through the car park.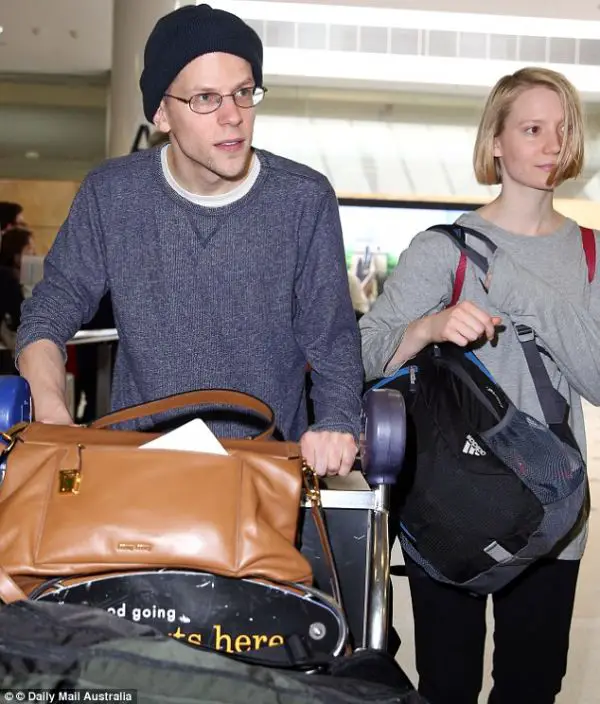 Caption: Mia Wasikowska's tan bag being carried on a trolley by Jesse Eisenberg on top of his luggage.
Photo Credit: dailymail.co.uk
Despite the efforts to maintain privacy, Mia and Jesse were captured kissing where Jesse was giving Mia a goodbye kiss in a car, when Mia was leaving for the airport at LAX on July 15, 2015.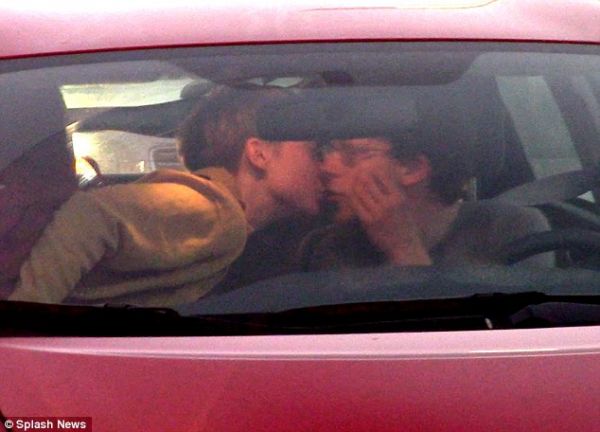 Caption: Mia Wasikowska and Jesse Eisenberg captured kissing on July 15, 2015, at LAX.
Photo credit: dailymail.co.uk
On September 23, 2016, Mia and Jesse were spotted kissing each other in the streets of Toronto, providing the evidence of immense affection for one another.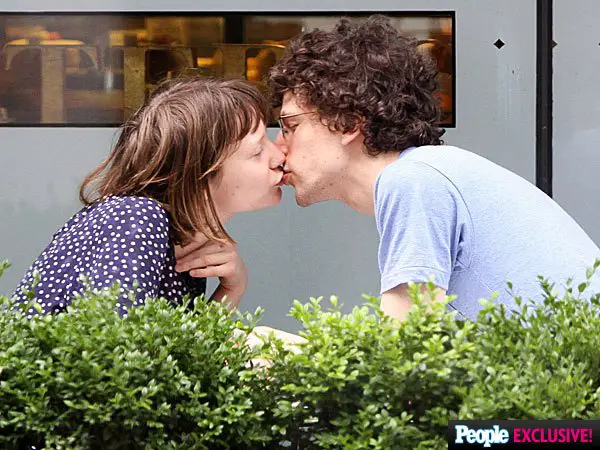 Caption: Mia Wasikowska kissing Jesse Eisenberg was captured in the act in Toronto on September 23, 2016.
Photo Credit: people.com
But the relationship of Mia and Jesse of could not blossom into a married life as it suffered a split. And the division became prominent when Jesse was spotted with his girlfriend, Anna Strout watching a basketball match in January 2017. And recently Jesse has welcomed his first child with Anna Strout, a baby boy and they were strolling with the newborn in New York City as reported on April 4.
Mia Wasikowska's nomination and award-winning movies include "Suburban Mayhem," "The Evening Sun," "Alice In Wonderland," "The Kids Are All Right," "The Double," "The Stroker," "Tracks," "Maps to Stars" and "Crimson Peak." Well, her hard work has paid well, which is visible in her splendid net worth of $275 Million.