Entertainment
Michael Cohen Wife & Daughter Stand Strong Amid All Family Backlash! 'Jar Of Pickles'
American attorney Michael Cohen hails the successful career for the one who rose to fame being the personal lawyer of the president of United States, Donald Trump. 
On the course of his career, Michael's married life came in light while providing the statement to the U.S. Senate. The political figure, who shares a wife and children, mixed his name in the headlines again for his family by the father-daughter image in the social media. 
Facing a various backlash, Michael went through numerous notable troubles.
Family Of Four With Wife; Investigation Opens Married Life
When Michael was dealing with Russia investigation, his married life also came to light. In a statement to the U.S. Senate in 2017, it was revealed that Michael Cohen has been married to wife Laura Cohen, who was born in Ukraine for 23 years. 
For his statement, it has been known that he tied the nuptial knot with Laura back in 1994. Michael and Laura exchanged the wedding vows in front of their invited guests, family, and close friends. 
Even though it is not known when Michael and Laura met and fell in love, it was disclosed that the former board member of the Eric Trump Foundation shares a family of four with his wife. 
They share two children daughter Samantha and their son Jake.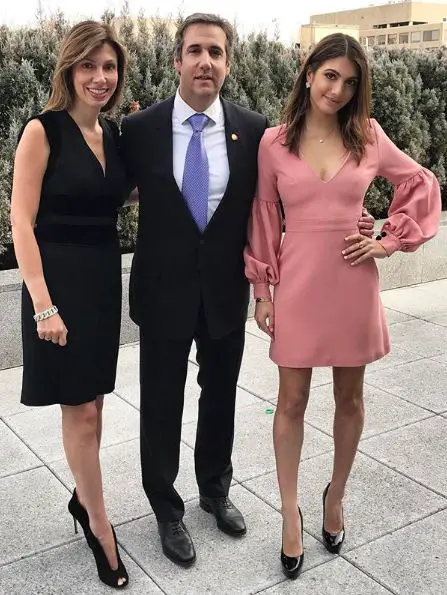 Michael Cohen with wife of 23 years Laura Cohen and daughter Samantha Cohen. (Photo: Samantha Cohen's Instagram)
Their daughter Samantha is currently attending the University of Pennsylvania and now has put her hands in the modeling world. As for Jake, he wishes to play division 1 baseball at a prestigious university like USC. According to his Instagram, it has been speculated that he would be graduating from the University of Miami in 2022.
Well, Michael sure seems to have a small and happy family of his own. But his family has always been surrounded by the treats and backlash which being in the fame brings.
"Jar Of Pickles"; Backlash Due To Father-Daughter Image 
Michael Cohen, who has a net worth of $20 million, is blessed with a wife with whom he shares his two children - daughter and son. Turns out his family has been facing a backlash from a large number of people.
Previously when he posted a picture of his daughter in lingerie on a Twitter he was bashed by many of his followers. The followers thought that the post was "cringe-worthy" and no father would post such a picture of his daughter. Turns out Michael was just endorsing his daughter while the professional picture was a homage to superstar Edie Sedgwick.
On the topic when Samatha was asked for her views on the matter, she calmly and confidently replied that her father does not sexualize her and he was posting a professional picture on his social media account.
Well, it does seem like father-daughter share a strong bond with each other built on trust and love.
Adding to their jar of pickles, the family previously faced threats as well. According to a statement made by Michael, it has been known that his wife and daughter has been subjected to harassment, insults, and even severe threats. Despite all, their family of four has been going strong with their relationship and is up to face any challenge presented to them.