News
Presidential Election Update: Donald Trump Leading Hillary Clinton on Electoral Vote! Stay With Us for Latest Update
It looks like there are lots of drama to be unfolded as Trump edges closer to be the next president of the US. There were lots of speculations regarding who will be the next president, but it seems we don't have to wait for a longer period.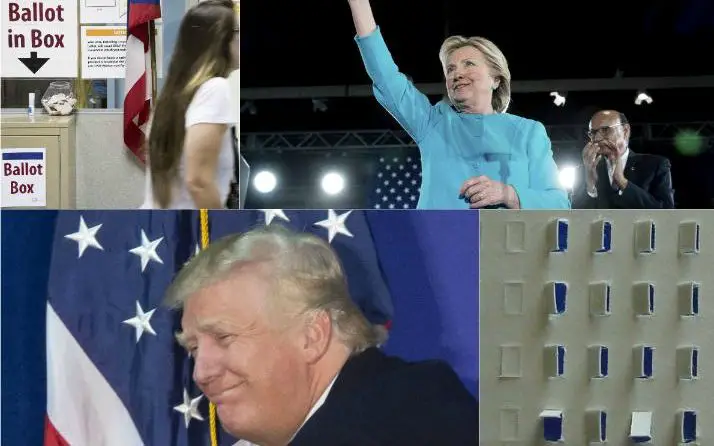 Caption: People casting their votes and Trump and Hillary celebrating their wins in states.
Source: telegraph.co.uk
Donald Trump against all the odds in an election won in Major states including Florida, Ohio and North Carolina edging him a step closer to Whitehouse.
Donald Trump won in Florida which carried 29 electoral votes with 49%, and Clinton was a bit short with 48%. Likewise, Trump won in North Carolina which took 15 electoral votes with 51% and his counterpart Hillary with 47%. 
Trump also won in Ohio which carried 18 electoral votes with 52% voted for his side and Hillary with 43%. Trump did win in Lowa which gave 6 electoral votes with 52%, and Hillary came up with 42%. With the latest update, Trump has also won in Pennsylvania which carries 20 electoral votes with 49% of people voting for him as Trump prepares to be 46th President of United States. 
Hillary, on the other hand, won in Virginia which carried 13 electoral votes with 48% voted for her side as Trump came a bit short with 46%. Moreover, Hillary came victorious in Colorado which gave 9 electoral votes with 44% and Trump with 46%. 
Hillary won in Nevada as well which carried 6 electoral votes with 49% of the population voting in her favor and Trump came close with 45% voted for him.
Trump is currently leading with 266 votes, and Hillary is in within 218 votes. With only 4 votes needed as 270 is the Vote that is required to win, Trump is edging closer to the door of Whitehouse.
What if Electoral College fails to elect a president or vice president?
Each elector from States casts one Vote for President and as many as Vice President. If no candidate wins the majority that is required to be president then, in that case, House of Representatives selects the president where one of each state delegation casts one vote to the candidates.