Entertainment
Michael Jordan Lesson From Ex-Wife & Divorce, Now Married With Twins In Content Family
For the legend of basketball Michael Jordan, divorce with the first wife was a lesson well-learned. He might be sparkling in his shining career but his love life lacked the prospect of a happy family life.  
In his attempt in acquiring the most impressive stats, he missed out on his family life during the early stages of his life. His relationship with his ex-wife was poisoned and a cure was nowhere to be found. In the end, the couple ended up with a divorce.
However, Michael did not stop his search for the love and happiness of a content family life only to finally find his eyes sparkled with merriment. Indeed, he is finally living a content family life.
Almost Two Decades Of Married Life Ends;
Micheal Jordan, former Chicago Bulls star, was first married to Juanita Jordan. He first met Juanita during his second season at Bulls when they crossed path at a restaurant in Chicago.
The couple hit it off and in no time they were set to take their wedding vows. Michael tied the nuptial knot with Juanita on 2 September 1989. The wedding ceremony took place in Chicago. 
After the wedding, the couple started their family life and now shares three children - son Jeffrey, Marcus, and daughter Jasmine together.
The pair was together for 17 years, but the things between them were not as it used to be in the beginning. Their relationship had been broken in a way that they found no way to fix it. 
Back in January 2002, Juanita filed for divorce but a month later she withdrew her petition. During that time the couple announced that they were putting in an effort for reconciliation.
But their attempt to hold onto each other for the sake of their family failed. A few years later the couple again filed for divorce after being together for 17 years. During that time the couple issued a statement through their lawyers stating that they amicably decided to put an end to their marriage. The statement read as,
"Michael and Juanita Jordan mutually and amicably decided to end their 17-year marriage," 
According to court documents file with the Lake County Circuit Court that year, the couple stated that irreconcilable differences have led to the end of their married life. Adding to it, the couple even puts in a request saying any attempts to reconcile their marriage would not be in the best interest of the family. TTheir statement said,
"irreconcilable differences have caused an irretrievable breakdown of the marriage. Any attempts to reconcile their marriage had failed and future ones would be impractical and not in the best interests of the family."
The couple parted their separate ways that year. 
Found Love Again; Welcomes Children Making Family of Four
However, Michael even after his retirement has one of the most impressive resumes in the NBA league history, gave love and family another chance. He exchanged the marriage vows for the second time with Yvette Prieto.
Michale, first met Yvette after two years of his divorce in 2008. Michale saw and came face to face with Yvette when they both attended a nightclub in Miami. The hit it off and started dating.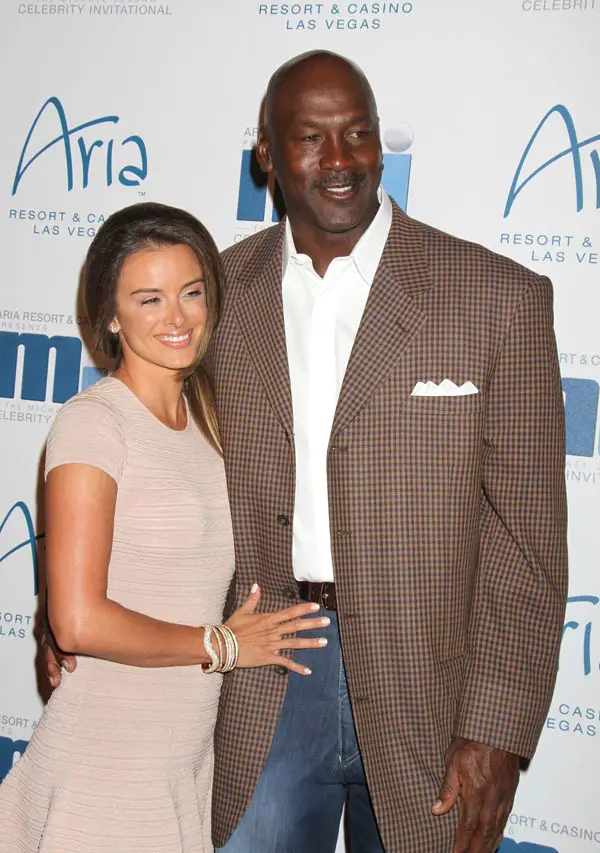 Michael Jordan with current wife Yvette Prieto. (Photo: hollywoodlife.com)
After three years of being together, Michael got down on one knee and presented Yvette with an engagement ring and proposed her for marriage. The couple got engaged on the Christmas of 2011.
After their engagement, the couple was waiting for the right time to finally tie the nuptial knot. After two years in 2013, the pair arranged for their wedding ceremony. In March 2013, the duo applied for their wedding license at the Palm Beach County courthouse.
They applied for their wedding license in March at the Palm Beach County courthouse. Two months later in April 2013, the couple made it official with a wedding in Palm Beach. The wedding ceremony took place in the Episcopal church called Bethesda-by-the-Sea. 
After the ceremony, the couple invited their guests to a reception held at the Bears Club which is a Jack Nicklaus designed golf course community in Jupiter, the place where Michael owns a 38,000 square foot home.
As of now, the couple is blessed with the identical twin daughters Victoria and Ysabel. Their fist babies together were born on February 2014.
Issues With Ex-Girlfriend
Michael Jordan, who has a net worth of $1.5 billion, even had issues from his past. His ex-girlfriend, Karla Knafel claimed that Michael reneged on a promise to pay her $5 million in hush money when she insisted on being pregnant with his child.
However, through the reports from definitive tests, it was revealed that Michale was not the father of the child. During that time the judge ruled in favor of Michael that any alleged agreement Michael and Karla would be invalid.
Adding to it, Michael even denied ever agreeing to pay $5 million to Karla.