Entertainment
Juanita Vanoy Bio Shows Massive Net Worth After Divorce With Husband Michael Jordan
Juanita Vanoy, most notable as the ex-wife of basketball legend Michael Jordan, rose to fame after she started dating Michael during her early age. They were the power couple during their prime time lasting for more than a decade.
But things turned sour in their relationship, and they parted their separate ways. Even though Juanita lost the man she spent most of her lives with, she was left with a massive amount of worth along with the custody of their children. Their divorce is also listed as one of the most expensive divorces in history.
Well, Juanita sure got rich after the end of her marriage. But who is she except being the ex-wife of the basketball legend? Read along because today we will take a look at her wiki-like bio.
Former Model To Ex-Wife Of Basketball Legend
Juanita Vanoy, age 59, is a Chicago born model before she rose to fame being the girlfriend of famous NBA player Michael Jordan. Back then she was a model doing various shows and photo shoots.
Juanita started her career as a model when she was just a teenager. After modeling for several projects, she joined American Bar Association. During her time there she worked as a secretary as well as a model.
Read also: J.J. Redick's Wife Chelsea Kilgore Age, Origin, Wedding Photos With Details
She was determined to have a ravishing future and was working as much as she can. She then started working as an executive secretary there. Juanita captured headlines when she got into a relationship with her now ex-husband Michael.
They met in a resturant in Chicago in 1984 and hit it off instantly. The pair began dating, and after three years they were engaged. However, subsequently, the pair broke off their engagement but eventually tied the nuptial knot in 1989. They had a ravishing wedding in Las Vegas.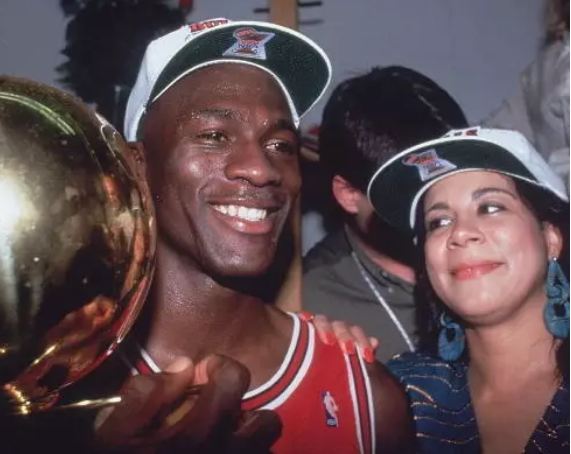 Juanita Vanoy with ex-husband Michael Jordan (Photo: buzzfeed.com)
The two were doing great with their married life and was also blessed with three children - elder son Jeffrey Michael Jordan who is now 30, son Marcus James Jordan who is now 28, and daughter Jasmine Mickael Jordan who is now 26.
However, things between them started getting sour, and Juanita filed for divorce in 2002, but a month later she withdrew her petition with an intention of reconciling the marriage.
Despite their effort, the couple could not find common ground for their relationship which ended with a divorce after four years. The pair parted ways stating irreconcilable differences.
While they were together, Juanita and her now ex-husband founded the Michael and Juanita Jordan Endowment Fund, which is an organization that supports charity.
Children Move On With Life; Married Son & Daughter's Engagement
Even though Juanita and her kids witnessed love separation, they did not actually give up on their love. Turns out Juanita's kids are much grateful for finding love and are looking forward to spending life with their partners.
As of recent, Juanita's eldest son Jeffery got engaged in November last year. He popped the question to his long-time girlfriend Radina Aneva. The pair is looking forward to tying the nuptial knot this year.
Adding to it, Juanita's daughter Jasmine is also engaged. She was recently asked to marry by former Syracuse big man Rakeem Christmas. The proposal came recently in June 2018.
Well, as its said, daughters look for their father's reflection in the man she loves, seems like Jasmine has now found the one for her. Juanita and her former husband sure seem glad for the upcoming wedding of their children.
Ended Up With Impressive Net Worth After Divorce
Along with the divorce came splitting of assets. Michael, who was economically rich, had a huge divorce settlement with his ex-wife. During the divorce settlement, Juanita received a massive buck which would be enough for her swift livelihood.
You may also like: Nick Young Turned Girlfriend Into Wife Amid Cheating Gossips? Personal Status Now
Juanita received $168 millions while splitting the assets along with the custody of their three children. The settlement also included their seven-acre Chicago Mansion.
As of her, Juanita has an impressive net worth of $170 million which is a result of her modeling and business venture along with the huge divorce settlement she received from Michael, who has a net worth of $1.65 billion. She also has a real estate business.