Entertainment
Mike Shouhed Announces He Is Single After Divorce With Wife! Is Affair With Girlfriend The Cause?
The Shahs of Sunset bangs on TV once again!
The franchise is back with its sixth season on Bravo TV from July 16. And with the arrival of the show, the Iranian Americans (Shahs) have also returned to the show to juggle their active social lives and careers.
One of the main Shahs who is associated with the television series since its very first season on March 11, 2012, is a Persian-American real estate developer, Mike Shouhed.
Mike got in the spotlight with his statement of being single after the settlement of his divorce issue. Mike has recently opened up that he is moving on after the painful divorce. Taking note of that, is he hinting us to have a girlfriend, or is still a single in spite of his declaration? Stick around to find out!
Has The Declaration Of Being Single Yielded A Girlfriend To Mike?
Mike Shouhed met Jessica Parido, the daughter of Fiji Water executive, in one of the seasons of the very show, Shahs of Sunset. They have been together since the commencement of the second season and considering Mike; he recalls his first encounter with the lady a wild event, as it was an instant attraction for him.
They, then, began budding a romantic relationship in between, which later evolved as a secure connection.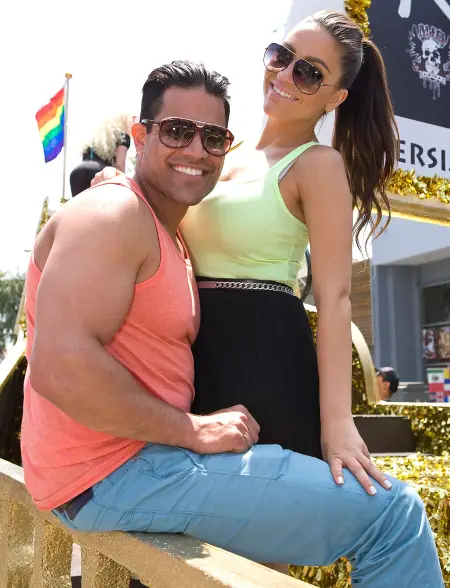 Caption: A picture perfect moment of Mike and his ex-wife from the past.
Photo Credit: people.com
We got to witness all those beautiful moments as the show documented the whole phase, from the initiation of their love life to the significant day, the day when Mike and Jessica shared rings. Mike describes this as:
"Our first date was actually on television, meeting our parents was on television, our proposal was on television – everything was televised. And it brought this factor into our relationship where it was like, we're a couple, but we're a reality TV couple. And being on television and having the type of following we have on social media, everyone was always giving their input. Everyone had some sort of opinion on me, her, our relationship: 'Is it real, is it fake?' "
In response to the unusual opinions from the people, they decided to get married and ended up in taking vows in a lavish marriage ceremony at the Biltmore Hotel in Los Angeles on March 29, 2015.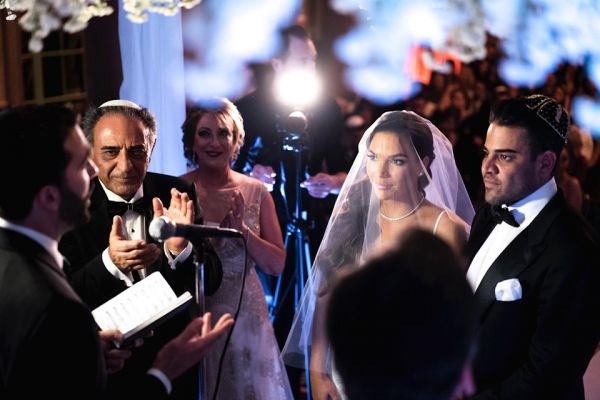 Caption: Mike and Jessica exchanging their vows.
Photo Credit: bravotv.com
The then husband and wife, though, got into the relationship in exultation, hardly spent few months together, as they split on August 1, 2015.
Jessica made the separation official as she filed for divorce citing irreconcilable differences as the cause on November 20, 2015, which was signed by a judge a year later on October 21, 2016.
However, the actual reason was the old message that she found on Mike's iCloud, that showed he had not been faithful in the past. Furthermore, they don't share any children together, and no connection exists between them now.
Mike recently revealed that he is single after the finalization of the divorce while talking to E! News at 'Babes For Boobs' Live Bachelor Auction in Los Angeles back on June 9.
"I am not married. I am single. It's officially done."
He also opened up about the split with his estranged wife, admitting that to his friend Reza Farahan on an episode of Shahs of Sunset of last June.
He reasoned that they began finding differences and facing difficulties in the relationship.
"You start to have issues, you start to have differences, you start not seeing eye-to-eye about certain things. We got into that stage in our lives last year, and with all this outside noise, it just added more fuel to the fire."
As of now, he feels to be at peace.
"It's hard because both of our families were very close — we affected a lot of people. It was a sad time in my life, but I found the light at the end of the tunnel. I'm in a much better place now."
He has moved into a brand new home in Hollywood Hills. Additionally, he is focused on his business ventures with his shoe line True Gold these days and does the things he most enjoys doing.
"I'm very happy with my life. I'm proud of myself and I'm proud of the things that I'm accomplishing. I finally was able to change all my: Oh my God, I'm getting divorced thoughts to: Okay, I've accepted it, now what? I started focusing my energy on working out, on making money, on creating things that I enjoy. That's what really took me out of that depressed headspace."
He further hinted us to have a dating affair.
"I am seeing someone — she's a very sweet girl. She's just trying to understand everything that's going on in my life. It's a lot for anyone to take in, but we're two adults who respect each other and who care for each other. We enjoy each other's company."
Well, Mike seems as if he is stable now. He has been dating a girl who is unknown, as he hasn't disclosed the name nor has talked much about her. 
Besides that with the new season of Shahs of Sunset broadcasting, it will be interesting to watch Mike and Jessica on the show.
Stay with us for the emerging updates on Mike Shouhed!
A Short Wiki-Like Bio Of Mike Shouhed:
Mike Shouhed was born in Iran on October 12, 1978. He is a person with commendable height, who has graduated from the University of California, Los Angeles. After accomplishing his graduation, he began to work in the real estate market in Los Vegas. 
However, he had to return to his hometown after the business in Los Vegas failed in 2008. Being in L.A., he has established himself as a strong real estate market in South California.
Mike is also a reality television star, who made his debut through the Bravo TV series. The business, along with his agreement with Bravo team, concludes a net worth of $2 million for the businessman.