Entertainment
Milo Manheim Girlfriend, Dating, Parents, Net Worth
Milo Manheim kissing his girlfriend on the cheeks with their hands...very likely that Milo is dating his co-star...not be on par with his mothers net worth of...Career-wise, he remained relevant in the showbiz. But, his profession isn't the only thing he kickstarted with the start of the show. Interestingly, the actor...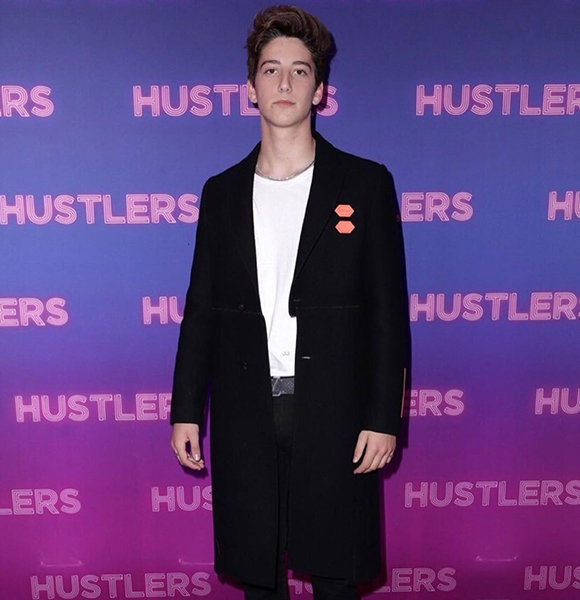 Oh, boy! People do grow up fast in Hollywood.
Just at the age of 17, American actor Milo Manheim starred in his first breakout role in Disney's 2018 movie, Zombies and a lot has happened since.
Career-wise, he remained relevant in the showbiz. But, his profession isn't the only thing he kickstarted with the start of the show.
Interestingly, the actor created buzz through his possible romantic linkup with his co-stars. And on top of that, he managed to keep his supporters in the dark and confusion about his dating status in the long run.
But, before speculating his current dating status, let's look into his past affair.
Milo Manheim's Ex-Girlfriend
The Disney actor was previously in love with Holiday Mia Kriegel. For those unaware, his ex-girlfriend is an actress and Instagram celebrity with more than 65K followers. She has also appeared in the 2019 TV series titled The Animal Kingdom.
Reportedly, the two started dating in 2018 while he was shooting his Disney movie, Zombies. Throughout their dating period, they were very transparent about their relationship. Milo and his girlfriend were even spotted together at the premiere event of the movie, The Incredibles 2.
However, their relationship lasted just for a few months, and the two broke off the same year. Milo even confirmed about the split but chose not to disclose the reason behind the split.
Is Milo Single Or Dating?
Since the split, the actor kept a very lowkey profile on his personal life. Interestingly during the time of his break up reveal, he had added,
"Witney Carson(his dance partner at DWTS) has been trying to set me up with people all week."
As a result, fans were hoping he would take a partner along with him if not the grand prize from Dancing With The Stars 2018.
Interestingly in April 2019, the artist was spotted holding hands in Coachella Music Festival with Alexis Ren, and rumors about their dating undoubtedly surfaced.
Spotted Together At Music Festival :- Dua Lipa Boyfriend, Gay, Parents, Net Worth
But, with an Instagram post on 22nd June 2019, he made it clear that they liked one another in friendly terms, more as a sister and brother.
So, it brings the question, who is he dating now? Milo is dating Meg Donnelly, his co-star from the film, Zombies.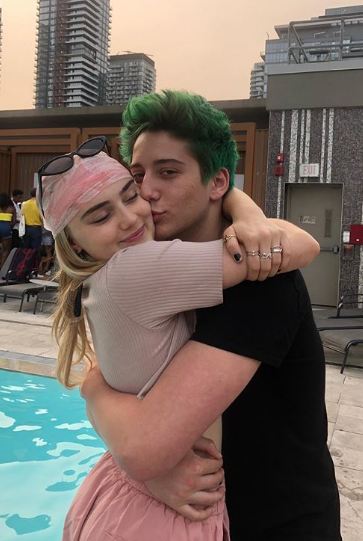 Milo Manheim kisses girlfriend Meg Donnelly on July 2019 (Photo: Milo Manheim's Instagram)
The pair openly flaunt their love on Instagram and are absolute couple goals.
Bio: Age, Parents, Height
Born on 6th March 2001, Milo (height of 6 feet & 2 inches; 1.8 meters) grew up a single child without any siblings. Furthermore, his family status is quite a different one. His father and mother aren't legally or emotionally obligated to one another.
To put it simply, his biological father Jeffrey Brezovar just helped her mother Camryn Manheim provide her a baby. And, the two are just good friends, nothing more than that.
So, the star was raised by his mother solely. However, he is in good terms with his biological father. He also attended his final performance at 2018 Dancing With The Stars.
Interestingly, his mother is an actress with movies like Ghost Whisperer to her credit whereas his dad is a former model- featured in Out magazine.
Net Worth
As of today, the actor's net worth may not be in par with his mothers net worth of $12 million, but he has made drastic financial progress already. There is no denying that his contract with Disney provided him an impressive paycheck.
Also, his involvement, in reality, show Dancing With The Stars provided a significant boost in his undisclosed net worth.
Dancing With The Stars Cast :- Laurie Hernandez Boyfriend, Net Worth, Parents
Moreover, in the past, he did a brand endorsement for significant music streaming platform, Spotify. So, through all these, it's evident that Milo makes more than $49,000 per year- an actor's average salary in Hollywood.