Entertainment
American Restaurateur Ming Tsai Married Life, Net Worth & Family
Ming Tsai met his wife during his college days at Yale University after being...married for more than 16 years...Ming Tsai's net worth is...The restaurant is notable for serving tapas-style dishes with east-west fusion...information on his family background... As per his official website, the cook is involved with charities such as...wife was diagnosed with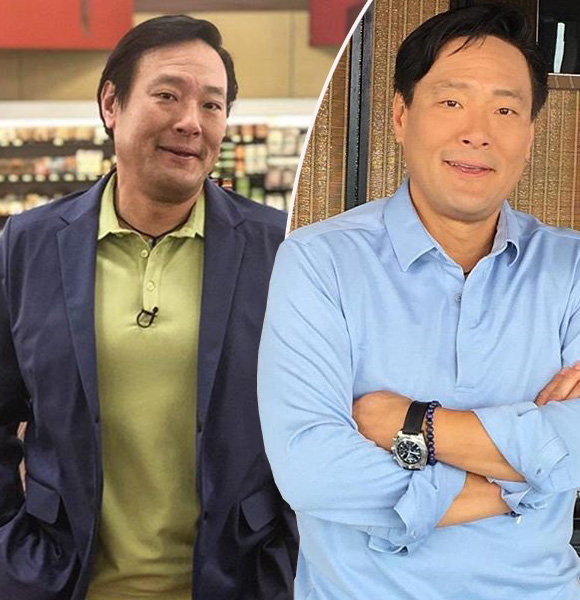 Professional chef Ming Tsai is best known as the showrunner of Fine Living Network's food-based program Ming's Quest (2004). Ming was one of the participants in the third season of cooking competition reality show The Next Iron Chef (2007).
In 1999, he won a Daytime Emmy Award in the category of Outstanding Service Show Host for his work on the show East Meets West with Ming Tsai (1998).
Ming Tsai's Married Life
Ming has been married to Polly Talbot for more than 16 years. The chef met his wife during his college days at Yale University after being introduced by his friend and her brother David Talbott.
Who Is Josh Gates Wife?:- Married Life Details & Facts
After dating for a few years, the two finally tied the knot in 1996. Following the marriage, the couple stepped towards parenthood with the birth of their son David Tsai in 2000. Likewise, the chef's youngest son Henrey arrived in the world in 2002.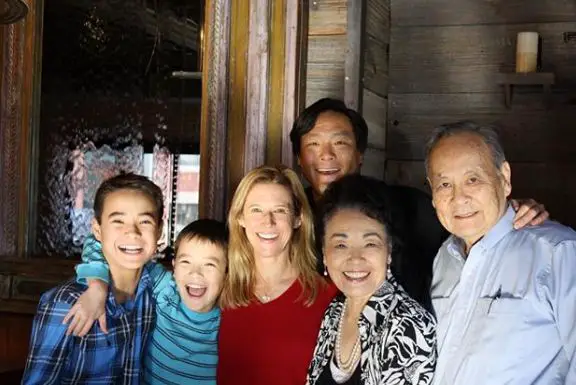 Ming Tsai with wife Polly Talbot, his parents and sons (David & Henrey Tsai) on May 2019 (Photo: Ming Tsai's Instagram)
David suffers from a severe allergic reaction called Anaphylactic Shock. However, through the help of EpiPens (Epinephrine Auto-Injectors), most of Ming's son's allergic reaction has been controlled. 
Family Background, Sibling
Ming's parents are Iris(mother) and Stephen Tsai(father). His dad worked as a scientist at Wright-Patterson Air Force Base.
The celebrity chef's father met his mother in New Haven, Connecticut, after being invited for dinner at her mother's home.
Talking about the TV icon's other family members, he also has a brother named Ming-Hsi.
Restaurants
Ming is the owner and founder of the well known Blue Dragon restaurant located in 324 A Street, Boston, in the heart of Fort Point Neighbourhood. The restaurant is notable for serving tapas-style dishes with east-west fusion. 
Moreover, it is distinguishable from other eateries as it caters to customers with several food allergies. Customers can call the staff beforehand during the reservation and information about the ingredients they want to avoid.
The TV presenter also owned another restaurant called Blue Ginger. But it closed down from 3rd June 2017.
Humanitarian Work
Ming devotes his time to philanthropic efforts and is involved in various charities. As per his official website, the cook is involved with charities such as Big Brothers Big Sisters, Cam Neely Foundation, Common Threads, and Food Allergy Research & Education.
Furthermore, on 15th July 2018, he was honored by the American Cancer Society with the 2018 Impact Award. He was recognized with the title at Spirit 33 Gourmet Garden Party for his efforts at Family Reach, an organization that provides financial help for families facing cancer under economic difficulties.
Diagnosed With Cancer:- Roxy Jacenko Married Life With Husband, Kids, Parents, Cancer
The cause is close to Ming's heart as his wife, Polly, is a cancer survivor diagnosed with stage 4 lung cancer. She is currently on her meds that cost $17,000 a month.
Net Worth
Ming Tsai's net worth is $10 million as per the site Celebrity Net Worth.