Entertainment
Mixed Ethnicity Lester Holt And Son, Stefan Holt in NBC News, Discover Lester's Married Life, Wife, and Family life
Every father wants to see their children tasting success in their life. In this regard, today we are talking about a lucky father whose son not only became successful but a contemporary of his own daddy. An American journalist, Lester Holt has been working in NBC nightly news since 2007 gathering various professional experiences. But 2016 provided him with such surprising experience which every father wants to live.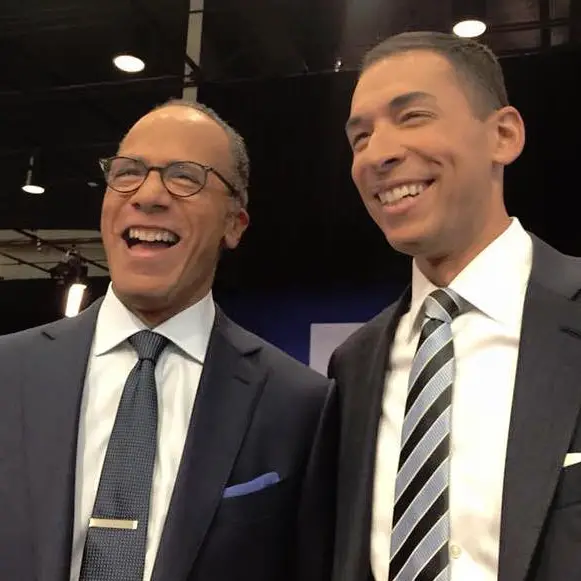 Quick Information
Gay

No

Eye Color

Dark Brown

Hair Color

Dark Brown

Hair

Short

Weight

71 kg

Height/ How Tall? 6' 2" (1.88 m)
College

California State University

High School

Cordova High School

Career

1981–present

Nominees

Outstanding Coverage of a Breaking News Story in a Newscast, Emmy (2018)

Awards

Outstanding Edited Interview, Emmy (2018)

Net Worth

$12 Million (Estimated)

Salary

$4 Million Per Year

Dating/Affair

No

Date of Birth Mar 08, 1959
Wedding Date

8 May 1982

Divorce/Split

Not Yet

Wife/Spouse

Carol Hagen (m. 1982)

Relationship Status

Married

Son/s

Stefan Holt & Cameron Holt

Mother

June DeRozario Holt

Father

Lester Holt Sr.

Ethnicity/Race

Mixed

Zodiac Sign

Pisces

Nick Name

Iron Pants

Birth Name

Lester Don Holt Jr.

Profession

Journalist

Nationality

American
A loving father would want to see his children taste success in their life. In this regard, we will be today talking about a lucky father whose son not only became successful but a contemporary of his own daddy.
Lester's Son as a Professional Mate:
An American journalist, Lester Holt has been gathering various professional experiences working for NBC Nightly News since 2007. But 2016 provided him a surprising experience.
Lester's son Stefan Holt joined as an anchor of the weekday edition of NBC Nightly News (broadcasted from New York station) in April 2016. The proud daddy and son are now seen together performing professional duties on the television screen. Lester is visibly exalted by his son's achievements. The proud father has not missed sharing happiness in media as well.
And 2017 is was no exception for the Lester family as his son has not only managed to crawl up his way in the media world and taking it by storm, but he has also welcomed a baby boy named Henry with his wife Morgan on September 5, 2017. He shared the news with his fans by posting the picture of the three on his Instagram.
The couple got married back in July 2012 and extended their family five years after the marriage. Stef shared a picture of the two on the occasion of their 5th wedding anniversary which was also the pregnancy shoot.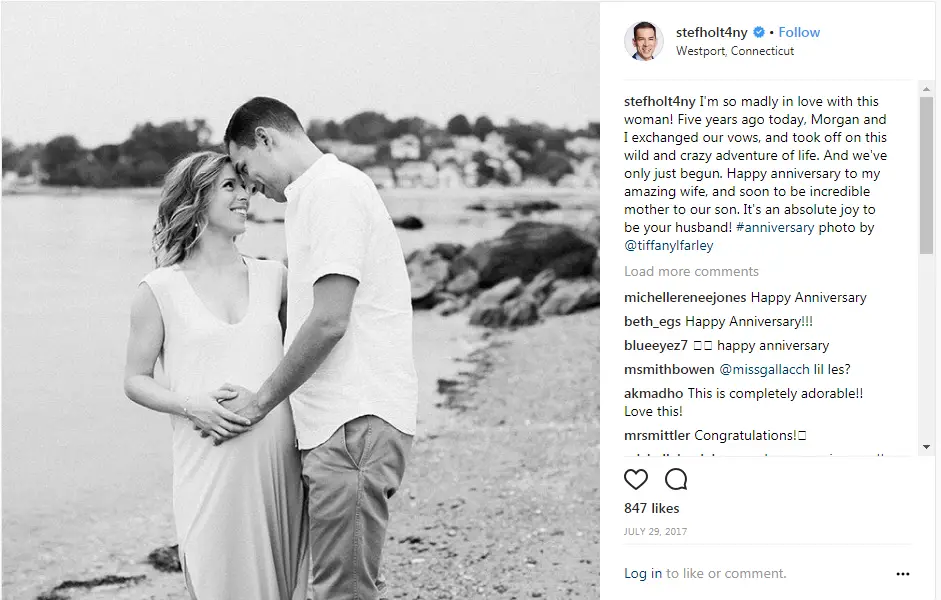 Stef standing next to his pregnant wife Morgan in the beach (Instagram)
While grandpa Lester Holt shared his happiness through his Twitter and shared the big news with his fans.
Talking about his personal affair, Lester was married to Carl Hagen, a realtor in 1982.  The couple has been sharing a happy conjugal relationship for 38 years. When asked about their secret to the blissful marriage in an interview with NBC Nightly News he replied:
"We laugh a lot, we really do. I can be silly, she can be sillier. We just laugh through things and we know that everything, tough times will be a story at some point, and boy have I put her through some tough times with this job," 
He further added:
"She understands that when the bell rings, I like to answer it, when the big story's going on, I want to be there… I love her to death, she's has been so wonderful, she knows this job is going to bring a lot of late-night phone calls, but she's there for me and that means an awful lot.Of course it means a lot, the significance… It's always a wonderful thing that young people, anyone can turn on and see people on TV that may look like themselves or someone in their family or someone they know. It's important that kids can hopefully be inspired, I'm honored that people are honored by this."
Moreover, Lester and Carl have been wonderful parents for their grown-up sons, Stefan Holt, and Cameron Holt. They have raised their sons to become successful in their respective fields. It is no doubt that they will be a great grandparent to the little Holt too.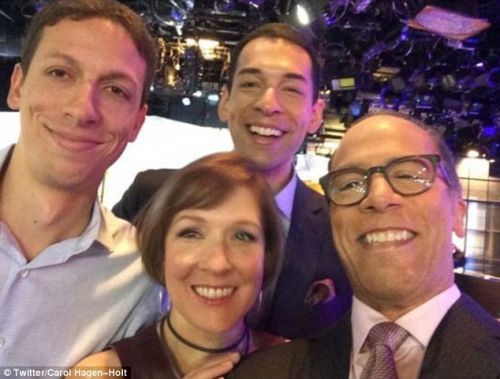 Lester and wife Carol with two sons, Stefan, and Cameron (dailymail.co.uk)
The American journalist Lester is hugely responsible towards his family. He doesn't let his professional matter hinder the family harmony. We have not heard about the disputes within their relationship so far.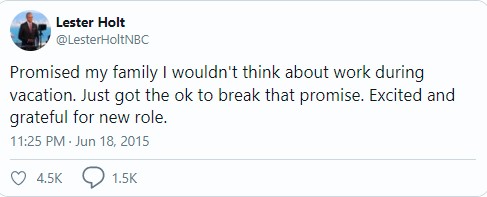 He is an excellent father to his sons and a good husband to his wife. 
Lester Holt Short Bio:
Born on March 8, 1959, Lester Holt was the first individual from the black ethnicity to host news broadcast. He is currently the co-anchor of the weekday edition of NBC Nightly News and Dateline NBC. He attended California State University in 1977, but he never graduated. He joined CBS in 1981 and worked for 19 years.
He has received various awards and honors like Robert F. Kennedy Journalism Award for his work on CBS's 48 Hours: No Place Like Home in 1990, Honorary Doctorate from Pepperdine University in 2012, Honorary Doctorate from California State University, Sacramento in 2015 and Inducted into the California Hall of Fame on 28 October 2015.
His career in the field of journalism was not secure. He revealed that he faced problems because of his color in the past. But that is not the case anymore as he is considered as one of the successful reporters.
"There were periods of my career where there was just pressure to define myself as a black journalist and I pushed back at that because I knew I wanted to succeed and not be defined by my color," Holt said. "I think if any of us are going to succeed, it's going to be on a broad scale."
 The news anchor Lester Holt even faced criticism from the president Donald Trump for his questions about the war at the presidential forum on September 26.
The moderator Lester Holt faced heavy criticism for his lopsided questioning in the first presidential debate on September26. Lester Holt constantly fact-checked Trump and questioned regarding his statement about "stop-and-frisk" police policy and Iraq war.
He solicited Trump with all difficult and controversial issues. Meanwhile, Lester seemed very soft towards Hilary Clinton. He didn't ask any questions which would keep Hilary in difficulty. Trump's supporters and Republicans are outraged with Lester since then. Here are some of the tweets which criticize Lester.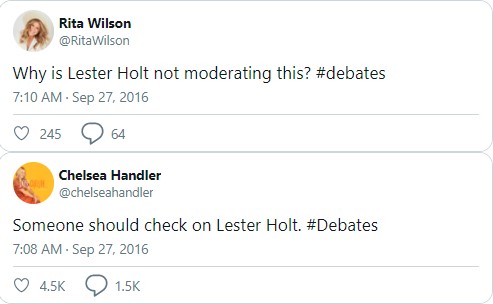 He might have received criticism in his field, but there are so much more respect and appreciation for the veteran journalist. He has been covering the Olympics for the past two decades now, and his decade-long struggle in journalism sector has yielded him a net worth of $12 million.