Entertainment
Molly Gordon Wiki Reveals Boyfriend At Age 22! Subtly Heart Melting Dating Moments
Rising from the American TV series, Animal Kingdom, Molly Gordon has turned into the new actress the showbiz town is talking about. Born to the director Bryan Gordon and writer Jessie Nelson, Molly inherits the acting gene from her family and is now looking forward to making a name for herself just like her parents. 
In the process of doing so, she portrays as Maddie in the 2018 comedy Life of the Party along with her side projects that involve creativity which fulfills her happiness of creating something for others.
Well, not only is she taking steps to have a wonderful career for herself but also seems to have a blissful love life with her boyfriend.
Wiki Reveals Dating Status
The Sin City Saints star, Molly Gordon seems to be weaving a perfect love life after her relationship with her boyfriend Instagram became official. The couple both often post pictures of each other on their account.
According to the posts on Instagram, Molly seems to be dating Nick Lieberman who goes by Instagram name nicky_spaghetti. Molly and Nick's dating life goes back to 2014 when their pictures started appearing in the social media.
See also: Who Is Allyson Shapiro's Father? College Graduate With 9-5 Job & Famous Parents
In July 2014, Nick first posted a picture of Molly in his Instagram. Since then the pair has made frequent appearances in each other's Instagram. From their posts, it seems that they have been sharing romance for a long time now from celebrating birthdays to having a special valentines day. 
They have been having subtle heart-melting moments together. Back in March 2016, Nick posted a boomerang video in which Nick placed a sweet kiss on Molly's cheek while Molly had smiles all over her face. The picture surfaced in the media during Easter. 
Adding to it, Molly, age 22, often posts pictures while wishing her boyfriend birthday on his special day. She often regards to him as her "special person" along with a sweet "love you" message through the caption.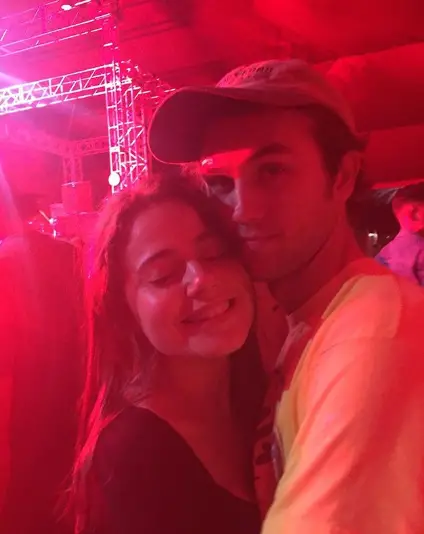 Molly Gordon with boyfriend Nick Lieberman. (Photo: Molly Gordon's Instagram)  
Moreover, Nick even wished his love Valentines Day by posting a picture in which he and Molly were wrapped up in each other's arms. The captions in the picture suggest that Molly had work and Nick was there all alone reminiscing memories with her.
Well, the couple sure seems perfect for each other and their followers are hearts-by-hearts wishing for them to get married soon. 
Acting To Writing Desires - Influence From Parents? 
Molly Gordon, who is also notable for providing the voice of various characters in Our Cartoon President, seems to enjoy what she does. From acting and doing plays to creating something for other, she loves having it all up her sleeve.
You may also like: Daughter Of Famous Parents Zoe Perry Is Hiding Her Age! A Bio That Might Just Reveal It
Molly, who has been acting and performing most of her life, aims to have a sketch show. Turns out she loves writing and unlike her parents, she wants to do the other side of acting as well. 
Currently, she has a group of creative friends just like her parents and they recently created something out of creativity. Molly, who stands at the height of 5' 4" (1.63 m), totally enjoyed to support someone and help them to be funny and wonderful while creating stuff for others.
Well, seems like Molly, whose net worth is still a mystery, is much into doing most from her life.