Entertainment
Molly Qerim Engaged & Married Retired NBA Star & Colleague! What Made Wedding Special
American sports anchor, Molly Qerim is known for her work as a moderator for ESPN's show First Take. She also serves as one of the three co-hosts of the new "Get Up!" weekday morning show with Mike Greenberg and Michelle Beadle.
Emmy Award-winning broadcaster got more than just fame from her profession. She also met her boyfriend-turned-husband while working with ESPN. The colleagues-turned a life partner couple had maintained their dating life low-key. 
Similar to their dating life, their low-key wedding also made their wedding special.
Low-Key Married Life; Special Wedding
First Take reporter, Molly Qerim was dating the former NBA player Jalen since 2016. The couple used to work together and the network worked as the main stairs between the couple.
The report about their dating relationship aired after a former NBA star-turned-Get Up! analyst for the network first confirmed his off-camera connection with the First Take reporter via Tweet that featured the pair looking cozy with the caption:
 "I'd hate me too."
The couple had a good relationship but had kept their relationship low-key. But Molly came forward with the message on 14 July 2018 that says:
"You could've been anywhere in the world, but you're here with me. I appreciate that,"
Along with the beautiful message, she shared pictures from the Turks and Caicos Island which hinted that the couple has already taken their relationship to next level.
Well, not just the adorable picture, a shiny stone was also reflected on her ring finger which surely gave a thought about their marriage before the couple came forth with the happiest news. With the shiny ring on her hand, the couple was speculated to have got engaged, but the news was more than just the engagement news.
Don't miss:- NHL's Jamie Hersch Bio Reveals Exciting Married Life & Husband! Couple Goals
Similarly, with their exotic relationship, the couple finally came with the happiest news which their eagle-eyed followers had already intercepted!
After celebrating the two years of dating life, Molly and Jalen got married at a private ceremony in New York in July 2018. However, the couple has not revealed the exact date of their wedding.
But the newlywed couple came with the happiest news on 21 July 2018 via social media post. Molly took to Instagram on 21 July with the couple posing in a wedding dress. Not only Molly, her husband, Jalen also shared the news on his Instagram writing: "Just Married."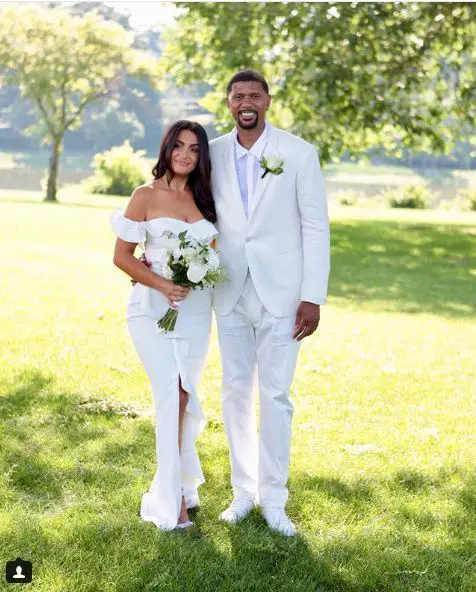 Molly Qerim and husband Jalen pose for their wedding picture (Photo: Molly Qerim's Instagram)
And soon after the wedding, the partners departed for a romantic honeymoon in Turks and Caicos. And the glimpse of their honeymoon was already shared before the couple announced their wedding on 14 July 2018.
See Also:- Kelly Nash Of MLB Wedding Bliss At Age 27? Hottest Reporter's Personal Details
With their exotic married life, Molly had also disclosed about their busy schedule with their perfect going relationship. She talked with Uproxx in June 2017 about their balanced personal and professional life.
"I think balance is everything we're all trying to figure out, right? Regardless of what phase of life we're in, regardless of your career and of your relationship. That's just something that I'm still continuing to learn and still continuing to juggle. Obviously, my career is demanding, but I love what I do at the same time. It's just kind of prioritizing and working your schedule so you can make everything happen."
Well, Molly, who had also battled with the endometriosis, is happily living with her co-worker turned husband. And it is very rare to see the celebrity couple having a low-key wedding but in the case of Molly and Jalen, they tied the nuptials in a very secret wedding ceremony with the simple arrangements.
So their simple wedding might have encouraged their followers to be low-profile with lots of memories.