Entertainment
NHL's Jamie Hersch Bio Reveals Exciting Married Life & Husband! Couple Goals
American sports reporter, Jamie Hersch is famous for hosting the NHL Network's program, On the Fly and as a reporter in "Fox Sports North." She has been in the media field since she was at the age of 17.
Similar to her heightened career as the media personality, she has also the old history with her husband. She has been sharing the romantic relationship with her childhood-friend turned husband.
So, let's check her bio which includes the interesting facts about her unrevealed married life!
Childhood-Friend Turned Husband; Family Bliss
The 31-year-old sportscaster got married to her childhood friend Matt Burkhard on 15 June 2012. She has known her husband since she was just nine years old.
She disclosed about their long-time relationship via social media post after she took to Instagram on 26 April 2018. Sharing the snap of the young couple writing the picture from 12 years back, her post made her followers fall more in love with them. 
The couple has been married for the last six years. However, the pair has not revealed the detailed information about their married life, which social media helps comes to rescue by dropping the hints.
You May Also Like:- Blythe Danner Had Best Husband! Getting Married Again? – Not An Option
With their relationship on the dark side, the couple has already marched to the long journey of their life. But it seems they are having a great time together. She also calls her husband the "best partner" and best husband a girl could wish for.
As the couple has successfully kept their relationship secure with the limelight, they celebrated their one year anniversary with a buttercream cake. The couple also goes for a romantic vacation where they celebrate to their fullest. The married couple still rejoices in their life by going on a date.
She also calls her husband the "supportive husband"  and seems to have helped her a lot. She got her new job in New York City and the couple went for a celebration. She further added:
"It's been an amazing year, but I couldn't have done it without the constant love and support of this man. "Thank you" is hardly enough"
Not only Jamie got the new job in NYC, in 2017, her best man also got the new job in NYC which the couple celebrated with the 'Red Velvet Cheesecake" and "Wine." She called that day to be the brand new start of their career and further mentioned that she is proud of him.
Read Also:- Robert Picardo In A Wrecked Married Life! Romance With Wife Meets Divorce
Jamies took to Instagram with the snap of their wedding on their fifth and sixth anniversary. She also says that marrying her husband is the best decision she has made in her life. She is happy that she got the perfect partner for her, who keeps her happy and is always adventurous.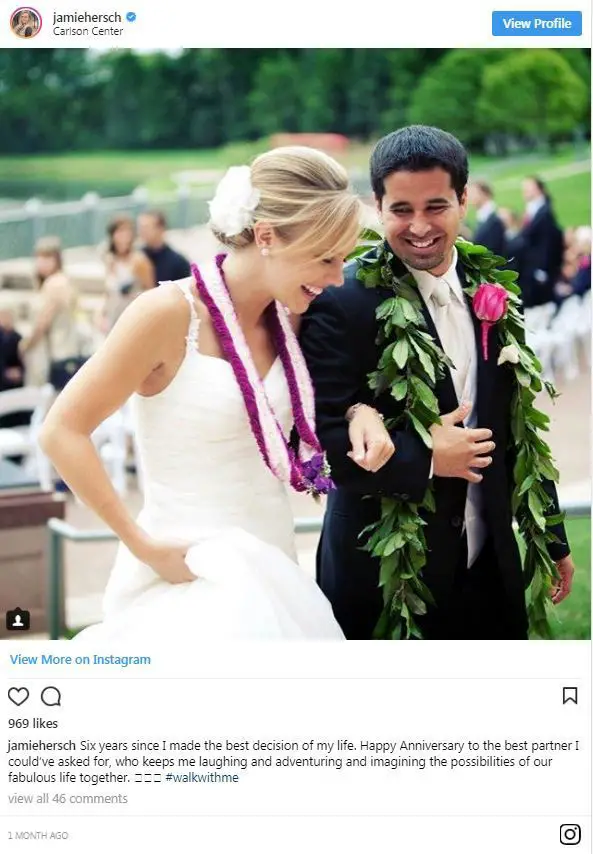 Jamie Hersch, husband on their wedding day (Photo: Jamie Hersch's Instagram)
Well, aside from sharing the romantic pictures with her husband, Jamie also shares the quality time with her family. She took to Instagram with the family in December 2017, where the married couple seems to be rejoicing their time with the family.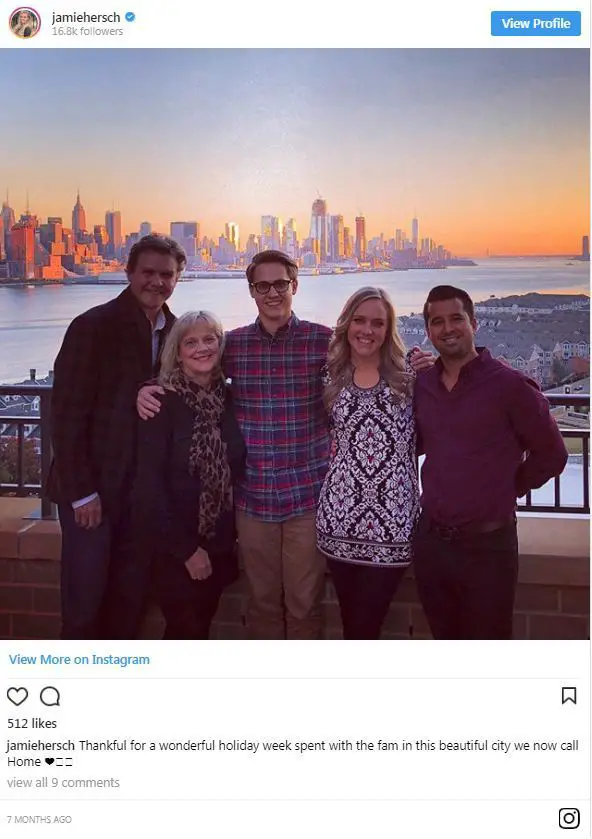 Jamie Hersch with her family (Photo: Jamie Hersch's Instagram)
Well, similar to her husband's low-key profile, Jamie has also kept the identity of her family unrevealed. But with the family picture she usually shares on Instagram, she seems to have a blissful family life with brother, mother, and father.