Entertainment
Monyetta Shaw's Bewildering Married Life With An Unexpected End To It; Met Again With Former Husband For Love Of Kids
It's not like once a relationship ends; everything is over between the couple. Sometimes, even after ending a relationship, some communication still takes place, and the reason may be anything. For instance, Monyetta Shaw is still in touch with her fiancé even though she couldn't marry him and she does that because of their kids.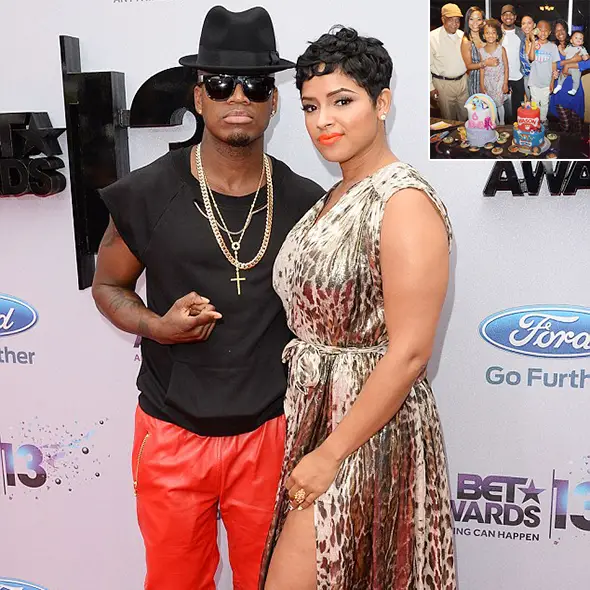 Quick Information
Fiance

Ne-Yo (Ex.)

Lesbian

No

Siblings

2

Eye Color

Black

Hair Color

Black

Hair

Long

Weight

N/A

Height/ How Tall? 5'6" (168 cm)
College

Louisiana Tech University

Net Worth

Not Disclosed

Date of Birth May 31, 1980
Divorce/Split

Not Yet

Relationship Status

Single

Daughter/s

Madilyn Grace Smith

Son/s

Mason Evan Smith

Ethnicity/Race

African-American

Zodiac Sign

Gemini

Profession

Actress

Birth Place

Greenwood, Louisiana, United States

Nationality

American
It's not like once a relationship ends; everything is over between the couple. Sometimes, even after ending a relationship, some communication still takes place, and the reason may be anything. For instance, Monyetta Shaw is still in touch with her fiancé even though she couldn't marry him and she does that because of their kids.
Recently, Monyetta Shaw did a little reuniting with her former boyfriend-turned-fiancé Ne-Yo, a famous singer. The former couple came in contact not because they still share a love for each other but because of their children. In late November, Monyetta and her ex-fiancé came in together to celebrate the birthday of their two children Madilyn, 7, and Mason, 6, at Star and Strikes bowling center in Atlanta.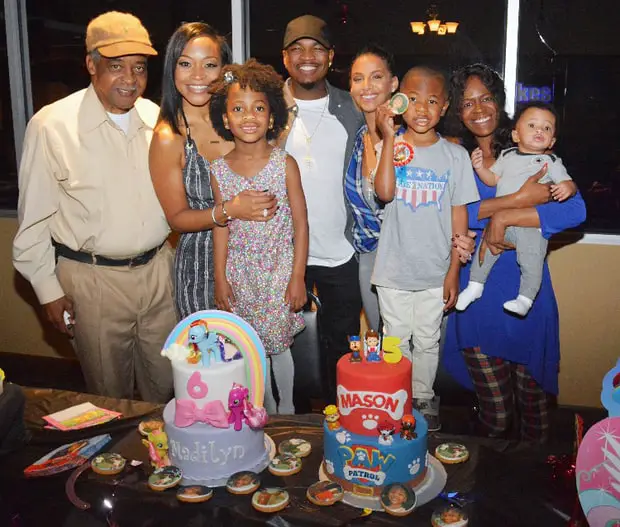 Monyetta Shaw and Ne-Yo celebrating their kid's birthday with family and friends (usmagazine.com)
Monyetta and Ne-Yo got engaged somewhere in 2011, and while doing so, the couple then revealed having a second child Mason. The couple welcomed their first child on November 12, 2010. While commenting on their kid's birthday celebration, Ne-Yo said:
"The party was a success because our kids had a great time. That's what it's all about. No beef, no bad blood, no shade ... we are grown. This is what it looks like when grown-ups act like adults."
The birthday party had some of their family and close friends which included Keshia Knight Pulliam, Phaedra Parks, and Kandi Burruss. All the guests enjoyed a pizza buffet, breadsticks, and salad whereas the kids enjoyed their separate cakes.
Later, Monyetta revealed why she and her former beau decided to throw joint birthday parties instead of one. She said,
"Ever since the M's 2nd and 3rd birthday, Ne-Yo and I decided on a joint party for them because of dad's busy schedule and the fact that their birthdays are close. They actually love it because they are pretty much inseparable and BFFs. So we've made it our little tradition. ... It was important for us to throw their birthday party together, as we have before, to continue to set a positive example for our kids and to let them know that no matter what, they are loved and celebrated."
She further explained how different the exes are than the rest of the others.
"I understand that some exes can't get along or stand to be in the same place with each other, but we have made a conscious decision not to be those people. We understand that respect for one another is important, even if we don't see eye to eye on a situation. We figure it out as adults and ultimately come to a resolve. It is so important to coparent positively because that will determine the mind-set of our kids in the long run. They are the bigger picture. We do it for them. The well-being of the kids is our main focus, and our goal is to make sure that we lead by example. We strive daily to ensure that they know the importance of family, love and positivity."
Monyetta and Ne-Yo were engaged for about one and a half years before Ne-Yo decided to take his split public with an Instagram post that is not available right now, but the post said the following things,
"Though fate had decided to split our romantic paths, know that I will ALWAYS love you. Forever your partner. Forever your friend. Forever my miracle," he wrote. "I'll always be there. ALWAYS.@incognemo Forever my miracle."
In another statement, Ne-Yo said:
"35 is just the number of years I've been on this planet. First of all, I still have a lot of maturing to do and I'm aware of it. I'm not ready for all that. One day I will be."
It later came to light that the reason for the split was infidelity issues from Ne-Yo but he plainly denied saying,
"I didn't get caught [cheating].I realized I had a problem and I have too much respect for the person I was with to continue lying to her face."
Monyetta even revealed a shocking fact that while she was with Ne-Yo, Monyetta even approved to a threesome, hoping that it would keep her relationship and for a reason, she said,
"I love hard and I went hard for my man, no question, and I feel like I did those things at the time because I felt it was necessary and I was in love."
When Monyetta and Ne-Yo were still together, and after the arrival of their second child, the couple decided to take a big step, which turned out to be life-changing. Both couples decided that they did not want any kids no more and that felt that their family was complete as it was. So, that feeling led to the decision to tie her tubes and get sterilized right after Monyetta welcomed their second child.
Monyetta explicitly discussed on this matter year after and said in 2016,
'Sterilization was something Ne-Yo and I discussed thoroughly in the months leading up to the baby's delivery,' she told the paper, explaining that with a son and daughter their family felt complete. Ne-Yo also agreed to undergo a vasectomy to show our mutual commitment to the relationship.'
She recalled that the doctor asked the couple about eight times before conducting the sterilization surgery to which Monyetta said,
"I want you to burn my fallopian tubes.'
At the moment, Monyetta trusted in Ne-Yo's love and took every blind step that was ahead of them. She explained while regretting her decision and said,
'I was so busy caring for two young children, I just assumed Ne-Yo had followed through and had gotten the vasectomy. I trusted him so much that it never even crossed my mind that he hadn't gone through with it.'
She further said,
'If I find another man to love, I may not be able to start a family with him. I'm too scared to go to a doctor to find out if there's anything they can do about it. Because I do want to get married someday, and if my future husband does not have kids, I will want to have his children.'
Monyetta revealed in 2015 that she understood the given circumstances and admitted that it hurt. She said:
"Girl, I'm going to be real, I'm human. Maybe I'm saying too much, but I'm going to say it. Because everybody saw me on the show, and I was completely vulnerable and open, I'm not mad at admitting this. Of course I knew that he would, you know, in my head, he was going to sow his oats and come back home when he was ready. And maybe that's what everybody else thought, but life happens, and I'm okay with it. I'm human – at times it didn't feel good, but I understand everything happens for a reason, and God has a plan, so all is well."
She even said that she wants to find love with another man and have his kids someday but the probability of having kids again is faintly possible because of the sterilization surgery she went through. She wrote in a book 'Bigger Than Me', published in 2016.
Although Ne-Yo is already married to Crystal Renay in 2016 and already has a son with her, Monyetta on her side has also found love but has not revealed it yet. She said:
"I'm dating the same someone [as the last time she and I talked], but let's not get too happy, but I'm seeing other people – it's not anything serious. I like him, but I do have kids, you know, everything with me is going to happen slower just to make sure. But I'm definitely getting out there more, very, very happy and content, and so I'm in a very good place right now I will say."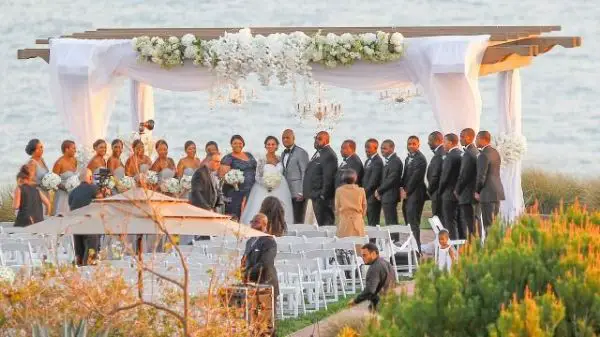 Ne-Yo and Crystal at their wedding ceremony, held at the at the Terranea Resort in Rancho Palos Verdes, California, on February 2016 (etonline.com)
In 2017, Ne-Yo announced that he is having a child again from his second wife Crystal. The announcement made fans furious and some even made a comment on that matter:
 "Don't get why u made ur other baby mama burn her tubes just to move on n keep having kids ...That's just plain ole mean smh nice music but an a**hole in real life."
While other fan wrote:
"Poor woman got her tubes tied coz Ne-Yo said he'd get a vasectomy but instead went nd got married 2 some1 else and had a baby with/h. Trash."
While fans were pouring the outrage after Ne-Yo announced the news of the pregnancy his ex-wife Monyetta, on the other hand, took the news rather pleasantly. She shared the news with her fans posting a collab picture of all three children with a question mark on the fourth. Take a look!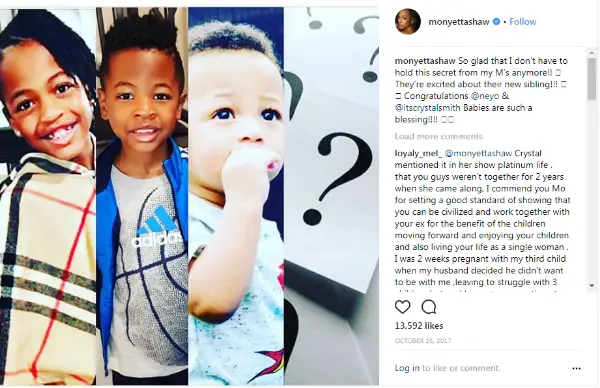 Monyetta shares the picture of Ne-Yo's baby revealing the news of Crystal's pregnancy (Instagram)
She even congratulated the Ne-Yo and Crystal after they shared the news through their social media. They are all set to welcome their son in 2018 but Ne-Yo expressed that he would love to have a girl again in an interview with Entertainment Tonight:
"Every single time is like the first time. It's definitely a labour of love, I'll say that. [A girl would] even it out. Mason at least has my sister's son. They partner up and play all the time. And Maddie is kind of by herself, and I wanted to give her a little sister just to have some camaraderie. She was actually broken up about it not being a girl. She wanted a sister, but I broke it down for her. Like, 'Now you got three little henchmen, and they gotta do what you told them to.' SJ is still kind of young. He doesn't really know what's going on, but Mason is digging it."
While Ne-Yo already has the second baby on his way Monyetta, on the other hand, was frequently seen with the multi-millionaire Marc Leder, a co-chief executive officer for Sun Partners, Inc back in 2016. Both of them shared good times photos but later confirmed that Marc was just a very good friend of her and that she never dated him.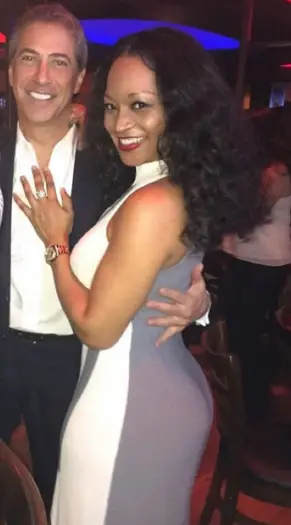 Monyetta Shaw with rumored boyfriend, Marc Leder (bossip.com)
She said in clarification,
"Marc is a really awesome guy, a great, great friend of mine. He was married to an amazing woman, Lisa, she's friends of the family too. He was married for 25 years—so do your thing Marc. I just know he's a nice guy and he likes to host a lot of parties. He's a cool guy."
Monyetta Shaw, age 37, is recognized as an actress apart from being an ex-fiance to Ne-Yo was last seen in 2014 in a TV-series like Atlanta Exes and Entertainment Tonight. Afterward, Monyetta has not entertained the big or small screen field and has remained off the radar most of the time nor she has been linked romantically with anyone yet unlike her ex-husband Ne-Yo. Either that or she is trying to keep her personal life secluded.