Morgan Hurd's real parent's opted to give her for adoption just because...her ethnicity is purely...Morgan has a boyfriend...tall whereas her weight is...Some Facts About Morgan...
American gymnast, Morgan Hurd's name sounds synonymous with the 2017 World All-Around Champion. When she took home the title of Artistic Gymnastics World Championship held in Montreal, people around the world showered her with congratulations. Notably, there was a flow of warm wishes from Chinese people too.
Her Chinese fanbase has even honored the gymnast with the nickname "Xia Song" or "summer pine tree." The athlete has well-wishers from around the world, but why was there so many enthusiasm from mainly China? Let's find out.
Bio: Age, Ethnicity, Parents
Morgan (full name: Morgan Elizabeth Hurd) was born on 18th July 2001 in Wuzhou, a city in Guangxi Region of China. An Asian by ethnicity, she was adopted by a 39-year-old dental hygienist named Sherri Hurd from Delaware, USA.
Her foster mother had gone through quite a lengthy procedure and options before finally adopting Morgan from China.
The gymnast was only 11 months old when she was taken in by her mother, Sheri. The identity of her biological parents hasn't been disclosed yet.
Artistic Gymnast:- Ariana Berlins Set To Get Married! Shares Moment With Boyfriend-To-Be-Husband On Instagram
However, there are speculation that her birth parent's opted to give her for adoption just because they wanted a boy.
Her birthplace, Guangxi, is still considered a poverty-stricken traditional place in China among outsiders. However, the 18-year-old sportsperson's native land is not much of a concern anymore. 
Does Morgan Have A Boyfriend?
Morgan likes to keep a low-profile and doesn't want others invading her to invade her personal life. But, she is not immune to tabloid gossips either. Since 2018, the gymnast has been linked to 18-year-old Heath Thorpe, who is also an emerging gymnast.
However, the alleged couple has dismissed the relationship as merely professional.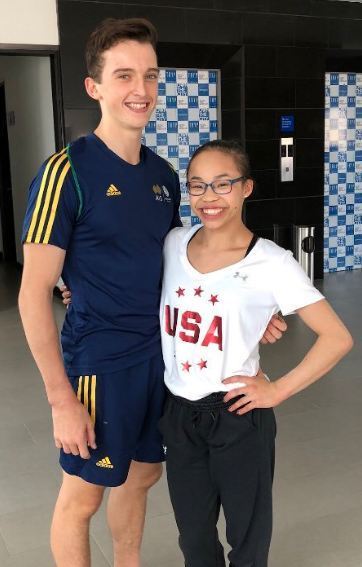 Morgan Hurd and Heath Thorpe together at their first meet in April 2018 (Photo: Heath Thorpe's Twitter)
It was the cover photo of Heath that had earlier started the dating rumors. Admittedly, Heath had shared a picture of himself with Morgan on his back in April 2019. Although the alleged couple remained oblivious to the relationship gossips initially, it was later revealed that Heath was not her boyfriend.
Fun Taiwan Host:- Janet Hsieh Husband, Ethnicity, Net Worth
However, fans are still hoping for a romantic angle between the two and will not be surprised if Morgan & Thorpe eventually come as lovers.
More Facts On Morgan Hurd 
The athlete's height is 4 feet & 6 inches(1.3 meters) tall; whereas, her weight is 35 kilograms.
She is a die-hard Harry Potter franchise fan. On top of that, the author of the series J. K. Rowling even congratulated Morgan after she was honored as the Best Gymnast of 2017.
At the age of eight, she was trained by Slava Glazounov, a former Russian gymnast.
The gymnast likes to address herself by the nickname "Morgi."
She has established herself as a five-time World medalist in gymnastics.