Entertainment
Motoki Maxted Net Worth & Age Revealed, Who Is Girlfriend?
YouTube sensation Motoki Maxted operates not one, but two YouTube handles; such is the level of work ethic that the Akron Ohio-native espouses and expects from the rest of his crew at CoProudce -- an LA-based video production company catering to social media influencers.
While YouTube remains his go-to social media platform to promote and spread the word about his videos, it is on Twitter that he appears the most intimate. A deep dive into his tweets shall reveal everything from his girlfriends to the questions about him being a closeted gay.
Dating A Girlfriend Or Gay? Tweets Reveal It All!
On his Twitter bio, Motoki - who also goes by the nickname "Mojo" as he finds his real name very difficult to pronounce - lets out a disclaimer: "I make bad jokes."
YouTube Star In Our Vault:- Who Is Gigi Gorgeous Girlfriend? The One Whose Net Worth Is Billions
True to the disclaimer, the Youtube star doesn't hold back when poking fun at the state of his singlehood. Case in Point: In 2014, he declared - wait for it - refrigerator as his girlfriend on Twitter.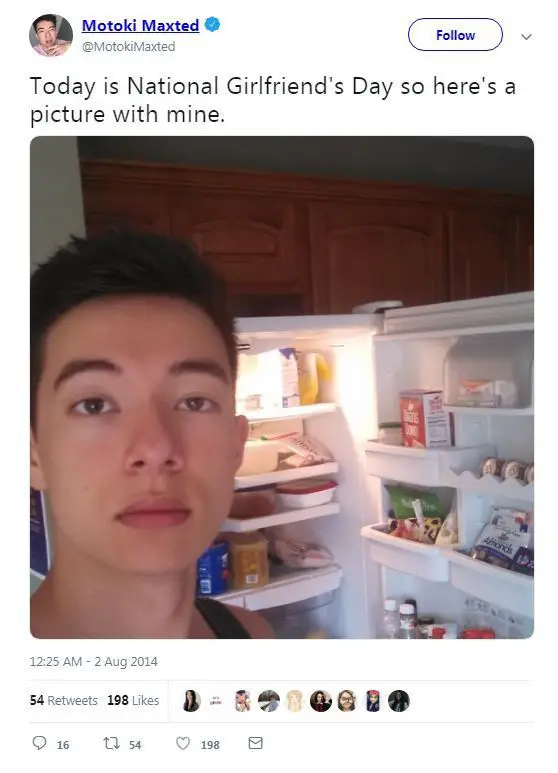 Motoki Maxted poses next to his "girlfriend" for a selfie on the occasion of 2014 National Girlfriend's Day (Photo:- Motoki Maxted's Twitter)
On a more serious note, Motoki - in his YouTube video uploaded on 12th September 2016 - opened up about being "not romantic enough" due to his "lacking in size in certain areas." He also admitted that when he found himself a date via dating apps, he ruined it by overthinking.
Barely a month later, the social media influencer posted another video on YouTube titled Why I Don't Have A Girlfriend, wherein he suggested that his last girlfriend was "crazy." In a startling admission, he professed not wanting to get involved in a serious relationship with anyone for the time being.
Celeb Facing Similar Accusition:- What Is Philip Rucker Age & Is He Married Or Gay? Bio Reveals
Despite his heterosexuality, Motoki - who enjoys 1D & Justin Bieber - gets catcalled gay all the time. His 14th January 2012 tweet ponders on the very matter.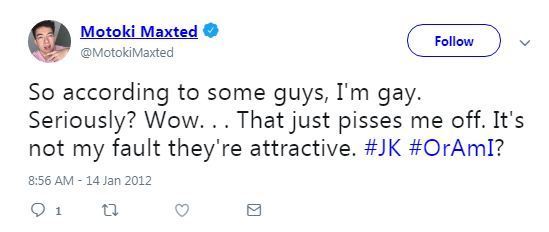 Motoki Maxted jokes about being gay (Photo:- Motoki Maxted's Twitter)
For his part, the YouTube heartthrob - who stands at the height of five feet and eight inches (172.2 cm) - has used all the negativity surrounding his sexuality and dating status to further his content.
Motoki Maxted Essentials: From Age, Parents To Net Worth
Active on YouTube since September 2013, Motoki, now age 22, boasts combined subscribers of over 1.78 million between his two accounts: Moretoki and Motoki Maxted. His ever-so-growing net worth hugely benefitted from the YouTube earnings -- is a figure likely to be around $30 thousand.
Discover:- What Is Miranda Cosgrove Ethnicity? Parents, Dating Status & More
A graduate of Loyola Marymount University in Film & TV Production, the Wauseon High School Alum - who celebrates his birthday on 3rd December - first got the taste of social media fame by interning for ROAR Studios and later working as Social Media Marketing Specialist for Storyboard while still in college.
Born to an interracial couple - white father and a Japanese mother - Motoki identifies as belonging to mixed ethnicity.