Entertainment
Multi-talented Linda Cohn: 35 Years in Journalism. Her Married Life, Divorce, Ex-Husband and Boyfriend?
Experience is the ultimate teacher of our life. The longer we do something the better we get at it. Experience is a necessity for a journalist. It takes a journalist years and years of experience to achieve greatness in their line of work. Among such dedicated experienced journalists, one of them is the sports commentator, Linda Cohn.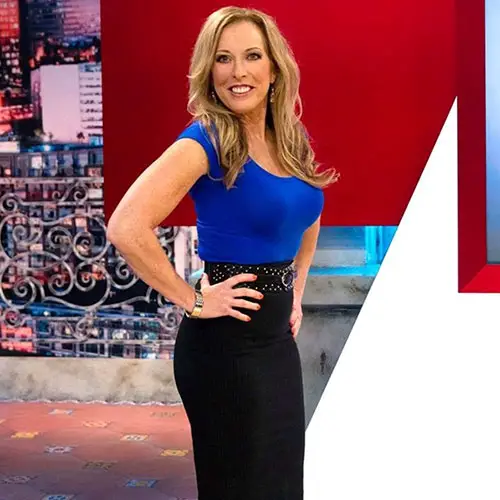 The story of any successful person has their own share of up and downs to inspire others. In the journey of following your passion, you experience ups and downs but the experience one of those things, which you would cherish, later in their life.
Sharing a similar story is dedicated and experienced journalists- a sports commentator, Linda Cohn. She has a remarkable career to flaunt but what about her personal life. And mostly people asked these questions about her personal life like- Is she married or divorced? Is she dating someone? Does she have any children? Let's dig in to get the answers.
Linda Cohn's 35 Years in Journalism:
Looking at Cohn today, she is a successful senior journalist hosting ESPN's "SportsCentre." Many people fail to believe, that her dream to become a journalist started from Patchogue, New York-based radio station, 'WALK-AM' back in 1981. Further, she went on to work for four such other small-scale New York radio stations. The most notable one of which was her brief time as an update person for WFAN, New York.
Finally, her efforts paid off, and ABC and Boy inducted her, and at that point, no one knew the history was in the making.
She created a history by becoming the first full-time U.S. female sports anchor on the radio network nationally in 1987. From then to 1989, she anchored the WABC Talk Radio. She featured in her first television break in 1988 after she was hired by Sports Channel America, which at that time used to be the closest competitor of ESPN news. In 1989, she went back home to host a call-in radio sports show. Cohn later traveled west to Seattle, Washington as a sports anchor for KIRO-TV.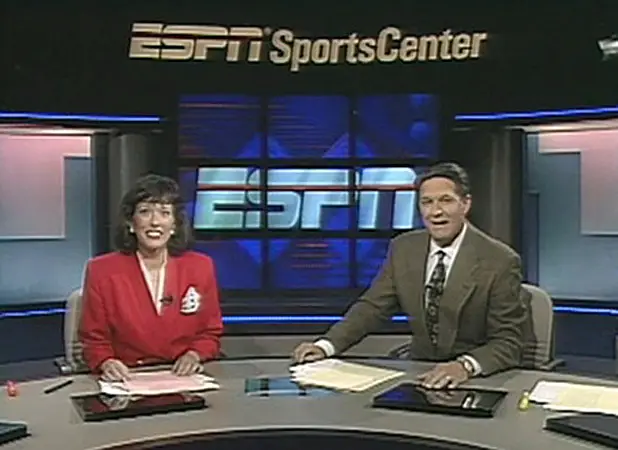 Caption: An old picture Linda Cohn during her initial days in ESPN.
Photo Credit: thewrap.com
In the year 1992, Linda Cohn returned to the east coast, signed a contract with ESPN to work on 'SportsCentre,' and her first show was broadcasted on July 1992. But later in 1994, she was almost fired by ESPN because of an argument that she wasn't showing her passion towards sports. Following which, a video coach was assigned, to improve, within the duration of 6-months
Not only did she improve but excelled at a fast pace so, in 2005 the same producers that almost fired her, extended her contract adding WNBA telecast to her duties.
In 2008, she published her very first book, a self-memoir titled Cohn-Head: A No-Holds-Barred Account of Breaking into the Boys' Club. The book depicted her never dying passion towards sports and her experience of working as a sports anchor on ESPN. The book also revealed her inner battle on sustaining and rising high in the male-dominated world of sports.
And in the history of Sports Center anchors, Linda made a new record and achieved the milestone of hosting 5,000 edition on February 21, 2016.
On reaching a milestone which no one has ever achieved before, the Sports Center family uniquely honored her and made her feel special. Also, the Sports Center family surprised her with her children, Sammy and Dan. With all the surprises the happiness on her face was a delight tp watch for every Linda Cohn fan.
Caption: Linda Cohn's children daughter Sammy and son Dan surprised her in the studio while being honored, in the occasion of achieving a milestone of 5000 the episode. ( published on February 21, 2016)
Moreover, Linda shared a picture from the celebration to mark her 5000th Sports Center, where she is basking in the glory of the achievement along with her amazing children, through an Instagram post on February 21, 2016.
Also, Linda has anchored the Morning Block of SportsCentre and hosted a podcast called 'Listen Closely to Linda Cohn.' Moreover, throughout her career in ESPN, she has served as a reporter, commentator, interviewer, writer and ran play-by-play.
She flaunts her passion for sports through social media and here are some of her Instagram posts which evidently shows her love for sports.
Recently on June 15, 2017, Linda shared her pleasure to interview Penguins' Sidney Crosby during the Stanely Cup Final and even expressed that Pen has an incredible fan following in the  Pittsburgh.
In a time where the industry can be a real struggle for women journalists, Linda Cohn has established herself as a versatile and prominent figure. In 2014, Cohn was included among the 25 most influential women in sports. She has a Long Island accent and a cynical sense of humor, which sets her apart from her colleagues.
Married Life Ends in Divorce! Any Boyfriend To Flaunt?
Linda Cohn was once a married woman with her ex-husband Stew Kaufman. The exact date of their marriage has not been disclosed yet.
The sun doesn't shine forever, similarly, Linda Cohn suffered a split and got divorced with her long time husband, Stew Kaufman in 2008. The couple had been married for 28 years before they called it off. The cause of the divorce is not revealed, but people believe that problems arose towards the end of their relationship.
There had been rumors that the divorce occurred because Linda was having extra-marital affairs with Matt City, a professional hockey coach.
Also, Linda was spotted with her rumored boyfriend Matt, shortly after her divorce which further strengthened the people's suspicions.
There was also another rumor that Linda had gone through plastic surgery which couldn't be proven, but it was believed that she got the plastic surgery done to look younger with her boyfriend, Matt City who is 17-years younger than her. These rumors arose alongside her affair rumors.
In the end, the 56-year old has still achieved heights, which many only dream about to live one day. Even at such an age, she has maintained her looks and body and appears younger than her age.
She is an inspiration to women and journalists, and a lot could be learned from her 35 years-long careers like at the end of the day.
Along with Linda Cohn, the other contemporary sports journalist including Nicole Zaloumis, Carolyn Manno, and Heidi Watney are inspiring young sports journalists who dream to make a career in sports.