Entertainment
Happily Married to a Former Baseball Player Husband, Nicole Zaloumis is Blessed With 2 Sons: Her Work-Life Balance
Yes, we are talking about the beautiful Nicole Zaloumis. Along with being a successful sports journalist, Nicole is also a family woman. Nicole is married to a former baseball player, Mike Jones. Mike was her boyfriend before the marriage. The couple is blessed with two sons.  She gave birth to the elder son, Michael Jr in September 2009. Michael is now 6 years old while his younger brother is 4 years old.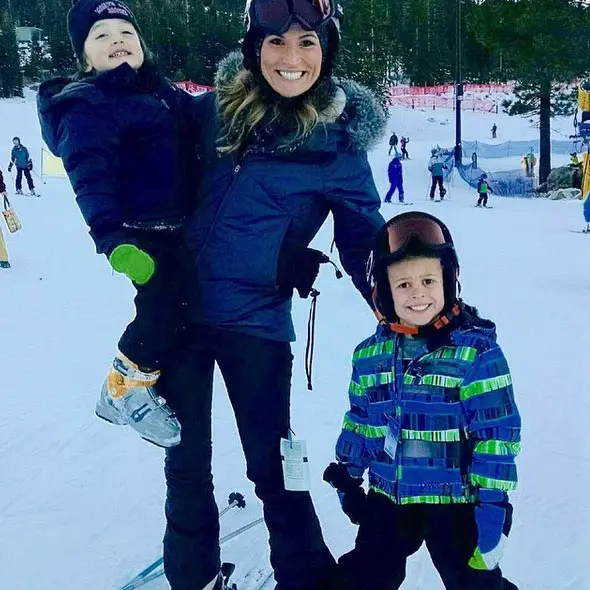 Some people can handle everything in a mere balance. A busy job and a family that's in constant need of them, but all in all, they take control of their lives in a joyous turn.
Such is the story of the former NFL Network anchor Nicole Zaloumis. Married to the former baseball player Mike Jones, she is now a mother of three and a lady who is back on her job again! The stunning Zaloumis has set herself as an example and shown the world how work-family life is carried out!
Married To Her Longterm Boyfriend: Nicole Leads A Happy Life With Husband!
Talking about the love life of the strong and determined lady Nicole, she is currently married to a former baseball player, Mike Jones. Mike used to be her longtime boyfriend before the marriage.
The couple tied the knot on 19th September 2008 and dazzled their audiences with the news of Nicole's first pregnancy in 2009.
Don't Miss: NFL Reporter Kay Adams Dating? Her Tweets Hint Yes!
 She gave birth to the elder son, Michael Jr in September 2009. Michael is now 9 years old while his younger brother is 7 years old.
Mike Jones, on the other hand, got retired from his baseball career in 2011 when Michael Jr was still a toddler. The retirement gave him an opportunity to stay close to Nicole and his children. Mike and Nicole both are responsible parents with their eyes always on their kids.
Nicole who loves to share updates about her family in her Instagram had posted a picture of the pair's 10 years wedding anniversary on 19 September 2018.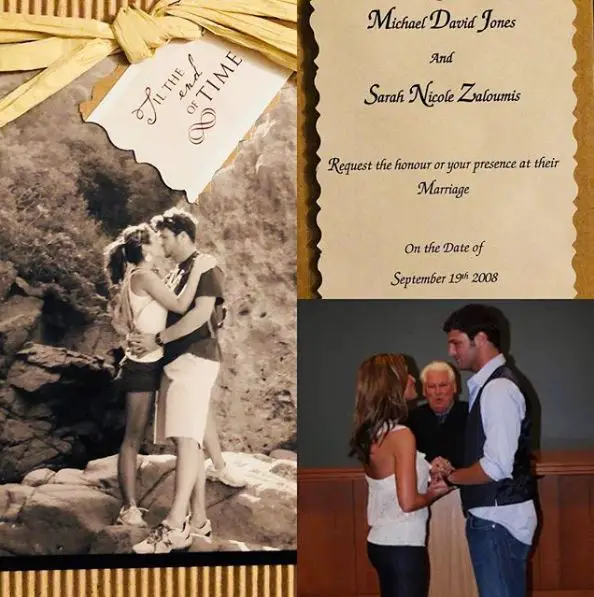 Nicole celebrate her 10 years of wedding anniversary with husband Mike with the adorable post on her Instagram (Photo: Nicole Zaloumis's Instagram)
She posted the anniversay picture with an adorable caption  that read:
"10 years ago at an adorable little courthouse in Issaquah Washington Mike and I made it official in front of a small gathering of family and one really intense judge. From the homemade invitation to eloping in Bora Bora a week later, we've never quite taken the conventional path... and I can't imagine life any other way. Even though we celebrate our anniversary on October 2nd (the day we exchanged our vows on the beach in paradise) for a big anniversary like this, it's nice to take a trip down memory lane and celebrate the first steps of what has been such an incredible journey. ❤️ "
Spending time with her husband and kids, Nicole doesn't fail to aw her followers with her sweet occasional post on her Instagram.
Nicole Breaks News About Baby No.3!
When the Jones family were happily settled with their four members, more happiness came knocking down their doors when Nicole broke the news that she was pregnant with baby no.3!
Read Similar Baby News: Katherine Waterston Age 38 Bio: Pregnant With Baby, Who Is Her Husband?
She spilled the beans of her pregnancy publicly with the 27 July 2018 post on her Instagram with the caption:
"With training camp opening this week, I thought it's only fitting to announce the Rookie that I will be keeping a close eye on this preseason! We are excited to share the news that we are expecting Baby #3 any day now! We can't wait to meet this little boy or girl. ❤️ "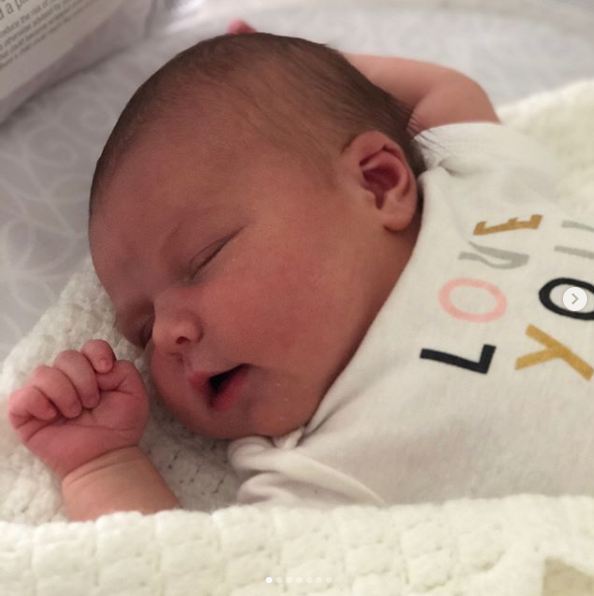 Nicole post the first picture of her baby girl (Photo: Nicole Zaloumis's Instagram)
On 28 August the stunning reporter showed her newly born beautiful baby girl to her followers who she wrote was born after 10 days of the actual delivery date.
Don't Miss: Hilary Duff & Boyfriend Welcomes Their First Baby, Daughter Banks Is Love!
The pair named their girl Kelsie Rose Jones, who was 9lbs 2oz, 21inches while she was born and was worth every second of their wait.
Work-Life Balance: Married Life, Husband, and Children
Nicole has always been a working woman. It's was tough for her to juggle between the work and family when the children were young. She had an overnight shift duty in NFL network. She had to start working from about 3 Am for the program that aired on 6 Am. 
However, she managed both profession and family with the help of her loving husband. Now after her recent delivery of baby Kelsie, the reporter is back on her job ready to read the headlines to everybody!
Nicole Zaloumis Short Bio:
Born on January 17, 1980, Nicole Zaloumis was raised in Danville, California. She completed her graduation from the University of San Francisco in 2003. She currently works as a host for SiriusXM's B/R spotlight on Bleacher Report Radio. She was previously the host of NFL Network's weekday morning show NFL AM. On August 14, 2014, edition of Fox Sports Live on Fox Sports 1, she appeared as a guest host.