Entertainment
Nash Grier Took Dating Affair A Notch Up? Or Just A Rumor Of Engagement With Girlfriend?
"Oh to be young, and to feel love's keen sting" That's what Dumbledore said in Harry Potter and The Half-Blood Prince. Well today, we talk about love and the person, who has graciously drowned himself deep into it.
Wondering who are we talking about? Well, he's non-other than our favorite Vine star, Nash Grier. 
Recently, rumors have swirled up that the actor has taken dating affair with his girlfriend a notch up and got engaged to her. Did you not know Nash had a girlfriend?
Well, if you did not know about it, then you are missing out on a lot of stuff here. But don't worry; as we'll walk you through on this matter.
Nash Grier and His Girlfriend:
Nash Grier has been dating a girl named Taylor Giavasis, a social media personality with hundreds and thousands of followers on both platforms, Twitter and Instagram.
The couple notably kept their relationship to a minimum, but fans were speculating that both were a thing and they were right indeed. The couple started dating in early 2015, but never confirmed the relationship officially until Nash shared an Instagram picture on April 19, 2016.
In this post, Nash poured his heart out, further talked about when they got together and even shared what she means to him. He expressed,
I've always been told Love isn't something you just find
This is my best friend. We've been together for over a year now. She's one of the most amazing people I've ever met. When we first started talking I was skeptical about relationships & the pros/cons that come with one. Over time I even built up a hatred for people that were using relationships & other people for their gain. I got sick & tired of people exploiting others for all the wrong reasons & then seeing "goals" written all over their propaganda. 
Eventually, I was able to clear my mind & spend some time with this girl & I'm so thankful I did. As we started hanging out, we developed more & more of a trust for each other, one that continues to change my life for the better.
Nash described his girlfriend, Taylor as,
As I begin to describe her (& our relationship) all words seem to lose meaning & don't really do any justice. No matter how hard I try to put together a sequence of words/feelings nothing will be able explain my love for this girl. 
Taylor -
Nash further continued to talk about how Taylor has impacted on his life and made everything so pretty and blessed. 

Thank you for being you. You've changed my life in SO many ways & I'm so blessed to have you. You've opened up a new world for me, whether it be the new perspectives I can now see from or the new feelings/emotions I get everyday when I'm with you. You continue to make me the best person I can be just by being yourself. Whether we're flying overseas or sitting on the couch you never fail to make me the happiest person I've ever been. Everything about you is such an inspiration - From your free spirit & your beautiful soul to the words that come out of your mouth you've always been a gift to the world. Thank you for selflessly spreading your divine energy & messages. You are changing this world one person at a time & I'm so thankful I'm one of those people, love you.
Engagement Rumors any true?
In 2016, rumors bombarded Nash's fan that the actor got engaged to his girlfriend. Well, why wouldn't they, as Taylor herself shared a picture of a giant rock resting on her ring finger.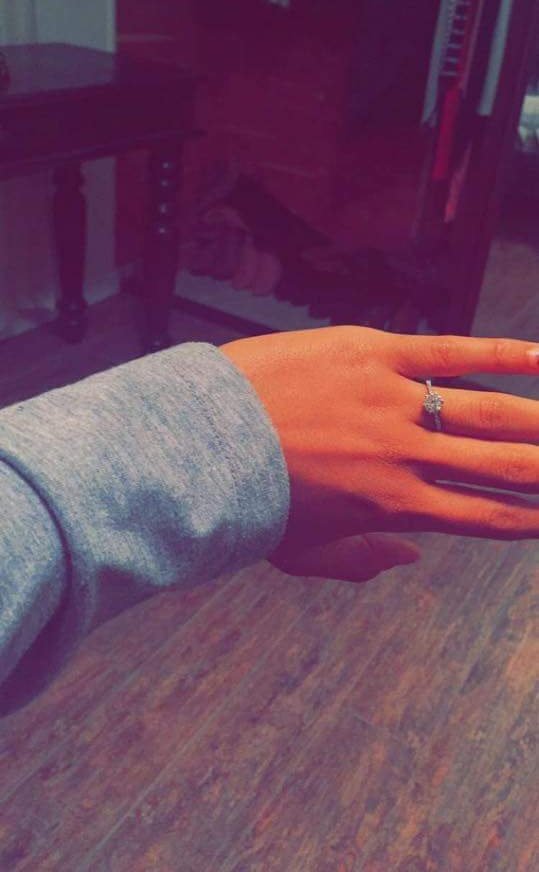 Caption: Taylor Giavasis showing off her ring which went on to circulate her engagement rumors.
Source:  twitter.com
The whole social media turned upside down with questions if Nash and girlfriend did get engaged.
To make some peace, Taylor shared a post to Twitter to clarify the rumor and said that her mother gave her that ring and that they were not engaged.
Homophobic Controversy
Nash, being an internet sensation, always keeps in touch with his fans, and there was one time when he asked people to shoot out their favorite video made by him.
While he was waiting for some lit prank videos, Ariel Winter dropped the bomb when she mentioned his video containing homophobic rant; the video that he made when he was 14 years old.
Though Nash had already apologized for the video by giving out a tweet to his fans, Ariel seemed to take that rant filled video too closely.
Ariel Winter responded to his tweet from the past, which expressed her disgust towards his action back then and said that the star repeatedly takes on the gay sexuality and talks about it in an insulting way, and also being a misogynist and pointed to his multiple anti-social acts. 
We hope that Nash is a changed man at the moment. But still, those are the personal thoughts of a person. Maybe he has just chosen to keep it to himself.
Nash Grier Parents, Family, and Siblings:
Nash Grier was born on 1997, December 28, in Greensboro to parents Chad Grier and Elizabeth Grier. Apart from parents, Nash has a younger half-sister named Sklynn Floyd, a younger brother Hayes Grier and an older brother Will Grier as his siblings.
His younger brother, Hayes is also an internet sensation, while his older brother, Will is college football quarterback. He most recently toured to Australia with his brother Hayes and friends.
Actor, prankster, producer, Instagram sensation are some of the tags that Nash Grier is known for, and currently, he enjoys a staggering net worth of $3 million.
Fans often search for his house, but may due to the privacy and security concerns he has not revealed his residence address and fans are left to imagine- how would his house look like?
Stay with us for further budding updates on Nash Grier!