Entertainment
Nazanin Mandi Wiki Reveals Age, Ethnicity, Nationality, Parents Root & Unseen Details
Multi-talented American model, Nazanin Mandi, known for her appearances in various fields of entertainment is not just another pretty face in the sea of people, but by virtue her talent, she stands out and is hell-bent on breaking the stereotypes.
Nazanin who exhibited her talent since she was a child did not let her enthusiasm fizzle out by the time she reached adulthood. She maintained the level of passion and dedication from the very beginning in every field she put her fit on while excelling in each one of them.
Indeed, she is a talented model who is also blessed with a prominent voice as well as eye-catching dance moves. Well, she sure is a talent every one ponders upon. Just like her well-balanced career, she also has a fulfilled love life.
She has been involved in a loving relationship and along the course of time, her boyfriend is now her fiance.
Well, let's figure out more what her wiki reveals!
Blissful Life With Fiance
Nazanin Mandi, who is known for her appearances on American Idol, has been romantically involved with Miguel Jontel Pimentel, who is R n B singer and songwriter who has won Grammy and BET Awards.
The pair shares a long and loving relationship. Their love dates back to days when they were just a teenager. It has been reported that they were together since they were just eighteen.
The couple officially began their relationship back in 2005. The couple were and are still going strong with their relationship. After being together for nearly a decade, Miguel finally presented Naznin with a ring and asked her to marry him. The couple got engaged in 2016.
See Also: Alex Hopkins, Age 23 ENGAGED To Long-Time Girlfriend Lauren Alaina, Wedding En Route!
Well, after the engagement there has been no signs of tying the nuptial knot. They have remained completely silent regarding their marriage.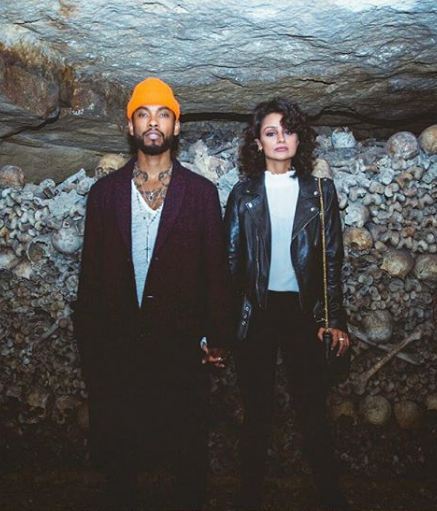 Nazanin Mandi with boyfriend-turned-fiance Miguel Jontel Pimentel. (Photo: Miguel's Instagram)
However, the couple is still going strong with their relationship. As of recent, Nazanin celebrated her 31st birthday planned by her fiance which was filled with balloons and dances.
Well, the couple sure seems extremely delightful in each other's company even though they do not plan on exchanging the wedding vows any time sooner.
Nazanin Mandi's Wiki
Nazanin Mandi, who is a natural performer, began her career in the world of entertainment at the very young age of 3. While toddlers of her age were daydreaming about ice-cream, Nazanin started performing in songs and dance routines.
At the age of 10, she started appearing as a model and debuted her modeling career. Born to parents, Ali Reza Mandighomi and Luz Cecilia Saenz of mixed ethnicity, her modeling career took off with her striking good looks and determination and soon landed her in the elite Wilhelmina Models.
Don't Miss:- Kimora Lee Simmons All About Multi-Racial! From Kids, Husband, Ethnicity & Parents
As per some sources, she holds Persian, Spanish, Mexican, and Native American ancestry while her first name, Nazanin, is of Persian origin.
Since the beginning of her modeling, she has made her appearance is various top-rated publications including Vogue, Allure. Adding to it, the American nationality Nazanin has also modeled for premium brands like Microsoft, Cosmo Girl.
Well, standing at the height of 5 feet 4 inches (1.63m), Nazanin reached the heights of success in her modeling career.
Adding to her success, she has also featured in the reality television series 'Rock Star Academy.' Well, with her fame and fair talents she sure has made her parents proud.