Neil Young and his wife founded Bridge School to meet their son's special needs...although they remained married for about...potted dating publicly in Westlake, California during the year of his divorce...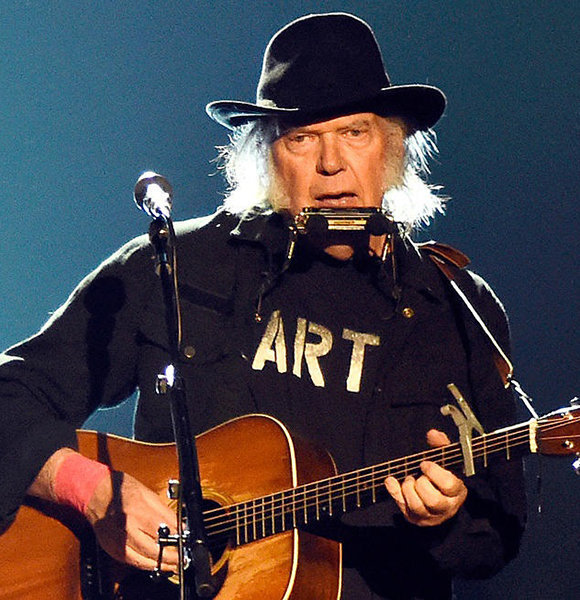 Canadian rock legend Neil Young's successful music career spans several decades. And, his induction in the Rock and Roll Hall of Fame twice speaks for itself.
Many are familiar with his beautiful yet straightforward track Heart Of Gold with the lyrics that go "I want to live, I want to give. I have been a miner for a heart of gold."
In reality, he did end up finding a heart of gold he was searching. But the journey wasn't that easy since he had to go through few unsuccessful relationships along the way while also making few mistakes on his side.
So, let's take an in-depth look at Neil's past relationships and married status.
Past Relations, Children
Neil was romantically linked to actress Carrie Snodgress in 1971. That year, he commenced living together relationship with his girlfriend. Interestingly, the actress had caught his eye through her performance in the movie, Housewife. So, he approached her first by leaving his number in her dressing room.
Although she was unaware of his celebrity status, she decided to call him.
Moreover, within a week of their dating period, they started taking an extreme liking for each other. On top of that, Neil's girlfriend sacrificed her burgeoning career to move in with him. Well, she was nominated for Oscars for her performance in Diary of a Mad Housewife.
But, the singer was able to keep her content with his love and care. However, fate presented their love life with extreme challenges on the way. It all started after the birth of his son Zeke Young who was born on 8th Septemeber,1972.
Unfortunately, Neil's son was born with a medical condition called cerebral palsy(a disorder that affects a person's ability to move and maintain balance).
As per his ex-partner, the artist was supportive at first. But, according to Carrie, in 1975, he started to show some signs of annoyance and negligence. The Harvest Moon singer even shifted his lover and son from his estate to some rental houses in LA. And, things turn for the worst when the singer fell for another woman.
He fell in love with singer Pegi Young while she worked as a waitress near his California ranch. The artist married his newfound love in 1977, and it further affected his previous relationship.
As a result, his ex-girlfriend sued for child support and few damages claiming that the singer wasn't covering expenses for her and his son Zeke. He did end up making monthly support payments upto $10,000 as per the court order.
Celeb In Legal Trouble:- Mauricio Umansky's Shocking Affair & Cheating Allegations! Wife Stays Strong
Sadly, his second son Ben Young(now 40 years old) conceived with wife Pegi was born with the same condition as his first child. However, learning from his past mistakes, he was very active in looking after the second son. He and his wife even founded Bridge School to meet their son's unique needs.
Divorce, New Spouse
However, his relation with Ben didn't hold up, after their 36 years long remained marriage. Neil and his wife divorced in 2014 after the artist started to fall for Daryl Hannah. She is an American actress known for her roles in hit films like Kill Bill.
Interestingly, the two were started dating publicly in Westlake, California, during the year of his divorce.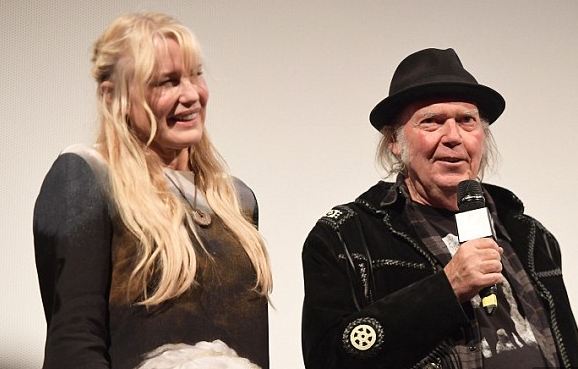 Neil Young and wife Daryl Hannah speak at a panel in SXSW Festival in 2018 (Photo: people.com)
After dating for a few years, the songwriter finally tied the knot with the actress in 2018 on a very private wedding on a Yacht. They also held a second wedding in August the same year in California.
Cast Of Kill Bill:- Uma Thurman Husband, Boyfriend, Children
As of now, the 73-year-old singer is committed to his new wife and relishes his net worth of $80 million.