Nessa Diab - better recognized as Nessa Nitty - is an American TV/radio personality, who rose to prominence as the host of the San Francisco's Wild 94.4's "Nessa's Night Show."
What catapulted her to superstar status, however, was when Hot97 hired her as the replacement for its outgoing RJ Angie Martinez in 2015. The decision inadvertently made her "The Voice of New York."
Beyond airwaves, Nessa is also a staple among the "urban" audience on TV, with appearances on shows such as "Ain't That America," "iHeartRadio Music Festival," "VH1 Big Morning Buzz," "Teen Mom Aftershow," and "Real Talk."
Besides her MCing talents & equally gorgeous physical attributes, the Hot97 star gets revered for her background.
Is Nessa Muslim? Ethnicity Talks & Parents Info
Nessa was born in California, the USA to Middle Eastern parents. Delving further into her parents' ethnicity: her dad was of Egyptian descent while her mom possessed Arab heritage.
Because of her parents' lineage, the world-renowned radio personality probably identifies as belonging to Arab-American ethnicity.
Equally Exotic Celeb:- Geraldine Viswanathan Parents, Ethnicity, Boyfriend
Nessa's father and mother were the practitioners of the Muslim faith. Admittedly, they raised her and her two siblings (both brothers) as a Muslim. It is still not clear whether the former Wild 94.4 RJ still vigorously practices the religion that she inherited as a child.
Life With Boyfriend - Married Or Engaged?
Away from her origins, Nessa is happily "boo-ed up" with none other than the NFL superstar Colin Kaepernick.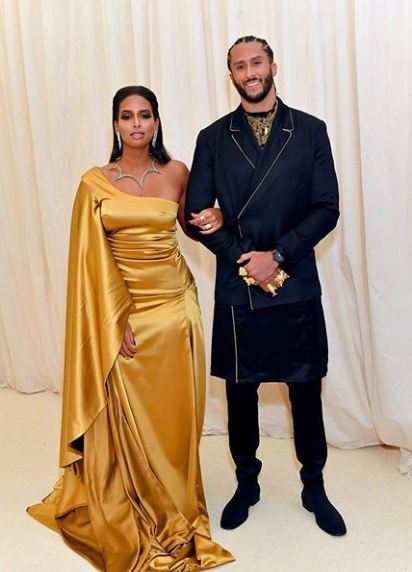 Nessa Diab and her boyfriend Colin Kaepernick at the 2019 Met Gala (Photo:- Nessa Diab's Instagram)
She and her boyfriend Colin commenced dating in July of 2015. At the time, the beloved quarterback was still playing for the NFL outfit San Francisco 49ers.
The lovebirds, however, didn't make their romance public until February of 2016. That very year, Colin received backlash for drawing attention to racial injustice faced by African-Americans as he kneeled during the national anthem before the NFL games.
Throughout the whole debacle and the subsequent blackballing of the player, Nessa stood by her boyfriend Colin's side. Though not married to him, she displayed wife-like characteristics.
Friend Of Nessa:- Nadeska Alexis Bio, Net Worth, Engaged, Married
Given the longterm commitment, fans wouldn't act surprised if the news of them getting engaged hit the headlines.
Age, High School, Weight & Height
Despite being a Southern California native, Nessa grew up in the war-ridden regions of the Middle East because of her father's job. When attending high school there, she witnessed bloody combats, innocent deaths, and war sirens.
Then came a reprieve. Under the pretense of earning a degree in Mass Communication from the University of California Berkeley, she moved to the United States.
At age 35, Nessa stands 5 feet and 8 inches (1.73 m) in height while boasting above average body weight.
Discussing Nessa's Net Worth & Salary
Nessa's broadcasting career began with WILD 94.9 KYLD. She left the station for ENERGY 92.7, only to return years later.
Searching for new challenges, she then began working for Pheonix Arizona-based radio network 101.5 JAMZ. Shen then made her return to San Francisco as she started her ties with Wild 94.4.
Veteran Radio Personality:- Geraldine Viswanathan Parents, Ethnicity, Boyfriend
Her interviews caught the eye of MTV. She eventually got hired to host the network's numerous shows including Girl Code, Charlamagne & Friends and Ain't That Americ, Snooki & Jwoww Aftershow, Jobs That Don't Suck, The Real World Aftershow and the Teen Mom Aftershow.
Nessa's six-figure sum salary at Hot97 coupled with occasional TV gigs is the primary income source behind her $2 million net worth.