Nick Kroll is a man of various talents...People even thought the Community star would turn his girlfriend into a wife...Nick's bromance with fellow comedian, John Mulaney has fueled gay rumors about him...
Nick Kroll is a man of various talents. He is a stand-up comedian, actor, director, writer, producer, voice artist, and comedian. Among the array of talent, he gained prominence due to his writing and acting in critically acclaimed series, Kroll Show.
Since then, he has continued to entertain the audience with a variety of shows like Oh, Hello, and Netflix's Big Mouth, to name a few.
Who Is Nick's Wife?
Despite being incredibly successful professionally, Nick is yet to find a permanent ideal partner in real life.
Well, he was in a public relationship with fellow comedian, Amy Poehler in 2013. The creative duo painted the town red with their love during their dating relationship.
In March 2014, Nick and his girlfriend went to Mexico for a quick vacation and were much in love. The link was serious as Amy's sons - Archie and Abel - from her previous marriage were also involved.
People even thought the Community star would turn his girlfriend into a wife. However, the pair shocked everyone when they split in 2015. The reason behind the break-up was the pair's crazy schedule due to which the couple couldn't continue their dating relationship.
More On The Split:- Never Been Married! Truth Behind Nick Kroll's Split With His Girlfriend Amy Poehler Revealed!
Since the breakup, Nick is yet to date anyone publicly, let alone having a wife!
Gay Rumours
Nick's bromance with fellow comedian, John Mulaney fueled gay rumors about him. The pair's close friendship and collaboration in the project, Oh, Hello added fuel to the brewing gay romance.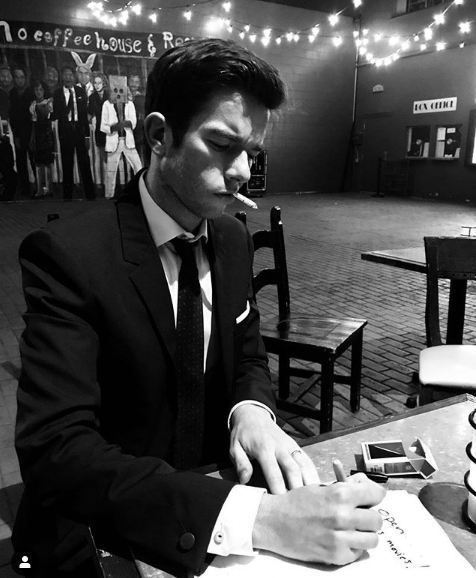 Nick Kroll supports his good friend John Mulaneyahed of his SNL hosting gig on 3rd March 2019 (Photo: Nick Kroll's Instagram)
However, John cleared the air about the possible gay couple while talking to Hello Giggles in 2017. He compared his relationship with Nick to his bonding with the family dog. And, he established that their bonding was platonic and no romance was involved.
Siblings
Nick comes from a big family of four siblings. His parents bore two sons and daughters each. While Jeremy is the oldest, Dana is the second-oldest, Vanessa Maral, the middle child, and then Nick is the youngest.
Unknown to many, the Date Night star comes from a prominent family.
His parents Lynn and Jules are the founders of the consulting firm Kroll Inc., a billion-dollar company. His father-Jules-established the organization in 1972 and sold it to Marsh & McLennan Companies in 2004, which ultimately reached a whopping $1 billion in revenue.
For You:- Mike Bettes Wife, Age, Family, Net Worth
Add to that, Nick's brilliant father is a part of the Board of Directors of the Managed Funds Association. He also serves as Board President of the John Jay College of Criminal Justice Foundation. His mother, on the other hand, was a regent of Georgetown University and National Foundation for Jewish Culture in New York's president in 2000.
Clearly, his parents supported him to the fullest even when Nick wanted a starkly different path than them. The multi-hyphenate - height 5 feet 9 inches (1.75 m)- is surely making his loving parents proud via his success in Hollywood.