Entertainment
Who Are Noah Jupe Parents? A Quiet Place Star's Height, Interview & Siblings Detail
British child actor Noah Jupe, known for his role in The Titan, has been able to make a place for himself in the world of entertainment at the very young age. And the teenage actor has been nourishing his acting career from his early age.
Thanks to Noah's parents; he inherited the acting gene and followed his mother's footsteps powered by his talent and charming personality. Now, he has excelled in the acting field through his projects, The Man with the Iron Heart (2017) and A Quiet Place (2018).
Aspiring Actor With Famous Parents, Family of Five
The Downtown Abbey star is born to the parents; Chirs Jupe and Katy Cavanagh and was raised along with his two siblings, Jemma and Jacobi under the wings of his famous parents.
Taking to Instagram in July 2018, Noah talked about siblings, featuring his sister and wrote a caption,
"Sibling Thrivalry ❤️"
Chris Jupe is a filmmaker and a producer, known for his work in the comedy troupe, The Mighty Boosh. Adding to it, according to Chris's Linked in profile, he specializes in bespoke contents which are created as per required by his clients. He is also a partner at Funky Films since 2014 and owns Production drive since 2004.
Don't Miss:- Caleb McLaughlin, Young Age Actor Reaches Tremendous Height - Parents, Siblings Of 'Stranger Things' Star
Well, with such a creative and passionate filmmaker father Noah surely has gained some from his father.
Not only Noah's father but also his mother is just as talented. She is the well-known actress Katy Cavanagh. Katy is known for her roles in Coronation Street (1960), Bob & Rose (2001) and Dalziel and Pascoe (1996).
Adding to it, Noah's grandmother was a drama teacher which shows that he is born talent. Well, he sure is using his talents and looking forward to doing so for the rest of his life.
In "A Quiet Place"
Noah Jupe, who has made many onscreen appearances both in the television series and on films, started his acting career very early at the age of ten. He first debuted his acting career in 2015 in the TV series, Penny Dreadful, where he portrayed the role of Charles Chandler.
See Also:- Reeve Carney Stylishly Dating His Actress Girlfriend; Has Any Thoughts On Getting Married?
Since then he appeared in various movies like The Man With the Iron Heart (2017), The Good Night (2017), Wonder (2017) and a few more. He had a leap in his career through his performance in the horror movie, A Quiet Place.
In the movie, he starred alongside Millicent Simmonds along with Emily Blunt and John Krasinski. They had a pretty good review of the movie.
Noah, when asked in an interview with collider.com how his experience was working with his co-actors Emily and John on April 2018, Noah replied saying that he was pretty surprised at how welcoming and caring they were.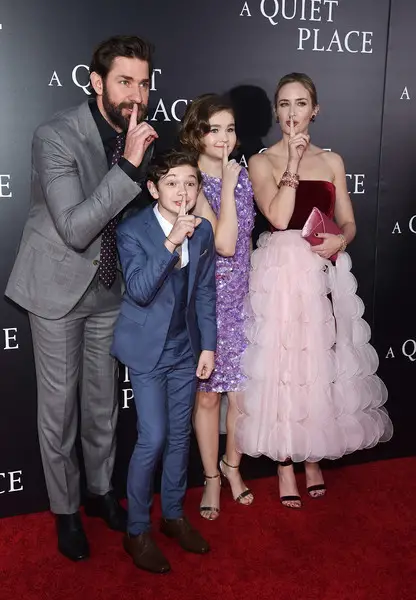 Noah Jupe Millicent Simmonds with Emily Blunt and John Krasinski at A Quiet Place's premiere on April 2018 (Photo: Zimbio.com)
Turns out Noah, who stands at the height of 4 feet 5 inches (4'5"), had a pretty good experience working in different scenarios and portraying different characters along the way.
Upcoming Appearances In Movies
After gaining much admiration from the fan base along with praises from A-List movie stars, Noah is set to appear in his new project. The talented child actor, who handles professionalism just so well at this early age is taking the heights in his career.
You May Also Like:- Rashida Jones Reveals Decision On Boyfriend, Dating, Getting Married With Husband Altogether!
Noah is set to appear as Doxy in the movie Holmes and Watson which has been said to be released this November.
Moreover, Noah is to play as Young Shia LaBeouf in his upcoming drama movie Honey Boy in which he features as the young actor who works to mend the relationship with his father. The movie is in its post-production and is set to release in 2019.
Adding to it, Noah has his plate full with Ford v. Ferrari in which he appears as Peter Miles.