Entertainment
Noelle Nikpour Background Check: Married Life, Parents Details & Facts
By the time she announced herself as a candidate in the 2016 General Election for representation of the 18th Congressional District of Florida, Republican strategist-cum-columnist Noelle Nikpour had cemented herself as one of the most promising congressional candidates competing for party support.
Ironically, a poor fundraising campaign followed by a lousy performance on the ballot meant that the Arkansas native's dreams of representing her people would have to lay low for the foreseeable future.
In the meantime, did she get married to a husband with a similar background? Check her bio to learn more including her age, education, net worth & family background!
Married Ambitious Husband Or Single? Noelle Nikopour's Background Check
With the backing of prominent Republican Arkansas including Andrea Rockefeller, John Tyson, Bud Cummins, Stephen LaFrance Jr., and Asa Hutchinson III, Noelle looked all set to leave a mark in a six-way Republican primary race for Congress.
Celebrity With Same First Name:- Noelle Watters Age 42 Wiki: Nasty Divorce With Jesse, Net Worth & Facts
Despite raising a meager sum of $200 thousand as campaign funds, the political commentator-turned-politician had garnered a strong voter base because of her moderate views on the college expenses bore by students as well as an emphasis on connecting with minority voters.
But to everyone's surprise - when the election results finally got published - she garnered a mere 1% vote, finishing in the last position. Frustrated with the outcome of the election, did Noelle try to find happiness elsewhere? More specifically, did she get married?
The answer to both the stated questions is a resounding NO! Forget finding a husband; it looked as though that the former Congress hopeful barely had time for dating because of her obligations.
All that seems to be changing with the emergence of a yet-to-be-identified love interest. Posing next to her rumored partner, Noelle tweeted a snap of the two from their date in New York City.
Interesting Background:- Nayyera Haq Age 37 Furtive Married Life & Husband | Ethnicity, Background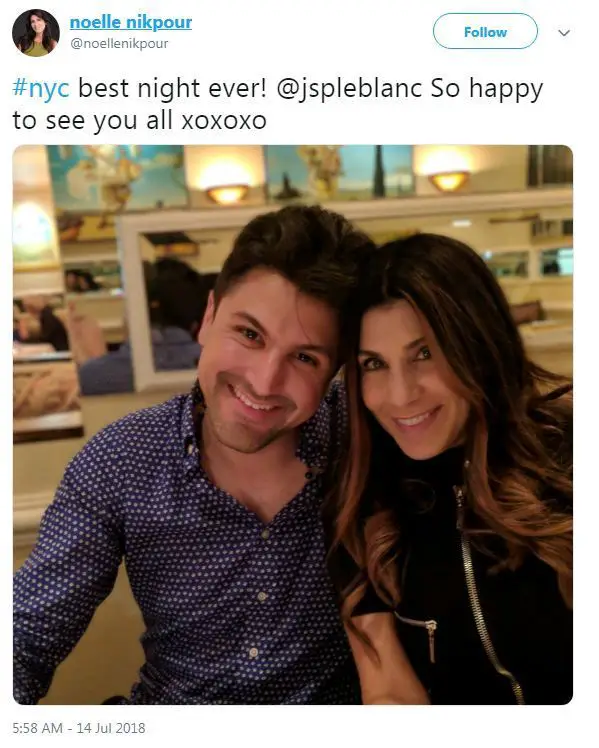 Noelle shares a snap of her alleged muse (Photo:- Noelle Nikopour's Twitter)
Perhaps, they could be work colleagues or kin-folks. A brief background check on the man pictured above might help.
An optimist would believe that Noelle's alleged boyfriend is the same man as mentioned in the series of her 2013 tweets. From seeking relationship advice from a friend to window shopping a Vera Wang wedding dress, she and her man seemed on their way to getting married.
Noelle seeks help via a tweet on 18th October 2018.
"@jd_pittman @kris10awesome ok, you two are officially the "coolest" couple I know! Can you train my boyfriend?? :)"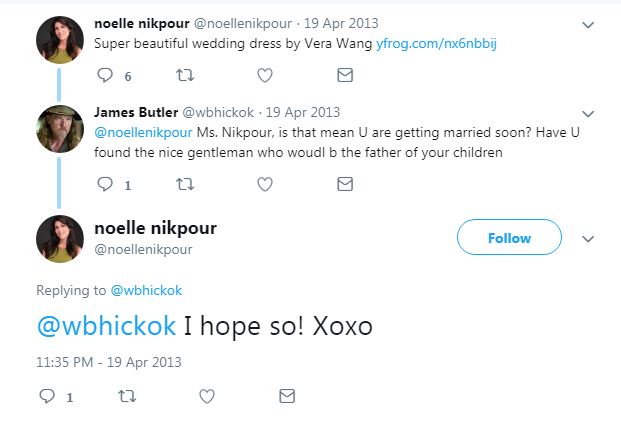 Noah hints about a possible married life with unidentified husband prospect (Photo:- Noelle Nikpour's Twitter)
Has she given up on her hopes of tieing the knot one day? Only time will tell!
Noelle Nikopour's Bio Unveils Parents, Age, Education & Net Worth
While her dating life has seemingly taken a backseat to her burgeoning career, Noelle continues to show off a level of expertise in fundraising as well as branding truly exceptional for her age.
Learn Something New Today:- American Music Awards 2018 | Winners & Nominees List You Can't Miss
Believed to be in her 30's, the Republican strategist used her experience in branding to author a book titled Branding America: What Does Your Brand Say About You? in August of 2012.
Published under the imprint Createspace Independent Pub, the paperback version of her book sells at $12.99 per pop. Royalties from the book as well as appearances on Fox News, CNN, MSNBC, and HLN constitute a large portion of her net worth.
Born to interracial parents - her mother is American while her father is Iranian - Noelle completed her college education from Columbia University before pursuing a career of a columnist and strategist.