Entertainment
Omar Benson Miller Says Size Never Bothered; Still, Weight Loss Made Difference
"Begin to see yourself as a soul with a body rather than a body with a soul." ~ Wayne W. Dyer
A message to people out there who body/fat shames others!
The world has advanced, but the question is to what extent the thoughts of people have evolved? Body/fat shaming has been one of the most talked about issues even today, and it reflects the way people are still lagging behind in broadening their cogitating ability. 
People get affected by someone's opinion on one's body, and it's high time; everybody needs to think twice before passing comments.
Today, we are talking about Omar Benson Miller, an actor, who is an exception here, as he never got bothered by his size, irrespective of what people had to say about him. However, he believes, undergoing weight loss has made a difference in his life. 
Keep reading to find out what differences, has the actor felt. 
Omar Benson Miller's Weight loss:
Omar an actor, who received significant fame through the movie, 'Miracle at St. Anna,' weighed 300 pounds back in time. But despite him being 6' 6'' in height and 300 in weight he was able to grab various roles in the acting industry. 
In an interview with 'Essence' in 2009, Omar gushed on his body frame not refraining him from grabbing roles,
"As a 6-foot, 6-inch, 300-pound Black man, I've done everything I can to stay out of that box that Hollywood tries to put me in. I've been able to play a variety of roles, like the character of Vern in "Shall We Dance?" with Richard Gere and Jennifer Lopez to the character of Neal in "Things We Lost in the Fire."  I've been blessed." I can't say which roles I have missed out on based on my size and my height. When I got hired for "8 Mile," one of the producers told me that they almost didn't hire me because I was too tall.
However, he had to go through weight loss for bagging the role of 'Train' in 'Miracle at St. Anna.' Miller explained, how shedding 50 to 60 pounds of weight opened up different opportunities for him, 
"I ended up losing 50 to 60 pounds to play Train and I think it opened me up for a lot of new, diverse opportunities. I can't wait to see what the industry has for me next. Maybe they'll choose me as the next James Bond!"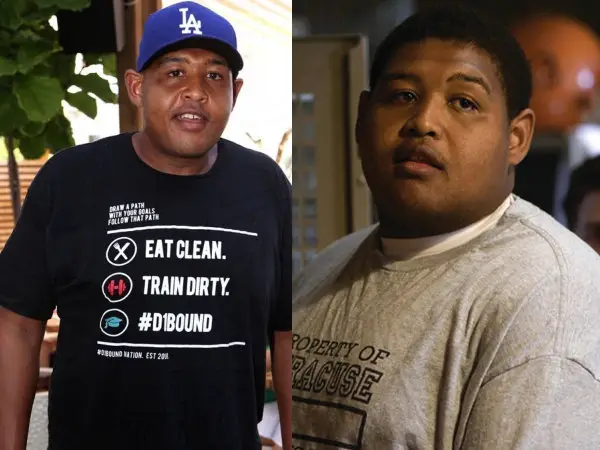 Caption: Omar's after and Before weight loss picture.
Photo Credit: Liverampup
Miller, who holds a net worth of $ 2 million, even talked about the size discrimination that prevails, while also expressing the great feeling of breaking down the stereotypes,
"There is a lot of size discrimination out there, and I see the difference in the way people treated me when I was 360 pounds versus how they treat me when I'm 290—from the industry to day-to-day people on the street. Everything is catered to normal-sized people. It's hard to find a size 15 shoe, cars [to accommodate my size], clothes and all of that. I think it's a great situation that I get to overcome and break down stereotypes and represent the oversized man in society. I'm big-sexy. Women know what's up because they love to be protected. My mother loves big men so she boosted my confidence level through the roof (laughs)"
He indeed has a good sense of humour though.
Omar Benson Miller's Family:
Born to his parents on October 7, 1978, in California, Omar is 39 in age.  Long Beach and Anaheim, California, is where he grew up with his family. 
Talking about family, he often showers love to his mother, Gloria Miller via Instagram,
Also in the name of the family, Omar had an older brother, Eric, who unfortunately passed away a year before in May 2016.
Additionally, Omar's father is from Mississippi, and growing up he heard the stories of racial injustice all the time.
Also, did you know, Omar was perceived to be related to Forest Whitaker for the physical resemblance they share? However, it isn't the fact!