Entertainment
Once Nearly Married; Rapper Bow Wow Shares A Tumbling Relationship with Girlfriend
The triangular love story between Shad Moss also known as "Bow Wow" has an on and off relationship with the two girls, Erica Mena, the model with a tempered mouth and Joie Chavis, the mother of his daughter, Shai...Bow Wow first met the model, Erica Mena, on the set of his 2010 movie...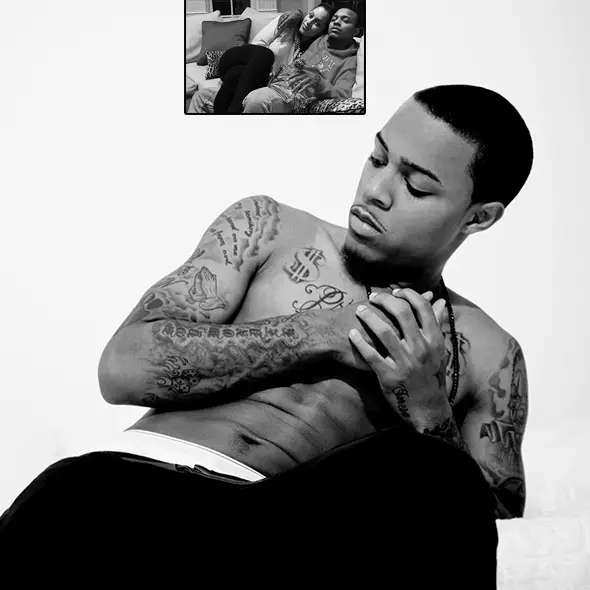 Love is a beautiful feeling. But when it enters the stage of a triangle, it starts getting problematic in every way. A similar case occurred with the famous rapper Bow Wow.
The triangular love story of Shad Moss, also known as "Bow Wow" consists of on and off relationship with the two girls, Joie Chavis, the mother of his daughter, Shai and Erica Mena, the model with a slightly tempered attitude.
Bow Wow Reveals About Daughter: Has Wife?
Joie Chavis was the first known love interest of Bow Wow. Joie and Bow Wow started dating in March 2010 and soon had a daughter, Shai Moss on April 27, 2011, Before getting a chance to make Joie his wife, they broke up in 2013. Then they dated different partners simultaneously before moving back together in 2016.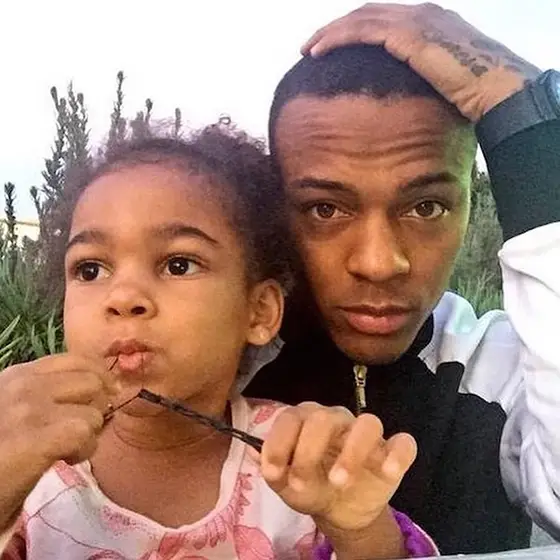 Shai Moss and Bow Wow together having a father-daughter time together (Picture: hiphopwired.com) 
During their break-up, Joie dated Bu Thai, 34, in April 2016 and Bow Wow dated an American model, Erica Mena, who was allegedly the reason for their breakup. 
Joie posted pictures with her new boyfriend, Bu, showing off their cuteness on the web, to which Bow Wow retaliated with a bashful tweet, regarding his baby mama's post. 
Engagement With Another Girlfriend: A Total Disaster!
Bow Wow first met the model, Erica Mena, on the set of his 2010 movie, "Lottery Ticket" although she was not involved in the film. Bow Wow soon got intimate with Erica Mena, and they started dating in early 2014. 
Inside Story: Erica Mena's Ambiguous Sexuality: Straight or Lesbian?: List of Boyfriend and Girlfriend
They kept their relationship private, but on the red carpet of the 2014 BET Hip-Hop Awards, when Erica was asked if Bow Wow was her boyfriend, she replied:
"Uhh..he's actually my fiancé."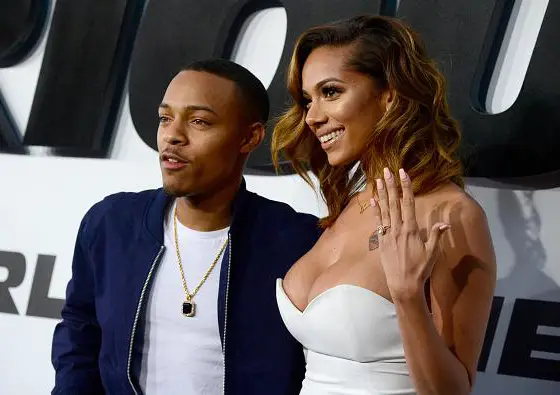 Erica and Bow Wow together in the red carpet as Erica showing the ring to the public in December 2016 (Picture: ibtimes.com)
Shocking the media by their engagement soon after separating from his ex-girlfriend, Bow Wow gained many media attention and was all over the tabloids for his engagement news with Erica.
Read Also: Rich Dollaz Wiki: His Dating Affair with Girlfriend and 4 Kids; They Don't Match Up
But, things did not go well with the newly engaged couple, Soon there were rumors that the couple had called it a quit. Erica accused Bow Wow of being "an Abuser" as well as having side affairs with his ex-girlfriend once again during their relationship. Stating in an interview after her breakup she said;
"I've been quiet about it because we were engaged, but obviously he was in his feelings after my Snapchat post…I could have gone public about our breakup a month ago. He does this to make headlines. Just leave me alone, I moved on; why are you still in your feelings?"
Furthermore, Erica Mena claimed she was virtually stalked by Joie to leave him. But, Bow Wow claimed that he broke off with Erica just to end the ongoing dispute, and keep Shai away from all troubles.

Erica's tweet against Joie in May 2016 (Photo: bossip.com)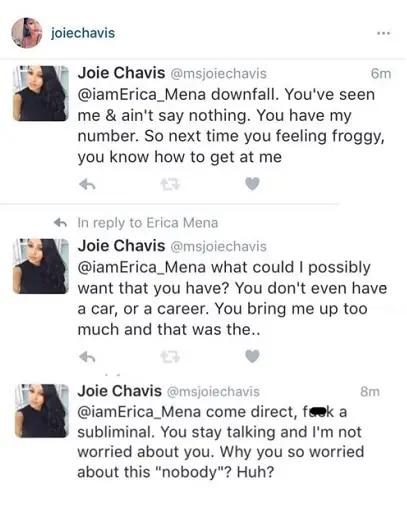 Joie also tweeted on the same day against Erica (Photo: bossip.com)
Joie kept up with the torturous mental messages during that time. Erica, known for her quick-witted mouth, continuingly poured out more details on her time together with Bow Wow as a girlfriend and fiancé targeting his former ex-girlfriend to be jealous of their relationship.
Bow Wow And Joie's Reunion? Or A New Girl In Line?
It was after a period of constant drama and media fights that Bow Wow gave a permanent hint to Erica about their end on November 2016 after posting a picture with Joie Chavis. Thanksgiving post of the former pair was seen in Bow Wow's account where the duo shared some intimate cuddle and happy moments.
Erica, who was in the process of moving on from Bow Wow, closed the chapter with a final message saying: 
"When it comes to Shad, this is the man I at one point really considered marrying. He is the one I decided to say yes to, but once the mask came off, I realized I had made a bad choice…It's sad, because we had a real friendship and we could have had a good life after the fact that our relationship was over. But at the end of the day, we've been separated for some time and I'm ready to move on."
To what the world thought was the happily-ever-after of the former pair, Bow Wow proved it wrong once again after he ended the relationship with Joie. After a rollercoaster ride of girlfriends and an extremely long dating list, Bow Wow finally ended dating his current girl Kiyomi Leslie.
Bow and Kiyomi, who started their relation under the wraps, started making it public through their posts and tweets. It was Bow Wow, who posted a picture of him hugging Kiyomi along a birthday caption. Also, the same day, when Kiyomi posted a picture of her semi-naked body covered in black swirls, Bow Wow commented in it referring himself as her husband.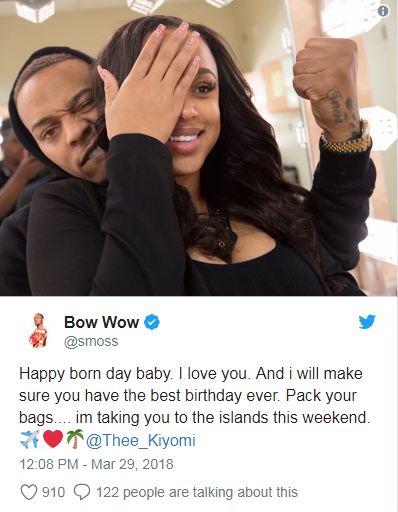 Bow-Wow tweeting Happy Birthday To Girlfriend Kiyomi (Photo: hotnewhiphop.com)
With so many hints of Bow-Wow signaling another marriage with his girlfriend, the fans are left with their wild guesses of whether the pair will ring their wedding bells soon? Are they already married? Or will they call it an end like what has happened to Bow Wow in the past?
The Saga Continues: Bow Wow Wrongfully Arrested Following Altercation With Girlfriend?
Much like the former child star's previous relationships, his romance with his girlfriend Kiyomi - real name Leslie Holden - transformed into an on-and-off affair as well. 
Barely a year into dating each other, the Growing Up Hip-Hop costars parted ways. In an ironic turn of events, Kiyomi "left" Bow Wow for female rapper Young M.A while the "Let Me Love You" hitmaker began accompanying dates to basketball games.
Interesting:- Iskra Lawrence Dating, Boyfriend, Family, Height, Birthday
Before the lovebirds split in October 2018, the rapper-turned-reality star had opened about the miscarriage that his then-girlfriend Kiyomi suffered in a now-deleted Instagram post. At the time, he wrote:-
"Don't really care. The media crucify me. I'm the most hated. Every girl I gave my heart to it failed. My dad is an alcoholic and is now sick. I lost my son this year."
Trouble is one thing that seems to follow the duo everywhere. Even after the break-up, the bad blood between the two persisted.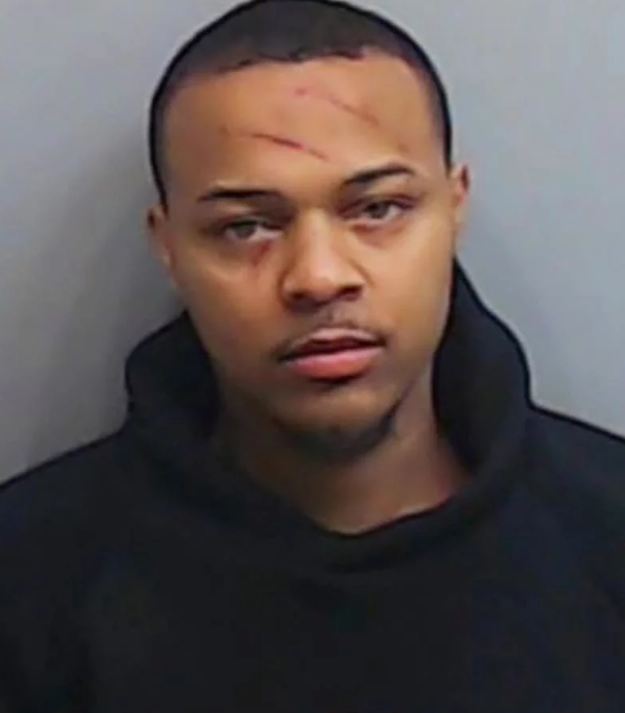 Bow Wow poses for a mugshot after being arrested on assault charges on 2nd February 2019 (Photo:- people.com)
On 2nd February 2019, Bow Wow got arrested in Atlanta after his ex Kiyomi told the police that he assaulted her. Unable to determine the aggressor of the altercation, the law enforcement agency charged both parties - who had sustained minimal injuries - with battery.
Both the former 106 & Park host and Kiyomi were later released on $8 thousand bonds. In a statement following his release, Bow Wow's lawyer asserted that his client was the victim and that his ex had beat him up with a lamp.