Entertainment
Openly Gay Elvis Duran Is Hiding His Boyfriend! Talks About Critical Weight Loss Journey
Openly Gay Elvis Duran Is Hiding His Boyfriend....their wedding was quite a visual treat and Mexican themed... good sum of money as his yearly salary of...the radio show host spoke about his journey of losing weight.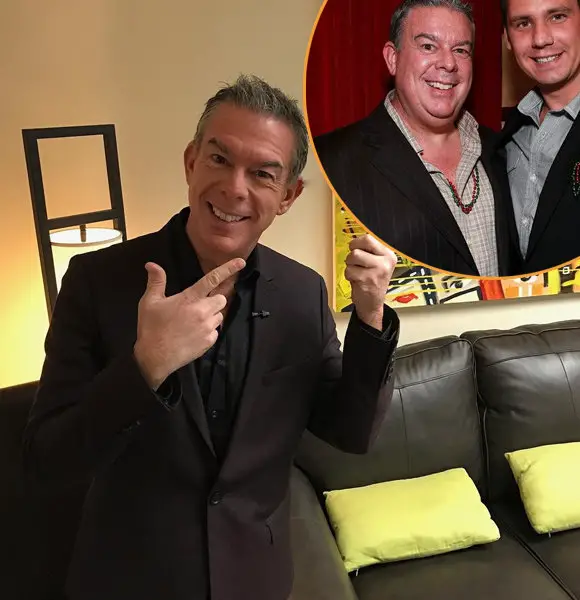 Quick Information
Gay

Yes

Eye Color

Brown

Hair Color

Black & White

Hair

Short

Weight

160 lbs (73 kg)

Height/ How Tall? 5'7" (1.70 m)
College

University of North Texas

Career

1996–present

Net Worth

$4 Million (Estimated)

Salary

$300 Thousand Per Year

Dating/Affair

Alex Carr (2010-present)

Date of Birth Aug 05, 1964
Partner

Alex Carr (2010-present)

Boyfriend

Alex Carr (2010-present)

Divorce/Split

Not Yet

Relationship Status

Dating

Children/Kids

Not Yet

Ethnicity/Race

North American

Religion

Christianity

Zodiac Sign

Leo

Profession

Radio Personality

Nationality

American
American radio personality Elvis Duran is a productive and well-known person in the talk show business. He is a man who has accomplished a lot in his career, and has been a man of words with regards to his personal life.
Elvis Duran is openly gay and his sexuality is no secret, but does he have a boyfriend in his life who he has been keeping far from the eyes of the media and his followers?
Well, that's the question which will be addressed in this article!
Openly Gay; Never Been In Closet
Duran publicly came out as a gay man while on-air in September 2010 after he made the revelation about his sexuality while answering to a caller on his show.
Related:- Don Lemon's Most Handsome Boyfriend Cum Partner! Gay Love - Serious Goals
Three years later in 2014, he appeared in an interview with Huffington Post to talk about his sexuality and that he never actually hid inside the closet. He told in the interview, 
"I've never been truly closeted on the air, it's just something I never really made a big deal out of because I never felt like I wanted to push an agenda or push it any further than I felt comfortable with. I've always been very comfortable with me and the people I work with and my family have always been very plugged into who I am with my personal life."
He continued,
"But, you know our show is definitely about being open and honest and offering our listeners a look into our lives so they can understand where we're coming from. The show's been evolving in that direction over the past five or ten years, so I think it came up in the room and I addressed the situation you're discussing and it popped out! So I didn't really officially come out; I've never really been in. I never really wanted this to be the "Elvis Duran Is Gay" show –- I'm a gay guy who's doing a radio show."
Fans were rejoiced to know that Elvis never had any problems with his gay identity and just wanted to lead a healthy life. However, one more question was raised in the minds of the followers, which was whether the radio personality had a boyfriend in his life.
This confusion was soon cleared once Elvis revealed the status of his dating life.
Boyfriend Turns Fiancé, Plans On Getting Married
Elvis has been committed to his longtime partner, Alex Carr who works as a zookeeper. Although the iconic radio host has not revealed where they first met, he disclosed in an interview that the pair started dating in 2010.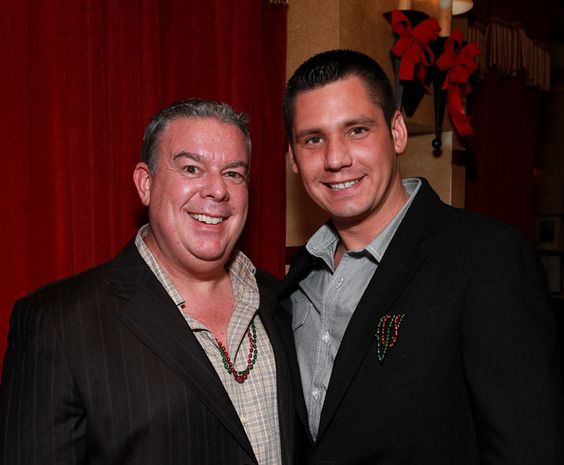 Elvis Duran, with boyfriend Alex Carr, attend an event (Photo: Pinterest.com)
The two were still dating back in 2014, but being a man of few words regarding his love life, Elvis did not much talk about his relationship status and thus, fans were unsure if the couple was together or not.
However, the pair re-emerged again; although this time not as boyfriends but as fiancés.
Elvis got engaged to his longtime partner, Alex Carr on July 2018. Alex was the one to propose Elvis for marriage when he got down on one knee and popped up the question to his lover.
He made a romantic gesture by surprising Elvis with a black umbrella which had the words written, " Elvis Will You Marry Me." Elvis accepted the proposal with no further delay as thus their dating status changed from boyfriends to fiancés.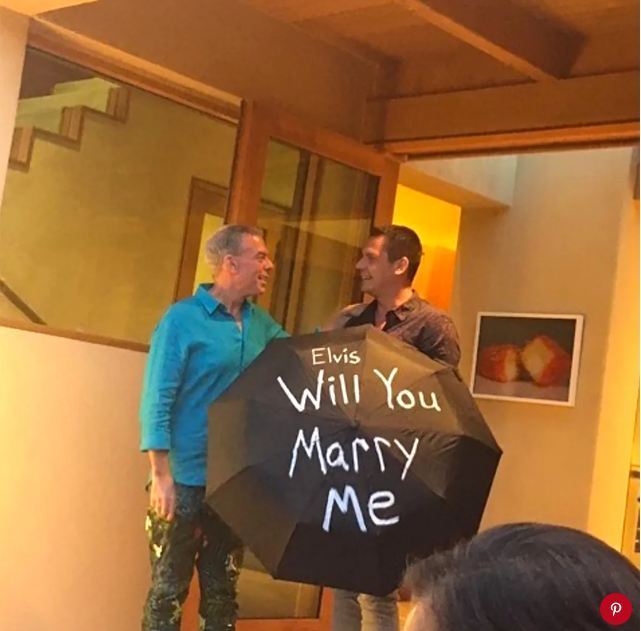 Alex Carr proposes Elvis for marriage on 13 June 2018 (Photo: Pinterest.com)
Alex also shared a video of him expressing his proposal to the 55-year-old radio host. In the video, Alex was seen revealing his feeling in front of a broad audience who applauded his romantic gesture.
Further, Elvis could also be seen teary-eyes full of tears of joy at his partner's proposal. Moreover, Alex mentioned in the post that the 13th of a month was not unlucky as the pair got engaged on the 13th of July, and Alex was also born on the 13th of June. He wrote in the Instagram post, 
"Yesterday was Friday the 13th. People believe that the day brings bad luck, but I totally disagree. I was born on Friday, June 13th. I've always considered myself to be lucky and blessed, as I was when Elvis came into my life almost 8 years ago...first as my boyfriend and now fiancé!!!! They say opening umbrellas in the house brings bad luck, but this time I don't believe it. I love you Elvis Duran!"
Elvis' show Z100 New York later made the official announcement of the pair's engagement via their Instagram page on 14th July 2018. The position expressed congratulations to the couple and even shared a picture of the two which appeared to be a screenshot from Alex's social media site.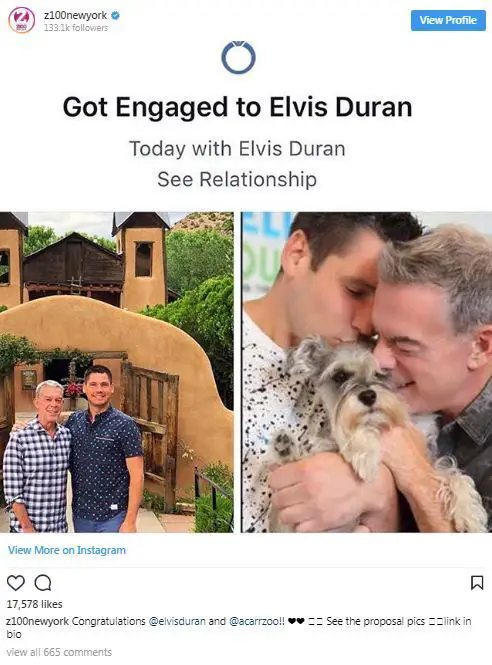 Z100 New York makes the announcement of Elvis and Alex's engagement on 14 July 2018 (Photo: Z100NewYork's Instagram)
Likewise, in 2019, the radio jockey disclosed that the two were planning their wedding scheduled for Septemeber that year. As per him, his partner's mom was in favor of a very lavish wedding for them. But he, on the other hand, wanted the venue of their special day to be in simple one in City Hall.
However, his partner convinced him into getting married through a grand celebration.
Wedding Info 
Just like the pair had wished, the lovebirds said their wedding vows on a festive ceremony at the Eldorado Hotel & Spa in Santa Fe, New Mexico. The event took place on 14th Septemeber 2019 at night among their family and well-wishers.
Organized by Mikie Russo of Michael Russo Events, their wedding was quite a visual treat and Mexican themed. Tons of bright orange marigold flowers were used in the decoration of the venue. The pair said their "I Dos" and walked away from the aisle after kissing twice. Then, a mariachi band entertained the guest with lovely music.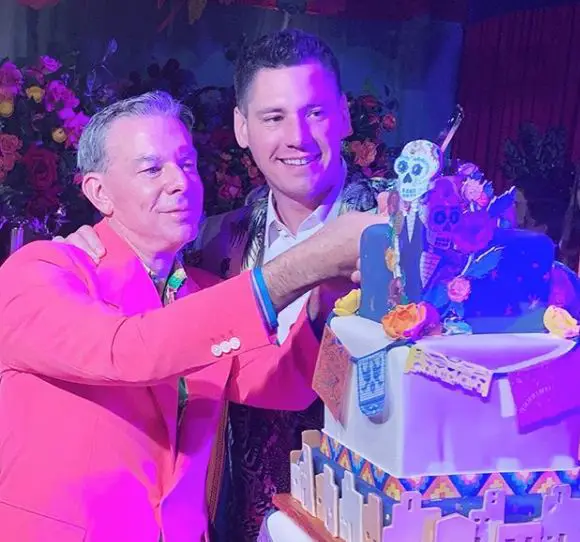 Elvis Duran and husband Alex Carr cut their wedding cake on 14th September 2019 (Photo: Elvis Duran Show's Instagram)
On top of that, in the cocktail hour, the performers wore makeup resembling the Mexican festival's day of the dead theme. The event surely was an extravaganza, and the newlywed couple looked more than happy cutting their impressive wedding cake, which too resembled Mexican Day of the Dead style.
Weight Loss Journey From Fat To Slim
Between 2014 and 2015, Elvis shed 105 pounds in eight months. His weight was something he has always been concerned about, but he no longer had to worry about it. 
You May Like:- Brittany Cartwright, Age 29, Unveils Weight Loss Secret! Before and After Pic Screams
In December 2014, he underwent a bariatric surgical procedure, "gastric sleeve," where 85 % of his stomach was removed. He elaborated that procedure as,
"Going through this procedure is a lot of needles, a lot of blood work, a lot of testing. It's a lot, And then after the procedure you have to re-teach yourself how to eat. It all starts with fluids. You eat fluids for weeks and weeks and slowly introduce solids into your life. It's not easy. It's not easy at all. I would not recommend this for anyone unless they truly had to save their life by doing it."
Back in an interview in 2015, the radio show host spoke about his journey of losing weight.
"I feel awesome! I've got all this energy,"

 "It's still kind of a shock. I don't even know who I am. I look at old pictures of me … and I don't feel like I'm that guy anymore but then I look at pictures of me now and I'm not quite sure I'm this guy. So I don't know, It's kind of confusing. I'm an alien living in someone else's body. It's kind of strange."
Even if you look back at his posts from 2014 and 2015, you shall see a vast difference in his body structure.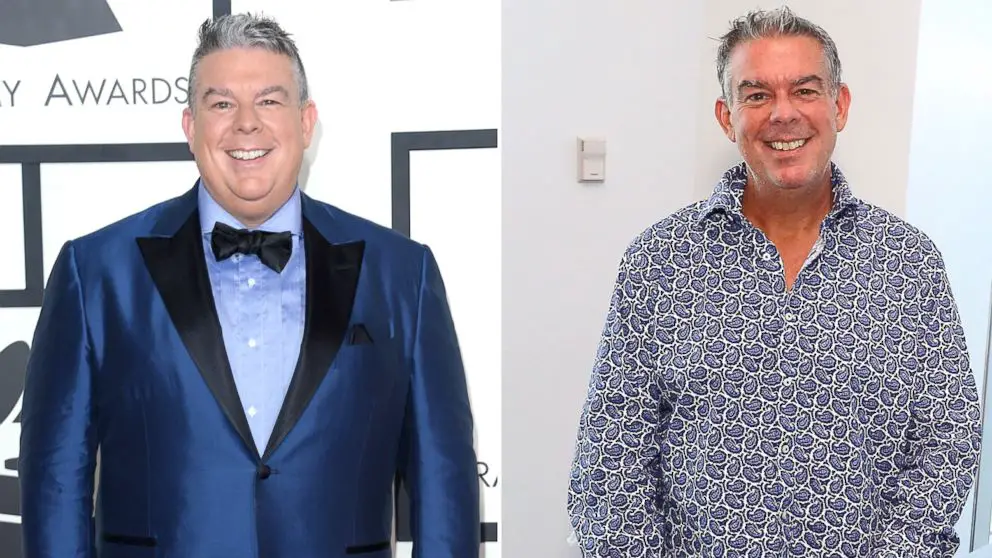 Elvis Duran before and after losing his weight (Photo: ABCNews.com)
Hats off for the dedication and determination Duran!
Short Wiki-Like Bio of Elvis Duran
Born in McKinney, Texas, the United States on 5th August 1964, Elvis Duran is a famous radio show host how is best known for his show, Elvis Duran and the Morning Show. Before running his show, he also worked as an on-air personality for WIOQ, a Philadelphia-based network.
He has been awarded the Personality of the Year Award at the Radio Music Awards which shows that he has earned a fair share of recognition in his career. Not only has he gained acceptance and success in his career, but he has also received a reasonable sum of money as his yearly salary of $300 thousand and a net worth of $4 million shows.