Entertainment
Ottavia Busia, Age 40, After Divorce; Caring For Daughter, Ex-Husband In Love
Aspiring MMA fighter Ottavia Busia first thrust into the spotlight after appearing in the travel channel's hit show, No Reservations, which also featured her then-husband, Anthony Bourdain.
After her divorce with celebrity chef Bourdain in 2016, she has remained away from the spotlight. But before the finalization of their divorce, he ended his life by hanging in the hotel room.
Average Person At Young Age, Daughter Born Post Love At First Sight
The Italian native of age 40, Ottavia Busia never in her early life dreamt of being famous. An average person with a common aim, she aimed to be a dentist and live a normal life away from the hassles of the showbiz.
However, after struggling to meet ends after relocating to the US, in 2000, she started doing odd jobs at various restaurants. She rose to the post of general manager at a Japanese restaurant Geisha, where she met her husband-to-be, Anthony Bourdain, a famous chef
The couple, who had fallen in love at first sight, married in 2007 shortly after dating for a short period. The couple welcomed daughter Ariane Bourdain in the same year.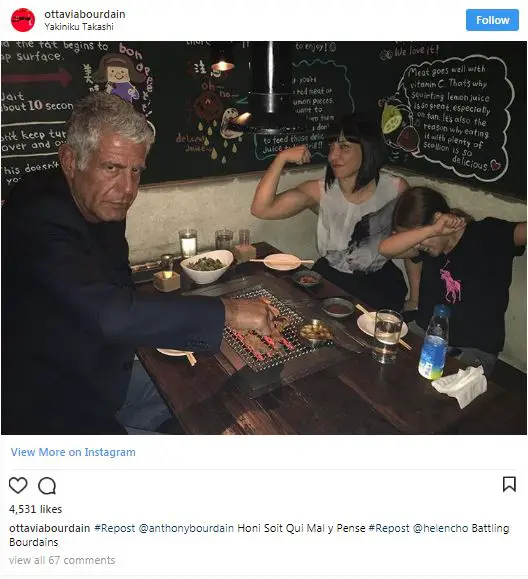 Ottavia Busia posts snap of Anthony Bourdain with daughter Ariane on 24 September 2016 after separation (Photo: Ottavia Busia's Instagram)
However, the hectic lifestyle of the celebrity chef, who himself claimed that he remained away from his home 250 days a year, led to an increased distance between the lovebirds.
Ottavia and Anthony separated in September 2016 in amicable terms with a promise of raising their girl together. After filing the divorce, Ottavia, who possess Italian ethnicity, followed up on one of her love: Jujitsu.
She first fell in love with Mixed Martial Arts and Jujitsu in 2008, a year after giving birth to her daughter. However, she had not been able to follow up the interest due to her marital obligations. Their divorce provided her with an opportunity to continue training for MMA and Jujitsu.
Similarly, she also enrolled her daughter in the world of martial arts. After the separation, her regular day comprised of training and taking her daughter to school.
As of now, the fighting diva is fighting fit and maintains an active lifestyle even at the age of 40. She is now reportedly single and focusing on her Jujitsu and her daughter. On the other hand, her ex-husband, Anthony has found love again.
Ex-Husband Finds Love Post Divorce.
Half a year on from his divorce with Ottavia, the host of CNN food program, Parts Unknown, announced that he had found a right partner who would understand about his nomadic life. The newest love interest in Anthony's life was Italian actress Asia Argento.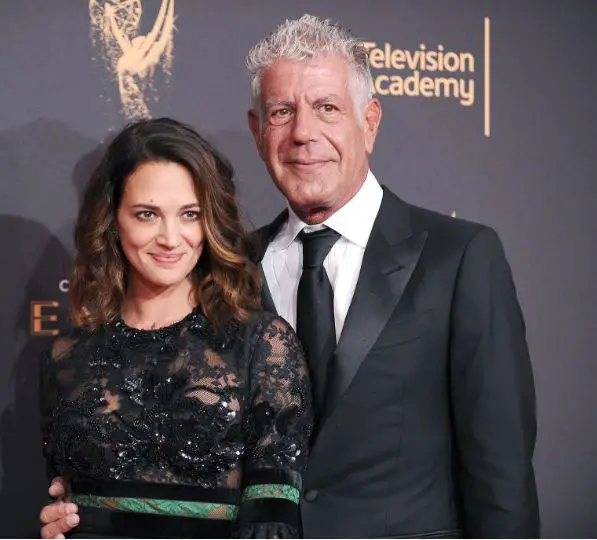 Ottavia Busia's ex-husband Anthony Bourdain poses with girlfriend Asia Argento (Photo: People.com)
Anthony and Asia's affection towards each other was spilled a month after Asia Argento also became one of the nine actresses to accuse Harvey Weinstein of sexual abuse. Not only did Anthony stood up for his love but he also said he was proud of her, and she had done the hardest thing.
It seems like Anthony, who fathers a biological daughter with Ottavia, and a stepson and a stepdaughter with Asia, has found a loving partner who can accommodate his travel hectics. As for Ottavia, she is busy raising her girl and pursuing her love for Jujitsu.
With his broken married life with Ottavia, beyond sharing the deep bond with Italian actress, Asia, he expressed that he would never get married again but wouldn't hate to move in with her.
He had also expressed that his girlfriend shared the similar life experience like him as they both have been married twice. Even after meeting the love of his love, he ended his life in 2018.
Ex-Husband's Suicide; Wishes Best Trip
The celebrity chef, Anthony Bourdain was found hanged at Le Chambard, a five-star hotel in a cozy, converted 18th-century mansion in Kaysersberg, France at 9:10 a.m.on 8 June 2018.
Anthony's close friend Eric Ripert found Bourdain unresponsive in his hotel room Friday morning i.e 8 June 2018 and later, gave his condolences via a tweet. CNN's president, Jeff Zucker quoted Anthony as an "exceptional talent," writing an email to his employees.
The chef was already showing the signs of trouble before his suicide. He skipped his rustic French meal on the hotel on Thursday night. With his step to end own life, the 42 aged Asia released a statement on social media expressing her devastated feelings. She tweeted:
"Anthony gave all of himself in everything that he did. His brilliant, fearless spirit touched and inspired so many, and his generosity knew no bounds. He was my love, my rock, my protector. I am beyond devastated."
Though he separated and filed the divorce with her ex-wife Ottavia Busia in 2016, their divorce was not finalized before his sudden demise. Since their divorce was not finalized until the day of his death, Busia, who is a mom to thier 11 years daughter is his legal kin.
As the couple of nine years was co-parenting their daughter, Ottavia shared the picture of their daughter during a concert writing the caption dedicating to her late ex-husband:
"Our little girl had her concert today. She was amazing. So strong and brave. She wore the boots you bought her."
She concluded the caption wishing him to have a good trip where he is.