Entertainment
Pat Goss Bio: The MotorWeek Personality Hiding Personal Life Behind Work?
Roads are safe only as far as one keeps his senses strong. American TV Personality Pat Goss, who has worked more than 40 years with cars, reminds his audiences the same thing time and again. As a co-host in weekly television series MotorWeek, Pat Goss is as comfortable on air as he is under the hood.
However, this MotorWeek personality has half of his life buried under the automobile and television shows.
Well, that's the reason we'll be taking a peek at the personal life of this television personality and find out if he's married or is yet to welcome a wife into his life!
A Wiki-Like Bio of Pat Goss:
MotorWeek's resident automotive guru Pat Goss, who has always been providing practical advice for maintaining one's vehicle, has spent his whole life with various automobiles.
See Also: Amanda Balionis, 32, Engaged To Boyfriend? Here's The Fact!
Pat's first plunge into automotive repair was at a very young age when he opened a body shop during his early high school. Pat was already operating an 11,000 square-foot garage, with 23 employees, and was grossing $870,000 a year when he reached the senior year.
However, in the field of automotive consulting and media presentation, Pat Goss is an experienced professional, whose knowledge and common sense approach has millions of car owners speak the same language as thier technician.
For Pat, his main mantra for the automobile is "Proper Maintenance," which aims to encourage drivers to change the fluids and their car components on a regular basis.
Similarly, his reality TV Show 'MotorWeek' is the first place to see new vehicle road tests, comparisons, consumer-oriented automotive news, feature stories, and car-care tips, as the show mostly focuses on latest development in the automotive world.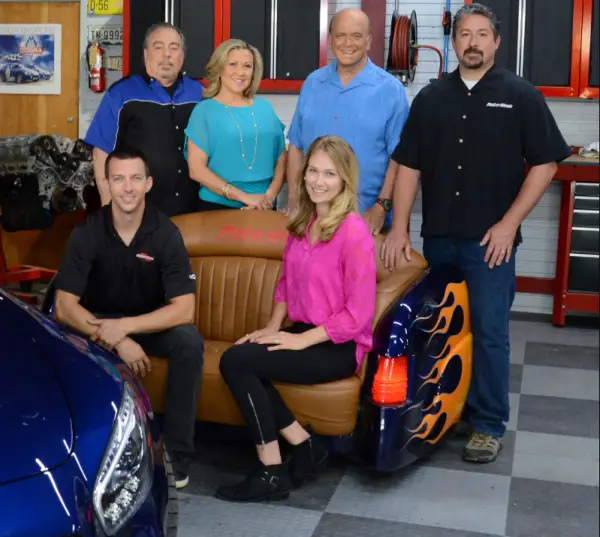 MotorWeek Group publicity shot. (Photo: mpt.org)
This award-winning television series broadcast on both, PBS and SPEED channel. Pat, when he is not on MotorWeek, can be heard weekly on "Gross Garage," his radio show that is aired every Saturday at 1 pm EST on Facebook and TuneIn and is uploaded on YouTube every week.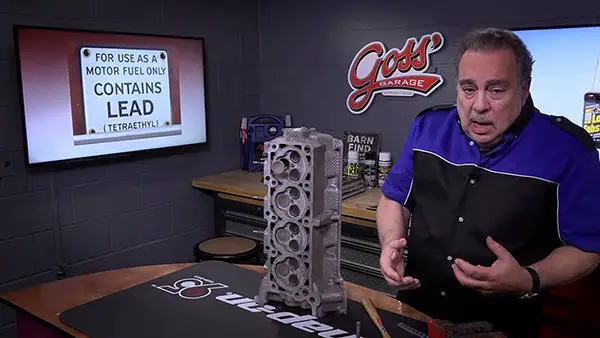 Pat Goss in his Goss Garage episode "Leaded fuel for old engines" (Photo: youtube.com)
Besides that, Pat, who might have an estimated salary of $15 million, loves making guest appearances as well; he has been on over 400 television shows other than his own program.
You May Also Like: William Levy Allegedly Cheated On Wife-Like Girlfriend; Gay Rumors True?
But this is not the only skill he possesses.
Pat loves publishing articles and columns as well. He has authored articles that are featured in Motor Age, Wall Street Journal, Reader's Digest, AAA Travel, plus numerous national trade publications and columns for Capital Hill Forum, Jiffy Lube national newsletter, Sentinel Newspapers, Prince George's County newsletter, along with first copyright of 'Do-It-Yourself' automotive consumer course.
Similarly, Pat has qualified as a General Automotive expert for "Federal Trade Commission- Used Car Regulation," "Circuit Court of Maryland," "General District Court, Fairfax County, VA," "Prince George's County, Maryland" and few more.
Moreover, Pat has a lifelong experience with cars, be it in estimation and repairing auto bodies and related components, or consumer consulting and court testimony or appraising used cars and special interest vehicles.
Adding to it, Pat has a recent addition to his automotive shop. He is now opening Goss Garage II in the center median of 1101 Rt. 3 South in Gambrills which is his sister shop of Goss' Garage on Smith Street in Seabrook which was opened in 1982.
Married And Have Children? Personal Life Details
Although his professional life is as open as a book, he prefers staying mum when it comes to talking about the personal aspect of his life. It's possible that he enjoys his family life, but does not want to mix it with his profession.
Read Also: Cody Alan, Age 32 & Boyfriend Engaged To Get Married | Gay Transition​​​​​​​
His stats and wits have undoubtedly helped his all-time audiences and maybe to his family, who, till this date, remain confined to the outside world. There has not been any information relating to his family life.
Turns out he prefers the mystery that having a low-key personal life brings. At this age, he could already be enjoying the happiness of a family and having a wife as his backbone but he does not prefer his family life out in the spotlight.
Seems like he enjoys is life away from the hustle of the media.